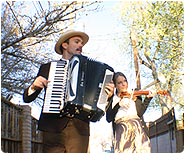 A Hawk and A Hacksaw Take a CERVANTINE Route to Another Place and Time
"So ebullient and full of character that by the time it's over you feel like you've caught a glimpse of the type of joyful festivity that always feels most rewarding after a long journey" – Pitchfork

A broomstick and duct tape. That is what the curious Americans used for a mic stand. In a humble house with no running water deep in the Romanian hinterland, they were recording with Fanfare Ciocarlia, one of the world's top brass bands. A Hawk and A Hacksaw have also found themselves playing with Roma on the streets of Amsterdam and out on the Jaffa road, performing to both Hassids and Palestinians; in a sculptor's tree house outside of Budapest; and at a Jewish wedding in Pittsburgh where a young boy stared transfixed at the band, ignoring the party revelers, until—with no explanation—tears streamed down his face.

Check out the music that ilicited such emotion as A Hawk and a Hacksaw tour the US starting in late July in Santa Fe, wending through the Midwest to the east coast, hitting Chicago, St. Louis, Baltimore, New York, and a stop in Asbury Park for All Tomorrow's Parties.

On first glance, the desert mountains of New Mexico don't seem like an obvious home for a band that specializes in its own blend of music from the former Yugoslavia, Greece, Turkey, and Romania. But there is more to the connection than the untrained eye can see. On the album's title track, the group explores the mariachi influence on Romany brass that flourished thanks to the Latin American soap operas popular across Eastern Europe. "Europeans inspired Mexican brass and now Mexican brass inspired Europeans," says band founder, accordionist, and percussionist Jeremy Barnes. "In New Mexico, we grew up hearing all this brass music, hearing mariachis."

There is something connecting what may seem like distant points on the map: The Balkans and New Mexico, thanks to an odd tie Barnes and band mate and violinist Heather Trost felt on their travels. "Northern New Mexico is a beautiful ecosystem of cultural clashes and mixings, that really remind us of the Balkans and Transylvania," says Trost. "There are very few 'cultural climates' like this in the world, and I think it's something we try to reflect in our songs."

Whereas other American groups are simply "from the U.S.," when AHAAH tour in Europe, they are often promoted as being from New Mexico. Many Europeans think that New Mexico is its own nation, and sometimes I wish it was. It often feels that way," says Barnes.

While the music comes off sounding rooted and traditional, the treatments simultaneously evoke specific places while bending time. AHAAH uses an old two-track recorder to give their recordings a timelessness; suggesting a historic feel deep in memory, even though the compositions are new or arranged in entirely new ways.

The piece titled "Española Kolo" evokes the kolo, or "circle," the national dance of the former Yugoslavia, with the ambience of a New Mexico town. "It's an area with a bad reputation," says Barnes. But beyond that façade is a town and river valley with a completely unique culture. There are lots of low riders and they are proud of their identity. "Many New Mexicans are afraid to visit Española, just as many Europeans won't go to Serbia. I thought we should pay homage to the good that comes from both places," says Barnes. "A lot of these Serbian songs have completely Mexican melodies over the top of a kolo. Sometimes we get the reaction 'You're from New Mexico; what are you doing playing this music from Eastern Europe?!' But there is a connection to be made".

The AHAAH sound reached many a listener's ear when they recorded with Beirut on the breakout album Gulag Orkestar in 2006, but their subsequent three recordings (and new album CERVANTINE in particular) is a move further East- to the asymmetric rhythms of Macedonia, Bulgaria, and Greece. On "No Rest for the Wicked," listeners may have trouble distinguishing certain accordion melodies from electronics, or may become intrigued by the desolate sounding string-on-string Roma violin trick that closes the track.

Elsewhere on "Mana Thelo Enan Andra," listeners are treated to an outsider's view that breaks down barriers between nationalist distinctions between Greek and Turkish music. The song features the rembetika stylings of Chris "Papalazerescu" Hladowski's Greek bouzouki (lute) and Issa Malluf's Turkish doumbek, alongside the voice of Stephanie Hladowski. "She sounds like she could be from the Smyrna, singing in the 1920s, I don't know how she does it."

When AHAAH play big cities like New York, expect to see a cross-section of Central and Eastern Europe represented in the audience. The Turks will sing along to the classic song "Uskudar," whose melody has traveled from country to country, so others will hum along too. "It turns up in Greece, in Bosnia, and elsewhere. And as a Klezmer tune, it's called 'A Terk in America,'" says Barnes.

A Hawk and a Hacksaw have never been about ethnographic reenactment or folk purity. "We want people to explore further after they hear us," Trost reflects. "We're doing what we love, and we want people to like it on its own terms. People are hungry for things beyond Western pop and we are a part of that exploratory process."


NEW LABEL INFO

As a further outlet for their deep, immersive research into far-flung sounds and cultures, A Hawk and A Hacksaw started L.M. Dupli-cation. Following the lineage of passionate ethnomusicological foragers from Alan Lomax to Sublime Frequencies, their goal is to release folk music from the regions they love as well as the occasional curve ball, by way of delighting and challenging serious listeners worldwide, reflecting the boundless sense of discovery endemic in their music.


BAND BIOGRAPHY

Started as a solo project in 2000 by accordionist and drummer Jeremy Barnes (formerly of Neutral Milk Hotel) and named after a line in Cervantes' Don Quixote, AHAAH became a duo in 2004 when Barnes met violinist Heather Trost. The pair began an adventure that took them to Zece Prajini, Romania and then to Budapest, Hungary where they lived for two years, staying with trumpeter Ferenc Kovacs who taught them much about Hungry and its music, when not hunting wild boars and making wine. While there, they toured Europe with Kovacs and some of Hungary's finest folk musicians. They have made countless U.S. & European tours on their own and with big names including Portishead, Calexico and fellow New Mexico resident Beirut (whose Gulag Orkestar album they were key collaborators on). Joined by an ever-evolving line-up of musicians, A Hawk and A Hacksaw seeks to create and document an ecstatic sound much like the village bands of old, with the communal aspect of folk tradition and musicianship the key factors.

<< release: 03/08/11 >>