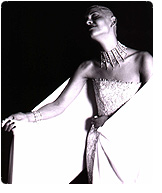 Mariza Storms the World Stage
Sent to Reinvent Fado
Mariza began singing Fado as a child, before she could read. Her father sketched out little cartoon stories to help her remember the lyrics. At the age of five, she would join in the spontaneous singing in her parents' restaurant in Mouraria, one of Lisbon's most traditional neighborhoods.
Mariza was born in Mozambique, but her family moved to Portugal when she was a baby, giving her plenty of time to get immersed directly in the "Fado Houses" where singing is part of everyday life.
She tells of a fifteen-year old boy learning to play the classic guitar that would call her over to sing. "This little girl can sing!" he would exclaim to his friends. Now this boy is a grown man and forms the instrumental backbone of Mariza's band along with an acoustic bass and Portuguese guitar, unique because of its shape, 12 strings, and distinctive tuning.
At the age of twenty-six, Mariza released her first CD, Fado em Mim, in the United States on April 9, 2002 on Times Square Records/World Connection. The recording presents six classic Fados and six original compositions, all of them tugging listeners at the heart and soul.
Fado is Portugal's Blues or Rebetika or Tango or Flamenco. "They all stand on emotions," says Mariza. "Fado is an emotional kind of music full of passion, sorrow, jealousy, grief, and often satire." Yet Fado differs from its musical cousins in its poetic mystery and its ability to fuse dichotomous traits: impossible pain and fervent joy, life's cruelty with love's intensity.
At the very outset of her career, Mariza was being compared to one of the biggest icons of Fado: Amália Rodrigues. In the words of Nuno Nazareth Fernandes, one of the greatest Portuguese composers: "Mariza is an adorable extra-terrestrial being, someone sent by the Great Creator to reinvent the Fado."
Mariza had her first major national exposure in 1999 as one of the guest performers in Tribute Concerts for Amália Rodrigues in the Coliseums of Lisbon and Oporto. Both performances were broadcast live on one of Portugal's Network TV channels. Mariza's performances immediately sparked interest in the public and in the national media. In 2000, she received the award, "Voice of Fado," presented by Central FM (Portugal's national radio station). She was invited to "introduce" Fado to rock icon Sting by a highly rated national television show Hermansic.
Mariza walks the fine line necessary to both genuinely carry the tradition and bring it freshness for today. Her performance style captures the raw emotion that characterizes the genre, but with her own personal twist.
Fado em Mim has already reached silver status in Portugal—practically unheard of for a Fado album—and will likely reach gold in the coming weeks. An April 2002 tour brought her to New York City, Boston, Toronto, Chicago, Washington DC, Los Angeles, and San Francisco.