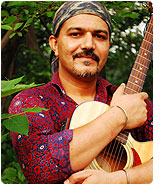 A Bard of Rapture:
Arieb Azhar Channels Pakistan's Mystic Poetic Traditions With Bluesy Eastern European Ease
Singer-songwriter Arieb Azhar learned music playing guitar as a Karachi teenager and found his voice, drifting disillusioned from crumbling Soviet Minsk to the streets of war-torn Zagreb, where he discovered the deep currents of Sufi poetry and songs of Irish resistance and Roma delight. It's a voice poised to start a meaningful conversation between Americans and Pakistanis.

"Traditional, popular music in Pakistan is very, very profound," Azhar explains. "It's not folkloric music; it's alive and part of the culture. The content these folk musicians used to sing about—and that I try to sing about—draws on our collective cultural wisdom. It's based on very human values that transcend religion and race."

Azhar, after returning to Islamabad, crafted a sonic world of his own, transforming the strikingly philosophical 19th-century poetry of Sufi devotees with worldly arrangements that range from rootsy guitar lines to soaring sweeps of vocal ecstasy. With the driving power of both rock and qawwali (Pakistan's globally-savored Muslim devotional music), Azhar's songs have a delicacy and atmospheric texture that flow from his long stint as a busker and pub player in Eastern Europe.

"I have realized that God/Nature has created all human beings the same. With their hopes, fears, and aspirations," says Azhar. "The differences of language, culture, politics, and mainstream religion came afterwards and become irrelevant wherever they begin to divide humanity instead of connecting it. Genuine music can always act as the healing force to reconnect us on a human level."

Azhar's resonant, rich voice will intertwine with guitars, folk flutes, and tablas, for an acoustic, uplifting evening of globally informed music and a very personal kind of diplomacy in June and July 2012 as part of Center StageSM (www.centerstageUS.org).

An initiative of the U.S. Department of State's Bureau of Educational and Cultural Affairs, Center Stage brings compelling contemporary artists from Haiti, Indonesia, and Pakistan to the United States to engage the American people in cultural diplomacy as a way to create opportunities for greater understanding. Administered by the New England Foundation for the Arts, with funding from the Asian Cultural Council, the Robert Sterling Clark Foundation, and the Doris Duke Foundation for Islamic Art, this public-private partnership is the largest public diplomacy effort to bring foreign artists to American stages in recent history.

***

"Interestingly, I got into Pakistani music much later in life," Azhar muses. "I heard it growing up as a child, and many of my early memories are of our top folk musicians. They used to stop by our house and perform because of my parents' involvement with television. TV was completely new, and all these musicians suddenly got national exposure who had only been known in their own village."

Many of these musicians sang songs handed down for generations, composed by local folk poets in some of Pakistan's many dialects and minority languages. In vernaculars like Punjabi or Saraiki, these works reveal both the diversity of Pakistan's cultural landscape, but paradoxically the great unity of the spirit evoked by Islam's mystic traditions and Sufi orders: the notion that all wisdom and all religions stream from the same source, only to express themselves in a myriad of joyful and sorrowful ways.

But Azhar had other musical and ideological interests as a young man. A burgeoning folk rock rebel, he learned South American leftist ballads phonetically and sang friends' poems at political rallies, starting at the tender age of 14. It was the perfect testing ground for a young performer in a place like Karachi, where there were next to no music venues and where a military dictatorship ruled.

"I got the opportunity to perform music for ordinary people. I got to play on the street level," Azhar recalls. "That gave me a lot of confidence about my guitar playing and voice. That's the crowd a person has to deliver to, to get somewhere in music."

Democratic elections in the late 1980s brought jubilation and confusion to left-leaning young Pakistanis, and Azhar was restless. A convinced Marxist at the time, he headed to Moscow in a rapidly changing Soviet Union, only to be sent on to the still unthawed, hardline city of Minsk. Officials at the university where he was studying Russian gave him a hard time for his overly capitalist taste in music; he was known to sing a few John Denver songs in the dorm.

Dismayed, Azhar returned home, befriended two Croatian filmmakers, and booked a trip to Zagreb. That was in December 1990. Less than half a year later, the Yugoslav Civil War broke out.

"I decided to stay on and realized I couldn't run away forever," remembers Azhar. "I spent a year and a half in Zagreb bomb shelters, which is why I got very deeply connected with that place and stayed for 13 years. I started playing on the streets, and the most enjoyable aspect was connecting with life around me in a genuine way." Busking led to spontaneous pub performances, which eventually led to standing gigs. Azhar got into Balkan and Gypsy songs, old American and British rock, the bluest blues, and Irish music, launching a Celtic band that gained a major Zagreb following.

But Azhar felt he needed to grow as an artist and that that would only be possible in his native land. He returned to Pakistan, in order to, as he puts it, "reconnect with the soul," to pursue a new spiritual and intellectual path. He turned to the songs of his childhood, listening to folk songs and qawwali, and digging deeper into Pakistan's poetic troves. His unique arrangements, where tight vocal harmonies and lilting Eastern European upbeats mesh with North Indian percussion and crunchy electric guitar, slowly gained him a new following in Islamabad.

"I am often identified in Pakistan as recreating Sufi poetry for a new generation, or as a Sufi musician or singer. I never call myself that," notes Azhar. "I'm not officially initiated into a Sufi order, though I have many friends from orders who encourage me in my music, and I feel that connection is strong enough for me to continue growing in my work."

Though shying away from the Sufi label, Azhar manages, through his worldly-wise music and clear yet earthy voice, to engage the great depth of spirit these traditions hold, while engaging audiences with warm, charismatic performances. "True music is the union between the individual and the universal; a release, rapture, celebration, quest, lament of the human spirit," Azhar reflects. "If I am able to touch that in moments of my life, I consider myself fortunate."

Center StageSM will bring 10 ensembles from Haiti, Indonesia and Pakistan to the U.S. for month-long tours from June-December 2012, connecting artists with diverse communities across the country. Residencies will include performances, workshops, discussions, people-to-people exchanges, and community gatherings. Keep up with Center Stage by liking the program on Facebook (http://www.facebook.com/CenterStagePage) and following us on Twitter (@centerstageus).
Center StageSM is a public diplomacy initiative of the U.S. Department of State's Bureau of Educational and Cultural Affairs. It is administered by the New England Foundation for the Arts in cooperation with the U.S. Regional Arts Organizations, and with additional support from the Robert Sterling Clark Foundation, the Asian Cultural Council, and the Doris Duke Foundation for Islamic Art. General management for Center StageSM is provided by Lisa Booth Management.