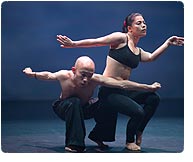 New Concepts, Lush Roots:
The Fierce Grace and Contemplative Gestures of West Sumatra's Nan Jombang Dance Company
Surrounded by bright green farm fields and dramatic volcanic hillsides, percussive kicks snap while dinner plates gyrate, balanced on turning palms. Bodies become lithe musical instruments, and color and motion express complex bursts of history and longing. Local onlookers gather casually, as the family of dancers and musicians rehearse in the middle of a lush tropical landscape, at the center of some serious cultural evolution.

This is a day in the life of West Sumatra's ethnic Minangkabau dance company, Nan Jombang, who use the martial arts, folk theater, and body percussion traditions of their matrilineal culture to tackle complex emotional and social issues, with fiery grace and striking clarity. In Fall 2012, the troupe brings its five members' unparalleled ability and creativity, part of Indonesia's rich and diverse arts scene, to the U.S. as part of Center StageSM (www.centerstageUS.org).

An initiative of the U.S. Department of State's Bureau of Educational and Cultural Affairs, Center Stage brings compelling contemporary artists from Haiti, Indonesia, and Pakistan to the United States to engage the American people in cultural diplomacy as a way to create opportunities for greater understanding. Administered by the New England Foundation for the Arts, with funding from the Asian Cultural Council, the Robert Sterling Clark Foundation, and the Doris Duke Foundation for Islamic Art, this public-private partnership is the largest public diplomacy effort to bring foreign artists to American stages in recent history.

With bold colors, vigorous movements, and subtle feats of balance and rhythm, Nan Jombang will present an emotional exploration of exile and community loss in a full-evening piece, Rantau Berbisik (Whisperings of Exile). Based on the traditional pilgrimages young men make to seek their fortune far from their native Minangkabau villages, the work's intense beauty resonates with the questions asked by young people worldwide: How to make one's way in the world without completely losing touch with one's roots. It's a dilemma that highly mobile Americans grapple with, and its emotional force promises to build deeper understanding between people in the U.S. and Indonesia.

For company founder and creative mastermind Ery Mefri, this choice and complex connection to his native community and culture informs his art deeply. "I come out of tradition. Both of my parents were traditional dancers, and I grew up with that in my body and soul," explains Mefri. "Tradition is not something that's simply stuck and never moves forward. Contemporary dance and our traditions are in fact quite close, which makes Nan Jombang's work a really creative endeavor and strongly a part of who we are."



***

"We are not imitating traditional forms. We're allowing them to inform us and give us a deeper vocabulary," Mefri notes. "It's like our Minangkabau forms of pencak silat (Indonesian traditional martial arts). They are named for tigers and birds, but it's more about character studies. It's taking out the character or soul of that movement and giving it a kind of dynamic spirit."

The soul Nan Jombang channels leaps and spins, defies gravity and establishes rhythms from seemingly simple gestures. They hail from verdant West Sumatra, from agriculturally sustained villages tucked against tropical mountainsides. They bring the theatrical tradition of randai once performed in open plazas or pavilions by men and boys, onto the global stage, broadening the scope of folk theater's sound and movement.

The company follows in the footsteps of groundbreaking Minangkabau dancers, who began decades ago to put traditional rituals, theatrical pieces, and martial arts movements into contemporary contexts. The dance scene has evolved, however, with Nan Jombang; instead of restaging and reframing traditional pieces, the company features traditional elements in new ways and contexts to express contemporary ideas, emotions, and dynamics.

Witness Rantau Berbisik, a 55-minute visual and sonic exploration of marantau, the traditional departure of young men from the fold of village life to establish themselves economically elsewhere, often in major Indonesian cities where Minangkabau cafes and food shops are popular. The nostalgia, longing, resentment, and loss this outmigration sparks—around 80% of men leave Minangkabau villages, never to return—has haunted Mefri, who himself decided to make a life without leaving his home area.

He and the company use the swirling, driving plate dance (tari piring), a traditional dance once performed at harvest, to challenge and engage the audience, suggesting the complex balancing act and ambivalence of migration. They chant, pound, stomp, and clap. Haunting female voices contrast with bold, acrobatic statements. Starkly contemporary movement meshes organically with layers of gesture and suggestions of ritual.

"When people don't come back, it hurts development and our ability to progress in West Sumatra," Mefri reflects. "There is a lot of depth to our feelings about this, and a lot going on that's very powerful for many people, outside of the Minangkabau community and Indonesia. What are our obligations to our own community? This is a question we all face." A question Nan Jombang raises with poignant skill.

Center StageSM will bring 10 ensembles from Haiti, Indonesia and Pakistan to the U.S. for month-long tours from June-December 2012, connecting artists with diverse communities across the country. Residencies will include performances, workshops, discussions, people-to-people exchanges, and community gatherings. Keep up with Center Stage by liking the program on Facebook (http://www.facebook.com/CenterStagePage) and following us on Twitter (@centerstageus).
Center StageSM is a public diplomacy initiative of the U.S. Department of State's Bureau of Educational and Cultural Affairs. It is administered by the New England Foundation for the Arts in cooperation with the U.S. Regional Arts Organizations, and with additional support from the Robert Sterling Clark Foundation, the Asian Cultural Council, and the Doris Duke Foundation for Islamic Art. General management for Center StageSM is provided by Lisa Booth Management.