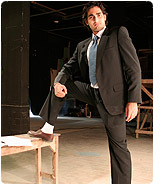 Outsourcing Angst: Pakistan's Comedic Pioneers, Very Live, Answer Violence and Mistrust with Improv Antics and Constructive Satire
Very Live's Danish Ali (that's Dah-neesh), a doe-eyed MD turned punster, and improv comedy frontrunner and viral sensation Ali Gul Pir will tell you: in Pakistan there's no lack of material for a comic.
The comedic trailblazers insist on pushing boundaries in a place where stand-up was virtually unknown as a performance genre. Along with a handful of other young comedic lights, they have carved out curious, wildly successful careers as professional comedians, performers, writers, and television personalities.
And they'll have a whole new set of experiences to riff on when Center StageSM (www.centerstageUS.org) brings these bilingual, multicultural tricksters to America. Encounters with Ali and Pir move merrily from sketch comedy to improvised riffs to musical numbers, as they relentlessly send up mores, taboos, and political tensions inside and surrounding Pakistan.
Exchanges, workshops and meet-ups, with the occasional open-mic segment, will highlight largely off-stage (non-performance) residencies.
Very Live's November 2012 tour is part of Center StageSM (www.centerstageUS.org). An initiative of the U.S. Department of State's Bureau of Educational and Cultural Affairs, Center Stage brings compelling contemporary artists from Haiti, Indonesia, and Pakistan to the United States to engage the American people in cultural diplomacy as a way to create opportunities for greater understanding. Administered by the New England Foundation for the Arts, with funding from the Asian Cultural Council, the Robert Sterling Clark Foundation, and the Doris Duke Foundation for Islamic Art,this public-private partnership is the largest public diplomacy effort to bring foreign artists to American stages in recent history.
***
Why do movie terrorists always plot in the bathroom? How did that rural bigwig's son get so fly? Very Live creates the space to own up to and laugh at corruption, terrorism, intolerance, and unfounded cultural assumptions.
At home, sheltered in part by their strategic use of English alongside the majority language of Urdu, the men of Very Live have each learned to gently press boundaries in a society both dominated by conservative thinking and hungry for laughter and honesty. Though Ali and Pir have had several brave, bold forerunners—sketch comedians who took influential risks on Pakistani television—stand up is relatively new, and the Pakistani comedy scene is only now starting to take off.
There has, however, always been a huge demand for release and laughs, and the internet is Pakistan's great comedy highway. Ali Gul Pir's video—an over-the-top hip hop take on the brazen bad boy sons of the elite penned during a power outage-induced fit of boredom—has gotten over a million hits on YouTube. Danish—a cosmopolitan Francophile medical internist as well as a skilled funnyman and television personality—plays the deadpan charmer, with his wry, goofy wit. Used to a wild diversity of audience reactions—from rolling in the aisles to uproarious stage takeovers—back home, Very Live's dynamic duo are ready for everything, America included. And they are ready to change your mind.
"My hope is to bring a new understanding, a new Pakistani stereotype to the world," enthuses Ali, slyly. "It's a French speaking doctor who can make you laugh. Or at the very least help you out with a prescription."
Center StageSM will bring 10 ensembles from Haiti, Indonesia and Pakistan to the U.S. for month-long tours from June-December 2012, connecting artists with diverse communities across the country. Residencies will include performances, workshops, discussions, people-to-people exchanges, and community gatherings. Keep up with Center Stage by liking the program on Facebook (http://www.facebook.com/CenterStagePage) and following us on Twitter (@centerstageus).
Center StageSM is a public diplomacy initiative of the U.S. Department of State's Bureau of Educational and Cultural Affairs. It is administered by the New England Foundation for the Arts in cooperation with the U.S. Regional Arts Organizations, and with additional support from the Robert Sterling Clark Foundation, the Asian Cultural Council, and the Doris Duke Foundation for Islamic Art. General management for Center StageSM is provided by Lisa Booth Management.