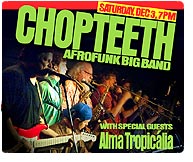 From Brazza to Bahia:
Big Band Brilliance with Chopteeth and Alma Tropicália
Bursting with old-school big band power, Afrobeat crew Chopteeth know how to turn skeptical foot-tappers into shirt-whirling, wolf-whistling believers. Joined by unexpectedly kindred spirits, the psychedelic Brazilian noise rockers of Alma Tropicália, Chopteeth will be taking on the U Street Music Hall on Saturday, December 3, 2011, for a double bill that will leave no rear unshaken.

9:30 Club Presents
Chopteeth Afrofunk Big Band with Special Guest Alma Tropicália
U Street Music Hall
1115 U Street, NW
Washington, DC

Early show - doors at 7pm
www.ustreetmusichall.com
(202) 588-1880
$15.00 General Admission

To purchase tickets

For Chopteeth, even a dance party can be a deep exercise in tracing musical lineages. Over many sweaty gigs, the band honed a late Fela piece of fugue-like complexity ("Question Jam Answer") and spent months calling Nigeria to find an unsung master of African funk. They dug through record store bins, trolled the internet, and mined the vinyl of die-hard African record buffs to find lo-fi and neglected gems.

These gems harken back to the golden age of African pop, the 1970s. In rough-and-ready studios, musicians laid down heady mixes of James Brown-inspired funk, complex chord changes, and local rhythms. They reacted to soul and rumba, to jazz and rock, to harsh political realities and deep roots. Though some musicians of this generation rose to international prominence, many languished, only recently rediscovered by dedicated African music fans, labels, and collectors.

Their versatility and energy have won them a wildly devoted local fanbase—and garnered them eight Wammies, including Artist of the Year. Their debut studio CD Chopteeth helped build this following, thanks to trans-African originals that eclectically combined the wealth of African pop with upbeat lyrics in multiple languages.

The band's live vibe channels all the heavy-duty intensity of a good old big band, something increasingly rare in this age of mp3s and streaming files. "The truth is people don't often hear big bands playing dance music live anymore," muses Chopteeth bassist Robert Fox. "You hear a song like Fela's 'J.J.D.' in person, and it just feels different. It's a shocking experience for the audience."

Fela's Afrobeat and the psychedelic tropicália of Tom Zé and Os Mutantes have some unexpected elements in common: political ferocity, a day-glo intensity, and serious creativity. They both evolved in reaction to Western R&B or pop rock, and leaped off in radical (and radically different) directions.

Chopteeth and Alma Tropicália share a love for the raw edges and technical grace of their chosen sounds. They know how to combine the retro savor and the fresh take, with unrelenting energy and onstage flair.

Alma Tropicália displays this grooving tension: Its punk sensibilities are paired with a virtuosic Brazilian jazz singer, and the vintage vibe of its live show—right down to Technicolor home movie collages—meshes perfectly with bright Brazilian beats. And as with Chopteeth, even die-hard aficionados will find new discoveries, unheralded 60s psychedelic beauties rescued from obscurity, as well as hip originals.