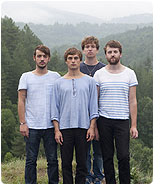 The Eternal Return:
Fránçois and the Atlas Mountains Loop Nostalgic Resonances, African Sounds, and Sparkling Indie Rock on E Volo Love
In a centuries-old French church high on a hill, Malian-style finger-picked guitar riffs bounced off cabaret-ready piano lines. Whispering calabash brushed against shimmering minimal techno. All in service of a dreamy set of songs that became E Volo Love (Domino USA; release: February 14, 2012), tracks that straddle the catchiest of indie rock and electronica and the lush borders of globally inflected experimentation.

This is the world of Fránçois and the Atlas Mountains. Fránçois has opened for incandescent Afrobeat scion Femi Kuti, and he has played with effusive retro-rockers Camera Obscura. He's leaped unexpectedly onto the indie scene in an English industrial town and learned to embrace the sounds of his native Southwestern France. He's gotten lost in the outskirts of Fez and dug into the complexities of Senegalese mbalax's rolling club beats.

Shaped by the quiet influence of West and North African sounds and by the gritty yet friendly vibe of Bristol's underground arts scene, Fránçois and the Atlas Mountains make a return to roots—hometowns, lost loves, Western pop transformed in the crucibles of the Sahara or Dakar—utterly engaging and fresh.

***

Fránçois was raised on Serge Gainsbourg, Jacques Prévert, the classics of French pop and poetry. He also grew up hearing tales from Cameroon, where his mother spent her girlhood. Yet the rural French kid's mind was blown when he first heard grunge and pounded on a distortion pedal, and he started making his own tapes.

When work took him to Bristol, England, Fránçois immediately jumped into a thriving scene, one that included both the speed-of-weed trip hop of groups like Portishead and Massive Attack, and a DIY-loving arts underground where experimentation and collaboration were welcome. Fránçois, merrily collecting a menagerie of instruments and accompanying himself live on keys he played with his feet, fit in perfectly and soon connected with bands from The Pastels to Movietone to Camera Obscura, who invited him to join.

Yet there are other currents that run through Fránçois's music and that flow across North and West Africa, back to Europe. Things clicked for Fránçois when he heard the brilliant African blues of Ali Farka Touré and the gritty Sahara rock of Tinariwen. He found himself wandering through Morocco, shadowing groups of Senegalese drummers, trying to master the polyrhythmic spree of Dakar's dance music (mbalax, made famous by singers like Youssou NDour).

On E Volo Love, these fascinations get folded back into indie rock and electronica in an organic way. Inspired by Touré—and constantly mislaying his picks— Fránçois figured out how to touch the electric guitar strings and approach the bare fingered, rippling sound of Mali's guitar greats. He invited Tinariwen engineer Jean-Paul Romann to add his imprint to the album.

And almost accidentally, E Volo Love gained an African pulse. As Fránçois was spending some time in his hometown of Saintes, he wound up playing a gig at the old church where the album was eventually recorded, with versatile drummer Amaury Ranger. A dance class had left behind a hand drum and a calabash, and the duo picked them up spontaneously during the show.

"The sound had a power and drive, but was gentle enough not to overwhelm what I was doing," explains Fránçois. This sound, rich with the church's natural resonance, blends seamlessly with the drum kit and beats of tracks like the album's otherworldly opener, "Les Plus Beaux."

"As we were putting the album together, the idea of return, of palindromes, kept popping up, which was perfect because I recorded the album where I grew up, around things I knew so well but was re-experiencing from the point of view of an adult," Fránçois reflects. "It's about things that never move, or things that return: sounds, people, feelings."

Things that loop back transformed echo throughout E Volo Love, whether it's the mysterious marimba sample from a field recording that merges into the bittersweet Afro-indie rock of "Edge of Town," or the overwhelming nostalgia of the electronica-inflected "Bail Eternel."

Opposites attract and coexist: a French cabaret piano line goes Congotronic on "Piscine," horns add grit to a gentle indie ballad on "Azrou Tune." The landscape on the cover looks like a blazing desert, but is actually a freezing morning: "The cover was shot at 7 AM in February on the coldest day you can get," Fránçois recalls. "It has this strange feeling of things being the opposite at the same time." Much like tension between airy and earthy that makes E Volo Love shine.
<< release: 02/14/12 >>