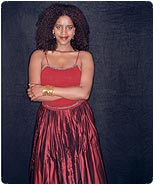 Interpretations of Gigi Bill Laswell Re-Imagines the Voice of Ethiopia's Blue Nile



"In the future, records will be made from records"—John Cage (1956)

When Gigi and Bill Laswell collaborated on her self-titled debut album in 2001, the results were a completely unique melding of traditional African sounds with modern electronic music. A modern Ethiopian artist had never sounded so progressive while keeping her music firmly rooted in its original culture. "Gigi's modal melodies and urgently questioning voice rise out of grooves that swirl jazz and funk into the complexities of Ethiopian pop," said Jon Pareles in the New York Times, "broadening the music without Americanizing it." Now comes Illuminated Audio, a complete reconstruction of Gigi's debut as an ambient epic by producer and dubmaster Bill Laswell. In the same spirit as his noted interpretations of Miles Davis (Panthalassa, 1998), Bob Marley (Dreams of Freedom, 1997), and Carlos Santana (Divine Light, 2001), Laswell went back to the original multi-track masters and re-imagined new versions and perspectives to highlight Gigi's singular vocals.

"It works perfectly," says Gigi of Illuminated Audio. "We wanted to capture the whole spirit of each track, and Bill's remixes translate the original melodies and create a different music language that really put you in a pleasant place." Laswell's reconstructions are long and patient, taking the essence of the original songs and building towers of dub around them. The floating vocals of "Abay" are reminiscent of the Cocteau Twins at their peak, while the deep basslines of "Sew Argen" and "Mengedegna" build on the groundbreaking studio stylings of Lee "Scratch" Perry and The Orb's Alex Patterson. "I really love what Bill does in the studio," says Gigi. "He plays me the tracks and we discuss them – but I trust him completely. When it comes to remixes you can't touch Bill."

As different and unique as Illuminated Audio sounds, no new music or overdubs were employed in its creation. The master musicians who perform on both albums include saxophonists Wayne Shorter, Henry Threadgill, and Pharoah Sanders; guitarist Nicky Skopelitis; percussionists Aiyb Dieng and Karsh Kale; and Laswell himself on bass. After the excellent response to the original album's release, Palm founder Chris Blackwell suggested that Laswell and Gigi go back to the studio and "re-think" the entire album. The result is Illuminated Audio, a swirling and mystical ambient reinterpretation – an exciting and radical transformation of the original music that, like Gigi's own voice, stands entirely on its own.

Twenty-nine-year-old Ejigayehu "Gigi" Shibabaw was raised in a distant coffee-farming area of northern Ethiopia. A natural multi-octave vocalist who defies the rigid Ethiopian scales, Gigi grew up singing in the Ethiopian Church and at family gatherings. Leaving home after her father initially forbade her to work as an entertainer, Gigi settled first in Nairobi, Kenya and then Ethipoia's capital, Addis Ababa, where she soon established herself as one of the city's leading singers. Cast in an all-Ethiopian theater production, Gigi toured East and South Africa, and eventually France, where she was invited to perform at a Paris world music festival. Later, she resettled in San Francisco, and soon caught the attention of Chris Blackwell, who signed her to Palm. Her debut, self-titled album was released in 2001.

Gigi is currently at work in Axiom's Orange Music Sound Studio on her second album of original material. Gigi is once again working with producer Bill Laswell and long-time collaborator Karsh Kale. With 10 new songs written and six near completion, the new material focuses heavily on a unique mix of traditional Ethiopian and Western stringed instruments. In addition, Gigi will be performing a series of live dates with Laswell's celebrated live project Tabla Beat Science in March 2003.