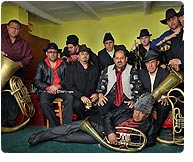 The Return of the Kings:
The Lightning-Fast Gypsy Brass of Romania's Legendary Fanfare Ciocarlia Comes Back to U.S. and Canada for a Summer Tour
Fanfare Ciocarlia, the brass orchestra from the village of Zece Prajini in northeastern Romania, is one of the world's foremost live Gypsy bands. And finally, they're back.
They were first introduced to North American audiences in 2001 and 2003 as part of the hugely successful Gypsy Caravan Tour. Now, the ensemble returns to tour the U.S. and Canada this summer.
"Fanfare Ciocarlia's wicked fast trumpets, tenor and baritone horns, tubas, clarinets, saxophones, bass drum and percussion from the Carpathian mountains are a sight and sound to behold," explains tour producer and New York Gypsy Festival founder Mehmet Dede. "This tour is one of the best ways to experience the beloved Gypsy brass band tradition in all its glory."

Everyone who has heard Fanfare Ciocarlia agrees on one thing: No brass band plays as fast. Their breakneck speed, technical chops, ripping rhythms and sweet 'n' sour horns set the group apart, winning them fans from Borat (they covered "Born To Be Wild" for the 2006 film) to serious music scholars. They have helped unite the best voices in Romany music on stage in two wildly popular musical theater pieces: The Gypsy Queens & Kings and the Balkan Brass Battle (which saw them battle it out on stage with Boban Markovic Orkestar). Their sound has been sampled, covered, championed, and emulated by countless DJs, bands, and Gypsy orchestras. Their radical reinterpretations of popular Western standards like the James Bond Theme and Duke Ellington's "Caravan" show how this Romanian orchestra can effortlessly put a Gypsy spin on any music they get their horns on.
This flexibility and skill at integrating diverse sounds into their own solid traditions has a long history. The Roma ancestors of Fanfare Ciocarlia's musicians were enslaved in Romania by the likes of notorious Prince Vlad Dracul, staunch opponent of the Ottomans. In their new land, they continued to create their own intricate version of the brass music once played by the janissaries.
Granted their freedom in the mid-19th century, the liberated Roma spread across Europe and beyond, or settled in small villages like Zece Prajini. They kept their distinct musical traditions, inspiring the musicians, poets and artists around them while remaining mistrusted, mistreated, and misunderstood.
"Sometimes when I tell people I come from Zece Prajini, they think I come from the end of the earth," says trumpeter Costic "Cimai" Trifan. "But here, at the end of the earth, is the right place to make music."
And there's lots of music making going on. Despite DJs, CDs, and electronic keyboards, live traditional music still occupies an important place in everyday life in communities like Zece Prajini. A wedding or other celebration without musicians would be simply unthinkable.
Fanfare Ciocarlia's thumping bass, driving percussion and spinning horn solos plunge listeners straight into the uproarious world of Romanian Gypsy parties, which can last for thirty hours at a stretch. Their repertoire is a musical fireworks display of traditional dances from Romania and rhythms from Turkey, Bulgaria, and Macedonia, yet with ever changing innovation inspired by everything from Bollywood to Eurovision.
Fanfare Ciocarlia has won the prestigious BBC-3 Planet Award in the European category. Many of their eight albums have topped the European World Music charts, and they have played a marathon number of shows, with more than 1,200 concerts in fifteen years.
Simply put: nobody does it better, harder, faster, funkier than Fanfare Ciocarlia!
Tour produced by NY Gypsy Festival. Generous support for this tour provided by the Romanian Cultural Institute in New York and Asphalt Tango Records in Berlin.