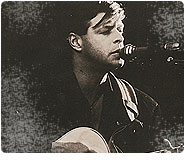 Glasnost Darling Superstar Fulfills Dream of American CD Release

Boris Grebenshikov's Russian Songwriter Released by Naxos World
Boris Grebenshikov—whose first global release, Russian Songwriter, will be issued on Naxos World on February 18, 2003—became the "Darling of Glasnost" during the post-cold war Soviet Rock boom in the USA. "Like many other artists previously branded as antisovetchiki," music critic David Kissinger wrote in 1989, "Grebenshikov and his band mates are now being bear-hugged by a Soviet leadership determined to project a new image to the world." In fact, he was the first Russian rock artist to record in the West. Today, he can still sell out any stadium in Russia.

Russia's greatest living songwriter spends one month every year in a Tibetan monastery. But his independent thinking has not always served his career well. Grebenshikov and his group Akvarium (Aquarium) blasted onto the Leningrad rock scene in 1973, when there were very few "official" groups in the Soviet Union. The poet laureate of Russian rock refused to submit his contemplative songs to the government's censorship committees. When Akvarium could not get sanctioned gigs, they played in underground venues, basements, back alley bars, and through it all they built up one of the most loyal fan bases of any Russian act.

Although Boris still performs and records with Akvarium, since 1984 he has periodically taken some time to do solo albums, including the US-released Radio Silence in 1989, when the words of the day were glasnost and perestroika. Some of his most interesting musical endeavors have resulted from these personal recordings, where Boris—who is often compared to Bob Dylan and Bruce Springsteen—is able to explore the roots of his songwriting and Russian heritage. As a result of these releases, Boris has today come to symbolize the best of Russian music, with books of his poetry and lyrics becoming bestsellers and each album a huge success both critically and popularly.

In contrast to other albums Boris has released outside his homeland, Russian Songwriter treats the listener to a wider overview of the Russian songwriter style. The repertoire ranges from traditional Russian music to songs by writers who influenced his generation, such as Bulat Okujava and Alexander Vertinsky. In these songwriter-centric pieces, Boris combines words and music to create a sonic atmosphere that is undeniably beautiful and unmistakably Russian. The liner notes contain lyrics in four languages and the repertoire is real Russian substance, not watered-down for commercial value.

"For twenty-five years I have dreamed that an album such as this, in the Russian language, would appear in the United States," said Boris, "And now this dream is coming true."

Naxos World, the world music imprint of classical distributor and label Naxos, will release 12 titles in 2003, and has plans to be able to stock an entire world music section with representative recordings from all corners of the globe.