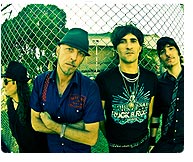 Hit Me!:
The Sublime Pop, Strictly (Italian) Roots Dancehall, and Rock Energy of Italy's Traveling Music Showcase, Hit Week
Festival shows in October in five North American cities
The Italian scene is blowing up, rich with hip, vibrant sounds. Its regional music hubs spark everything from dubbed out reggae to high-energy rock, from electronic shimmer to jazz cool.
Hit Week (www.hitweek.it) is the perfect place to experience the energy.The multi-city festival celebrating Italy's burgeoning musical creativity is returning to the U.S. to shine a light on the country's fresh sounds, bringing arena-packing headliners and thoughtful new acts to five U.S. and Canadian cities in October 2012, including New York (October 9), Washington, DC (October 11), Los Angeles (October 13, 18-19), Miami (October 12-14), and Montreal (October 16).
From DJ sets to full-on rock shows, Hit Week will showcase the full variety and local flavor of some of Italy's most creative, engaging musicians—from dancehall-loving songstresses from Apulia to the hottest rock and pop bands on the Italian charts. The festival will also bring two up-and-coming Italian performers, winners of Hit Week's annual contest, to North America for their debut tour.
Hit Week is promoted by The Italian Ministry of Economic Development, The Italian Federation of Music Industry, The Puglia Region (o Puglia Sounds), The Italian Trade Commission in Los Angeles and Ang (the Italian association for youth).
Hit Week is produced by Francesco Del Maro for Music Experience Roma Italy and Mela Inc. Los Angeles, with the support of The National Italian American Foundation, The Rhythm Foundation Miami, and more to come.
The Artists of Hit Week 2012
Negrita
From small-town Tuscany, Negrita packs stadiums with its catchy riffs, perfect rhythm section, and incisive lyrics. With pop appeal and a hint of reggae bounce and Balkan spirit (one of the members hails from Croatia), the band harnesses bluesy, gritty vocals and great hooks to craft humable, rocking songs.
Subsonica
Skillfully walking the line between rock and electronica, Turin's Subsonica can move from spare-synth powered textures to epic grooves. By turns driving and sweet, the band regularly hits the top of Italy's charts and gets major venues filled with tens of thousands of fans. Subsonica returns to the U.S. after a wildly enthusiastic reception during last year's Hit Week.
Boom Da Bash
A mainstay of Italy's lively reggae scene, this old-school sound system turned into a live quartet and wowed Italian listeners, with its innovative take on roots sounds and its commitment to positive message, delivered in Jamiacan patois and Salento dialect.
Emma Re
Emma Re's husky, expressive voice gives the sought-after singer the flexibility to sing everything from vintage pop to jazz standards. With an extensive following in China—she was one of the few Western singers invited to perform during the Opening Ceremonies of the Beijing Olympics—Emma Re knows how to smolder in an epic torch song, or to front an lush orchestral arrangement with grace.
Alessandro Mannarino
Telling playful, quirky tales, the bittersweet songs of Roman singer-songwriter Mannarino put a Fellini-esque spin on Manu Chao-worthy grooves. Backed by a delightfully motley band of everything from trombone to accordion, Mannarino knows how to tell colorful, evocative tales and place them in just the right soundscape.
Mama Marjas
Classically trained on the violin and raised by a family of musicians, Apulia native Maria Germinario became fascinated with dancehall and reggae as a young woman. She went on to fashion her own high-energy, spit-fire hits, with a keen sense for beats, heavy bass, and a vocal delivery often reminiscent of singers like Erykah Badu.