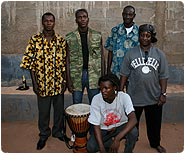 Grounded Blues, Ungrounded Fuzzbox:
The Late, Great Malian Electric Guitar Maverick Lobi Traoré Returns on Vinyl
In a dim, gritty club, pedals and distortion blasting, Malian music changed.
The man behind the intense, unheralded shift was Lobi Traoré, a player often compared to Jimi Hendrix thanks to his bold bending of his roots, his maverick music making. Captured live during incandescent sets at Bamako clubs before his untimely death in 2010, Bwati Kono, soon available on heavyweight vinyl (Kanaga System Krush; release: November 27, 2012), made its mark on the global blues and rock scene.
"He had a very heavy electric style which was a radical departure from most Malian music," explains producer and long-time Malian music researcher Aja Salvatore. "When he passed, lots of people realized what a groundbreaker he was. I am so happy I got to see him live, when he was at the top of his game."
Thanks to production guidance on his early recordings from revered Malian blue guitarist Ali Farka Touré, Traoré became a musician's musician. He caught the ears and performed with artists as diverse as Bonnie Raitt, Damon Albarn (Blur, Gorillaz) and Jackson Browne.
"What I love about Lobi's playing is how hypnotic, bluesy, and emotional it is—absolutely his own style, but in direct line with the deep, modal Delta blues I love," Raitt commented. "He was a rising star, carrying on the soulful, improvisational style of Ali Farka Touré and John Lee Hooker."
Traoré crafted a truly original sound reinvigorating electric modal Blues with the kind of African improvisational phrasing that gave the style its flavor to begin with. Tracks explode with stunning raw guitar solos over complex African rhythms, weaving between Lobi's haunting vocal tales.
"One of the great things about this recording, something that makes it great for listening on vinyl is that you get a feel for what Lobi sounded like live. He played electric, gritty stuff, with lots of feedback," explains Salvatore. "Other recordings cleaned up his guitar, which disguised some of his greatness." This grit promises to hook vinyl lovers, from vintage African funk fans to listeners coming to African sounds via rock.
Traoré's hard-hitting, dirty sound was powered by a deep soul, something Salvatore got to see over the years as he worked with Lobi in Bamako. "He was a soft, sensitive guy, in many ways," Salvatore recalls. "He would smile and joke with you, but always had that sadness in his eyes. He had to express those blues."
To reflect Lobi's musical world and artistic vision, KSK has commissioned delicate yet strikingly intense cover art by Northern California paper artist, Tahiti Pehrson (www.tahitipehrson.com/about/), and reordered the tracks, to provide a more satisfying and new vinyl listening experience. Volume 1 of 2, this release features six tracks from the original album, to be followed by Volume 2, which will include several unreleased and bonus songs.
<< release: 11/27/12 >>