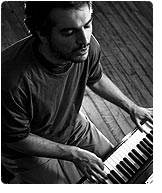 The Latin Music Powerhouse:
Boston Gets a Lyrical, Sunny Taste of Venezuela's Burgeoning Music Scene
Three remarkable admission-free performances at Longy School of Music of Bard College, September 2012
A classical pianist who nimbly moves through pieces inspired by the fancy footwork of a colonial couples dance. A flute player with the chops for Bach and Prokofiev, or for the complex sounds of the northern Amazon and the Caribbean. A jazz player who merges bebop and lush Afro-Latin traditions.
All three hail from a cultural powerhouse just emerging as a music hotspot. For three evenings, Boston will get a chance to hear the fresh and refined sounds of a country sparking major movements in both Western classical and Latin traditional music: Venezuela. Thanks to its revered system of large-scale classical music education ("El Sistema") and its recent investment in traditional music and musicianship, Venezuela is bursting with innovative, technically stunning performers and composers able to move effortlessly between diverse African, indigenous, and Latin roots, jazz-inspired improvisation, and classical repertoire.
Venezuelan Sounds Foundation, an organization created to connect Americans listeners to this vibrant scene, will bring three notable figures at the intersection of Venezuela's complex and vibrant roots, and impeccable academic training to the Longy School of Music of Bard College in late September, 2012.
Thursday, September 20 at 8:00pm
Marco Granados, Roberto Koch and Jorge Glem Trio Classically trained, the gifted flautist Granados joins Koch (bass) and Glem (cuatro) for a program of well-loved compositions and originals filled with Venezuelan spontaneity, rhythmic intensity and joyful virtuosity.
Saturday, September 22 at 8:00pm.
Leo Blanco, jazz pianist and composer. A masterful blend of modern harmonies, improvisation, African rhythms, and Venezuelan roots, Blanco is known for his intense engagement with the complexities and pleasures of jazz and Venezuela's vibrant traditions.
Sunday, September 23 at 3:00pm.
Clara Rodriguez, pianist. Rodriguez presents a lively, evocative program of Latin American piano music, by composers who exemplify the intersection of art and roots music, including intriguing piano arrangements of classical guitar gems.
All performances will be held at the Edward M. Pickman Concert Hall, Longy School of Music (27 Garden St., Cambridge, MA, 02138). Admission is free. For more information see http://www.venezuelansounds.org/events or call no call
The program is possible thanks to the generous support of Chevron Corporation and the Embassy of the Bolivarian Republic of Venezuela.