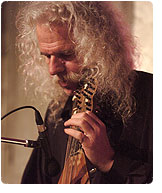 Into the Labyrinth:
Complex Compositions, Traditional Sonorities Unite Musicians from America and Greece
Revered Crete-based composer-performers Ross Daly and Kelly Thoma of Labyrinth join exploratory string duo Teslim (Kaila Flexer and Gari Hegedus) and powerhouse female vocal ensemble Kitka in a variety of live concert programs and musical workshops throughout California, October 14-28, 2012.
When Bay Area violinist and composer Kaila Flexer, one half of Teslim, first heard Ross Daly on the radio, she immediately changed courses to find his recordings at a local store. With her Teslim collaborator and fellow devotee of Eastern Mediterranean music, Gari Hegedus, she marveled at Daly's musical intensity and fluidity, the freshness of his approach and the integrity and depth of his transformational, multi-cultural artistic vision.
Although of Irish descent, Ross Daly defies ethnic classification. From a very early age, Daly discovered that music was, in his own words, "the language of my dialogue with that which I perceive to be sacred." This dialogue eventually led him to studies and collaborations with many great masters of the Middle East, Central Asia, and the Indian subcontinent. Widely traveled, Daly has been based on the island of Crete for decades. Universally recognized as one of the foremost experts on the island's rich musical traditions, he established the Labyrinth Musical Workshop in the town of Houdetsi, a unique educational institution and ethnic instrument museum staffed by international master musicians and dedicated to the study of the world's modal music traditions.
After several years of studying and performing Ross' compositions here in the U.S., Flexer and Hegedus dreamt up a project to collaborate with Daly and his musical partner, Kelly Thoma. Both Daly and Thoma are masters of the lyra, a pear-shaped bowed instrument found on Crete, to which the enterprising musicians have added an additional fleet of sympathetic strings. Uniting as composers and collaborators, the quartet of players of multi-ethnic string instruments began to craft and explore music that springs and departs from the traditions of the Eastern Mediterranean.
Meanwhile, Kitka, the female vocal ensemble that has opened so many ears to the beauties of Eastern Europe's vibrant harmony singing traditions, had been issued an intriguing challenge by supporters in UC Santa Barbara's Classics Department: create a new program of Greek music in their polished yet passionate style.
"Being close friends of Kaila and Gari, I knew about Teslim's plans to bring Ross and Kelly from Crete to California for a collaborative composition project," explains Kitka's executive director and vocalist Shira Cion. "I thought that a blend of ethnic string instruments and Kitka's voices would make for a gorgeous concert experience and was thrilled when Ross, Kelly, Teslim, and the good folks at UCSB were excited by the idea of presenting a shared program of original compositions and traditional songs from Greece. Once we committed to bringing the show to Santa Barbara, we knew we wanted to share it with our audiences at home in the Bay Area as well."
Kitka's contribution to the performances in Santa Barbara (October 19), Santa Cruz (October 26), and Oakland (October 27) will include new arrangements of folk melodies deeply infused with centuries-old vocal techniques; haunting ancient polyphonic songs in bluesy-sounding pentatonic scales from the mountainous Albanian border region of Epirus; odd-metered dance tunes with strident Balkan-sounding dissonances from Greek Macedonia; and intricately ornamented unison odes drawn from a variety of sacred and secular sources from the Greek islands.
Ross Daly, Kelly Thoma, Teslim, and Kitka invite listeners to join them on a journey of unexpected musical pathways and crossroads. Inspired by the diverse facets of traditional music of Greece and the Near East, these performers offer routes to a core sonic experience that defies easy geographic categorization.
This project is supported, in part, by generous grants from Meet the Composer, American Composers Forum, The Musical Grant Program (a program of San Francisco Friends of Chamber Music), Individual Artist and Organizational Assistance Grants from the City of Oakland Cultural Funding Program, The California Arts Council's Creating Public Value Program, and the University of California Santa Barbara's James and Sarah Argyropoulos Endowment in Hellenic Studies.