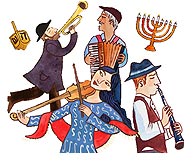 Putumayo's A Jewish Celebration Shines a Light on the Global Sound of Jewish Festivities
From ancient times to the modern era, celebration has had a thousand sounds in the world's Jewish communities. The songs that accompany these moments of joy and reflection take different forms and embrace unexpected genres across the Jewish Diaspora. From Moldava to Uganda, tango to ska, A Jewish Celebration (Putumayo World Music; Note: Updated Release Date: August 27, 2013) chronicles the upbeat diversity of global Jewish music.
Featuring rollicking tracks from hip bands like Golem! ("School of Dance") and Kayama (Bob Marley-esque "Vehistakel"), the collection spans many eras and geographic regions.
Classics abound, from a graceful interpretation of Bosnian singer-songwriter Flory Jagoda's Ladino Hannukah favorite, "Ochos Kandelikas," sung by Alisa Fineman; the always fun "Hava Nagila" (as Ben Rudnick & Friends kick up their heels);or dreydl-spinning good times (Klezmer Conservatory Band's version of Mickey Katz's "The Dreydl Song" and Julie Silver's "S'Vivon Sov, Sov, Sov," done bossa nova style).
The collection also takes on a delightfully global perspective on Jewish musical celebrations: The Abayudaya people of Uganda sing about brotherly love ("Hinei Ma Tov" combines Hebrew and the local language of Luanda) with harmonies and phrasing that are distinctly East African. A rising star on the Yiddish scene, Moldovan singer Vira Lozinsky highlights this small nation's Jewish roots ("An Alte Mil"). A tango by German Yiddish singer Karsten Troyke and ska byKing Django ("Heveinu Shalom Aleichem)," are examples of the unexpected, uplifting songs on A Jewish Celebration.
The mix of ancient roots and contemporary influences shines a light on the world of Jewish Celebration.
A Jewish Celebration is available at selected record, book, gift, and specialty stores around the world, and for digital download on www.putumayo.com, iTunes, Amazon and selected online stores
<< release: 08/27/13 >>