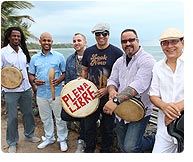 Call (and Response) of the Heart: Puerto Rico's Plena Libre Finds New Thrills and New Hope in Afro-Caribbean Roots on Corazón
Plena Libre, the venerable, high-energy ensemble that help put Puerto Rican roots musicon the international musical map, stays true at heart to the island's unique plena and bomba pulse, all while flirting unabashedly and engagingly with music from across the Caribbean and Latin world. Dancing with genres from smiling merengue and Cuban songo to Latin jazz and rock, Plena Libre takes a no-holds-barred approach to tradition on Corazón (release: February 26, 2013), keeping the rhythmic core of Puerto Rican music and adding layers of complex, good-spirited brass, strings, and hard-hitting hand percussion.
"We emphasize the sound of the drum in the eternal dialog with the voice and the rest of the musical ensemble," says bandleader, bass player, and founder Gary Núñez, "as we adapt elements of jazz, rock, and other Latin and Afro-Carribean music to our roots." Intense horns meet Plena Libre's lush, traditional vocal harmonies, and gritty, salsa-inspired arrangements take plena gems to the next level ("Huracán").
Paying homage to greats like Mon Rivera (whose big hit "A Papa" got revamped by Celia Cruz and now returns to its vintage plena roots) and Don Rafael Cepeda (responsible for bomba classic "Habla Cuembe"), Corazón reveals the decades-old group's deep knowledge while revealing its ongoing joyful innovation. Plena Libre has nurtured young talent over the years, and this album brings newcomer Emanuel Santana, a young, street-savvy bomba and plena singer with the flexibility to handle Plena Libre's diverse repertoire (He shines on traditional tracks like "Qué es la Vida"). At the same time, the band has striven to redefine the performance possibilities for a group playing traditional Puerto Rican music. Plena Libre has performed everywhere from Morocco's Fez Festival to the Playboy Jazz Fest and Lincoln Center.
But this isn't just about playing music and winning hearts among new international audiences. It's about making music with heart, with a core of integrity and dedication to the community. Plena Libre has long spoken boldly for change at home, a role that fits perfectly into the community-oriented genres of plena and bomba. Traditionally, as this music evolved in the early 20th century, plena and bomba acted like the local paper in Puerto Rico's barrios, keeping people informed and sparking discussions of current events. Plena Libre maintains this side of the music, in outspoken, evocative calls for more thoughtful, incisive approaches to the island's problems.
"We need stop looking for 'outside' solutions," notes Núñez. "We need for Puerto Ricans to take a closer look to our situation, to look to our own talents as a center for the development of new pride in ourselves, because we are capable solving our problems as a society."
On tracks like "Que Bonita Bandera," a tribute to Puerto Rico's flag and by extension its history and culture, the band points to Puerto Rico's assets, to motivate listeners beyond complaining and backbiting, to concerted action. All with a touch of the island's rural jibaro (the Puerto Rican answer to Country) grooves.
"The answer for all of us, everywhere, is to take a hard look to what we can do for ourselves, working hard with a clear vision of creating a new society based in our own talents, resources, a feeling of pride in ourselves as a nation, and lots of courage and work," Núñez reflects. "From there we can then look to the enormous possibilities we have as people, for ourselves, and make a contribution to a better world."
This joyful possibility, tempered by years of hard work and technical excellence, lies at the center of Corazón and expands plena and bomba's traditional role as a platform for challenging the status quo and providing encouragement. It's the heartfelt universal message of a centuries-old Afro-Caribbean art.
<< release: 02/26/13 >>