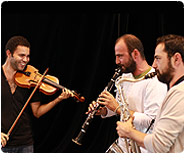 New Sounds from the Arab Lands: U.S. Tour Debuts Contemporary Arab Music Icons and Newly Commissioned Collaborative Pieces
This adventurous program brings together five eminent performer-composer-improvisers from Syria, Lebanon, and Tunisia who create new music inspired by the rich cultural heritage of the Arab lands. Reflecting a rich history of musical training and innovation, these five artists burn with the contemporary spirit of a region that has been marked by strife and difficult transitions but which continues to be filled with worldly, complex, enlightening ideas and sounds.
Performing on both Middle Eastern and Western instruments, the artists of New Sounds exemplify the talent, achievement, and breadth of a rising generation of cosmopolitan Arab musicians who combine jazz, classical music, and the microtonal subtleties and myriad melodic modes of Arabic music. Each musician is at once a consummate performer, skilled improviser, and highly original composer. Together, the ensemble's music represents a sublime mix of spontaneity and control rooted in a thousand-year-old tradition of improvisation.
NEW SOUNDS OF THE ARAB LANDS_Byblos rehearsals from AKMI on Vimeo.
This tour will present fifteen new works created by members of the ensemble, works that hint at the age-old exchange along the Silk Route as well as the ongoing dialogue throughout the region and world. In part composed and in part improvised, these works come alive in the moment, yet they are also charged with a sense of history and tradition. Moreover, they could only have emerged from artists whose own musical journeys have zigzagged back and forth between the Middle East and the West in unique ways, creating music that is at once seamless and surprising.
New Sounds from the Arab Lands is led by the versatile clarinetist Kinan Azmeh. Born in Damascus, Kinan graduated from that city's High Institute of Music and subsequently, from New York's Juilliard Conservatory. He has appeared worldwide as a classical clarinettist as well as a new music improviser and jazz player. His compositions include works for orchestra, chamber groups, and solo clarinet as well as film scores, dance soundtracks, and electro-acoustic music.

Basel Rajoub, born in Aleppo, Syria, graduated from the Damascus High Institute of Music, where he studied European and Middle Eastern classical music as well as jazz. He performs widely as leader of the Basel Rajoub Quartet. Jasser Haj Youssef, originally from Tunisia, currently lives in Paris, andperforms both on violin and on the Baroque viola d'amore, whose resonant sympathetic strings are ideally suited to the modal melodic forms of Arabic music. Jasser is a consummate fusionist, as much at home in jazz as in classical music and Arab maqam.
Khaled Yassine is from Beirut and plays both Middle Eastern and ern percussion. He co-founded the Lebanese fusion band Fu Jan Shai, tours with Anouar Brahem, and is artistic director and producer of the Beirut-based CD label Edict Records.
Feras Charestan, comes from the city of Al-Hasakeh, in northeast Syria, and studied qanun at the High Institute of Music in Damascus. He performs regularly as a qanun soloist with the Qatar Philharmonic Orchestra and the Syrian National Symphony Orchestra as well as in the bands Roubai Toueis and Woujouh.
Performers:
Kinan Azmeh, clarinet
Basel Rajoub, saxophone
Jasser Haj Youssef, violin, viola d'amore
Feras Shahrestane, qanun (traditional zither)
Khaled Yassine, percussion
The New Sounds project was developed in collaboration with the Aga Khan Music Initiative, a program of the Aga Khan Trust for Culture. The Music Initiative supports artists and artistic communities in the Middle East and North Africa, Central Asia, and South Asia that seek to reassemble and further develop diverse expressions of a shared musical heritage in contemporary forms. Working with partners and collaborators around the world, its performance, outreach, and production activities offer a broad platform for contemporary, tradition-inspired music. In parallel, it develops new models for community-based arts education that revitalize cultural heritage as a source of livelihood for musicians while promoting pluralism.