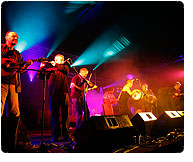 Music of the Heart's Desire: Sligo Roots, Worldly Travels Meet in Dervish's Evocative Tunes and Songs
Often referred to as the Land of Heart's Desire, Sligo, with its mountains, glens, and windswept Atlantic shore, has long been the source of inspiration for Irish artistry, from the visionary works of renowned poet W.B Yeats, to the revered music of fiddle legend Michael Coleman. The source remains and the tradition continues, inspiring musicians like local legends and international Celtic music darlings Dervish. Beginning as a group of musicians playing the tunes of their native Sligo in local bars, over the last twenty four years Dervish have broadened their musical vision and with it their devoted audience.
They have returned to their Sligo roots for inspiration with The Thrush in the Storm, Dervish's first studio album in more than five years. Musically more moody, rhythmic, and mature, the album that features new tunes and songs from the band's rich repertoire, as always with an innovative and fresh touch that has become Dervish's hallmark style.
This style shines onstage. A Dervish performance ranges from powerful and energetic dance tunes to sublime interpretations of Irish songs and airs with vocals, fiddle, flute, accordion, bodhrán, mandola and bouzouki. Interwoven with Cathy Jordan's beguiling voice and engaging stage presence, an evening with Dervish is filled with warmth; conviviality and inspiration, as American audiences will experience during the band's spring 2014 tour.
"In Irish music, there are three elements: goltraí, so sad it brings tears; geantrí, so lively it makes you want to dance; suantrá, so soothing you want to sleep. At a Dervish concert, you experience all three and it leaves you exhilarated!" proclaims singer Cathy Jordan.
The band—Jordan, Liam Kelly, Shane Mitchell, Tom Morrow, Brian Mc Donagh and Michael Holmes—have performed throughout every corner of the globe, playing for heads of state, and for an audience of 240,000 in Rio de Janeiro. From the world's biggest music festival, Rock in Rio, to the small village festival in the west of Ireland, the Irish traditional music band, Dervish, have appeared on stages for the past twenty four years leaving audiences spellbound and filled with excitement. Their music draws from the pure tradition while the band's verve and style breathes new life into the oldest tune or song. This dedication and passion have resulted in Dervish being one of the most sought after Irish acts internationally.
Over the years they have shared the stage with James Brown, The Buena Vista Social Club, Oasis, Sting, REM and Beck and have chronicled their musical journey in ten classic CDs and two DVDs. Year after year their CDs have topped Folk, World and Roots Music charts in Ireland establishing them as one of the all-time great traditional Irish bands. Readers of top music magazines have awarded Dervish "Best Overall Irish Roots Act" on several occasions in their twenty four years and, in what is perhaps their proudest moment, Sligo City Council bestowed on them the Freedom of the city of Sligo for their contribution to the region's vibrant artistic culture.
Though respected for their treatment of tradition, Dervish has won over audiences with their vibrant, fresh approach. "It's a funny thing, but Irish music is one of the oldest forms of music, yet it is influenced an awful lot by other things," explains Jordan. "It evolves and evolves. Dervish's sound is very recognizable because of the bouzouki and mandola. And though we have a modern style within the Irish context, you might not say it's really modern because it blends in so well. But in actual fact there are a lot of modern influences in there."