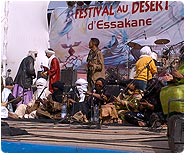 Counterpoint to Conflict: Festival in the Desert's Musical Call for Reconciliation in Mali
The Festival in the Desert has been postponed due to the upheaval in Mali, but its music lives on with a new live release.
Held outside Timbuktu, the Festival in the Desert (http://www.festival-au-desert.org) has long been where cultures come together in unexpected ways. Artists from the Arctic Circle to the small Pacific Island of New Caledonia, from rock stars like Bono and Robert Plant to traditional musicians from remote communities, have all found a warm welcome at the Festival, helping to put little-known Saharan music on the global map.
The thrill of the festival is palpable on Live from Festival au Desert (physical release: April 16, 2013; digital release: April 30, 2013), a collection of prime cuts from established names and intriguing newcomers. Tracks include intense live performances by innovative Canadian-Indian singer Kiran Ahluwalia backed by desert blues icons Tinariwen, Afropop legend Habib Koite, hip ngoni virtuso Bassekou Kouyate, Timbutku songstress Khaira Arby, Touareg rockers Tartit, and a plethora of stunning musicians from around the Sahel and West Africa.
Music from Mali has been flourishing for decades in the West, moving from an object of niche interest into the European and American mainstream, thanks, in part, to artists like Tinariwen, Salif Keita, and Amadou and Miriam. The striking lineage of Malian griots (Kouyate among one of the most popular), the multifaceted music of Mali's north (as heard in Arby's songs), and the rumble and grit of Saharan nomads with electric guitars (Tartit/Imharhan) have captured ears and imaginations worldwide, sparking an intense fanbase for Mali.
Now times are tough. Turmoil has enveloped Mali. Everyone´s ability to work has been extremely limited due to the fighting in the north and the mobilizations in the south.
What began as a nationalist uprising in Mali's north—not far from the Festival's site—was hijacked by hard-line fundamentalists. Conditions rapidly deteriorated in the region. Invaluable historical monuments were sacked and destroyed and music was banned under a strict version of sharia law. January 2013, fighting intensified. France and other countries have intervened.
However, the country's woes did not stop musicians and music lovers from singing, playing, and speaking out for peace and freedom. In solidarity with the Festival in the Desert many musicians are determined to take a message of peace across Mali and abroad.
Musicians and festival organizers want the conversation to move beyond violent conflict into a more productive conflict resolution. In recognition of this desire and the Festival's ongoing efforts, Freemuse, the prominent NGO supporting freedom of musical expression around the world, just announced that its 2013 award is going to the Festival.
"In spite of extreme Islamists' attempts to silence all music in Mali, the Festival defends freedom of musical expression and struggles to continue keeping music alive in the region," says Marie Korpe, Executive Director of Freemuse.
<< release: 03/19/13 >>