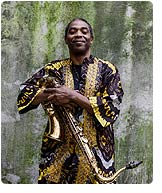 Pushing On: Femi Kuti Reimagines His Afrobeat Legacy on No Place for My Dream and on U.S. Summer Tour
Once they bombed them; now they are building museums to honor them. Tapped as Afrobeat founding father Fela Kuti's chosen successor, Femi Kuti has fought for his own voice and for his family's freedom. On a tide of growing international recognition, Femi has broken the chains that bound Afrobeat, adding his own vision and restoring his father's legacy to its proper place.
Femi's voice rings out triumphant on No Place for My Dream (Knitting Factory Records; June 25, 2013). With astounding musicianship, well-honed grooves, and a sound he's made his own, Femi has defied local authorities and the rigors of his own upbringing to break free musically and speak truth to power.
"I knew I never wanted to be just like my father," exclaims Femi, "I was being groomed to be like my father, even in the way I dressed. That wasn't what I wanted. I needed something more challenging. I wanted to break away."
Femi has struck the perfect balance between respect for his father's groundbreaking, genre-establishing musical achievements and political outspokenness, and an intense commitment to his own vision and work. Horns sparkle and growl with striking precision ("No Place for My Dream"). Sinuous keys and bright bursts of percussion ("Action Time"), shifting tempos and hard-hitting, complex rhythms weave together, a vivid counterpoint to Femi's strong, soulful tenor voice ("Nothing to Show for It").
This heat will be in full force as Femi and his band tour the U.S. and Canada this summer.
<< release: 06/25/13 >>