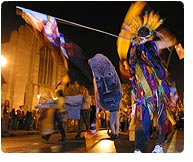 Downhome Cosmopolitanism: The World's Cultures Converge in Idyllic Hoosier Town, Thanks to Ingenious Lotus Music and Arts Festival
Indiana has a secret. Hidden in one of America's great small towns—complete with idyllic courthouse square and thriving main street—is an unexpected hub of global culture. From Tibetan monasteries to Afghan and Burmese eateries, Bloomington goes beyond the laidback cosmopolitanism of most Midwestern college towns.
The cornerstone of Bloomington's global side is the annual Lotus World Music and Arts Festival (September 26-29, 2013). An annual, nationally recognized world music event celebrating its 20th anniversary this year, Lotus transforms Bloomington's quaint downtown into something that combines the elements of a street fair, carnival procession, and massive block party. The music—ranging from meditative solo performances to high-energy Swedish hip hop or Balkan funk—powers the evening, drawing together town and gown, and the entire surrounding region.
"The thing about Bloomington is its small size and its big contingent of arts and culture and academics," explains festival communications director LuAnne Holladay. "Indiana University acts as a magnet that draws people from all over the world anyway. You can be completely disinterested in the arts, but still understand that there's more here than the usual Midwestern culture."
Lotus has boosted the power of Bloomington's cultural magnetism, bringing in internationally acclaimed artists as diverse as red-hot pranksters Balkan Beat Box and electro-cumbia club stars Bomba Estereo, soul icon Mavis Staples and the Dirty Dozen Brass Band, Afropop stars like Baaba Maal, Habib Koite and Vieux Farka Toure. In short, the festival has hosted nearly every major name and every possible sound.
This eclectic, open-eared musical approach has deep roots. Bloomington has long been a music town, from the days when native son Hoagy Carmichael penned his classics, to IU's stellar Jacobs School of Music and Archive of Traditional Music (second in size to the Library of Congress for traditional recordings), to the present flourishing of indie rock labels with international clout (Secretly Canadian, Jagjagwar, and Dead Oceans, darlings of the indie rock world, are all based in Bloomington). Yet the scene has its distinctly global element, inspired by and inspiring Lotus. Bloomington is home to Salaam, an Iraqi-American ensemble able to shift from centuries-old Bagdad modes to moving original pieces; Ghanaian master xylophonist and educator Bernard Woma, who has played for the likes of Nelson Mandela and Bill Clinton; I.U. world music percussion professor Michael Spiro, world-renowned for his Afro-Cuban and Afro-Brazilian performances and recordings; and Irish flute player Grey Larsen, highly respected in Celtic music circles.
It's one thing to run a festival every year, but Lotus has done far more for Bloomington than merely bring on the global good times. It runs an educational outreach program/celebration every spring for more than 10,000 elementary students in southern Indiana, as well as regular world music shows year-round. It has been instrumental in boosting the spirit of Bloomington's quirky downtown, right down to playing a crucial role in saving its architecturally and historically significant main-street theater, now a centerpiece of Bloomington's performing arts. It has helped bring art out of galleries and museums and collections, and to the town's streets and parks. And Lotus helped spawn a consortium of music festivals spanning the middle of the country, in Chicago, Milwaukee, Madison, Minneapolis, and Cedar Rapids.
With a natural ingenuity characteristic of Lotus, the visual component of the festival's vivid musical offerings sprang very organically from the festival itself. Though Lotus had long tried to add a visual arts component, mostly through traditional art shows, no one felt satisfied with the results and with the art's isolation from the rest of the festivities. Then, one night, festival director Lee Williams saw a striking, colorful backdrop a performer had brought with him. "Something clicked," Williams recalls. "Our visual art approach flowed from that backdrop. It became all about taking arts to the street, bringing it outdoors, doing it on big scale." Outdoor installations include family-friendly projects festival-goers can help create, as well as an arts village.
Taking it to the street didn't end with art installations. Another beloved, much anticipated element of Lotus came about equally as spontaneously. "One night, Gangbe Brass Band from Benin just walked out of the tent where they were performing and played their instruments as they went down the street," Williams remembers fondly. "Because it's Bloomington, the audience followed of course. Everyone loved it. Then we started doing processions."
The community shapes the festival, just as the festival has shaped the community. Sparking a whole new level of curiosity, people come to Lotus not for big names and headliners—though there are those—but simply because they want to hear something new, and they know it will be good. "The specialness of Bloomington and Lotus comes from our audience," says Holladay. "Because of what people have access to, they are willing to try lots of new things. They are primed when they walk into a concert, to give an artist a try, to accept something for what it is, and really get into it."
That's how Hanggai, a folk-rock band from Inner Mongolia, wound up with a huge fan base in the Midwest. Or how quirky Swedish MCs Movits can get hundreds of screaming fans, from college kids to grandparents, bouncing on the pavement. Or how Swedish roots virtuosi Väsen became hometown heroes—to such an extent, Bloomington's mayor temporarily renamed a downtown street in their honor. "We're able to develop artists now," notes Williams. "They get a posse in Bloomington, and can build from here."
"Lotus has the best of both worlds," explains Canadian cross-cultural banjo virtuoso Jayme Stone, "the buzz of an outdoor festival atmosphere and the pristine ambiance of an indoor one, with beautiful venues and great sound." "The Lotus Festival is a great place to hear good music that you didn't even know existed," Väsen's Olov Johansson enthuses. "It's also a really friendly festival for meeting other musicians, as well as music lovers in the audience, since performers and audience walk the same streets in between the different venues. Heja Lotus Festivalen!"
"I've never been in a community where people just love it, as much as people love Bloomington," comments Mike McAfee, head of Visit Bloomington (visitbloomington.com)and long-time Lotus Festival fan. "I know so many people who just had to move back here, or who couldn't help but stay after they finished school. They felt a powerful connection, thanks to our big-city amenities and events like Lotus." It's a connection that's open to anyone, quick visitor or life-long resident.