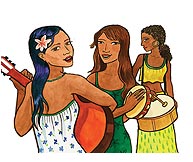 Feminine Mystique: The sweet, sensual sounds of Brazilian female vocalists shine on Women of Brazil
From Carmen Miranda's playful intensity in the 1940s and 50s and Astrud Gilberto's sultry alto in the 1960s to today's multi-talented young generation, the voices of Brazilian women have long shaped popular song worldwide. Through classic samba and bossa nova, female Brazilian vocalists have won a place in hearts across the planet.
Women of Brazil (Putumayo World Music; release: May 21, 2013) chronicles the rising stars and established voices of a scene as prolific as it is innovative, from philosophical sambas (Aline Morales's "Pra Que Sambar") to gentle electronic sounds, from the sway of bossa nova (Clara Moreno's "Balanço Zona Sul") to reggae vibes (Flavio Coehlo's "A Foto"). The musicians featured on this album take the music of greats like Caetano Veloso and Jorge Ben, and create their own unique interpretations—or craft clever new songs, often with a wink to the classic Brazilian songbook.
"Part of the joy in Brazilian music is this ability to combine that sultry air with great melodies and intelligent lyrics," reflects Putumayo's founder and CEO Dan Storper, who faced the daunting task of picking tracks out of Brazil's burgeoning contemporary music scene. To chronicle this scene further, Putumayo is releasing two updated versions of its successful collections of Brazilian music (Brazilian Lounge and Brazilian Beat).
Many of the young artists on Woman of Brazil hail from legendary musical families, like velvet-voiced Mart'nália ("Pára Comigo," a breathy, jazz-inflected track) or Clara Moreno (daughter of respected singer Joyce). They come from Italy (Nossa Alma Canta) and Sweden (Miriam Aïda), from Brazil's lesser-known rural regions (Maguinha was born in landlocked Goiás) and its major cities, Rio and Sao Paolo. They are veteran performers (Miriam Maria), internationally recognized artists (Luísa Maita), and names utterly new to most listeners outside Brazil (Graça Cunha).
"There's this seductive, sensual sound, reflecting the beautiful melodies, thoughtful lyrics and unique perspectives of these performers that unites them," explains Storper. "They all manage to make great music paired with exceptional lyrics, words that are not just about love, lust and loss, but often about something deeper."
Women of Brazil is available at selected record, book, gift, and specialty stores around the world, and for digital download on iTunes, Amazon and selected online stores.
<< release: 05/21/13 >>