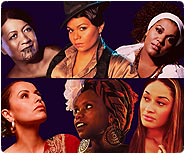 Soul Sisters of the South Pacific: The Six-Part Harmonies, Outspoken Songs, and Indigenous Worlds of Barefoot Divas
New recording showcases the collaboration of six singer/songwriters of indigenous heritage from Australia, New Zealand, and Papua New Guinea, with soulful sounds rarely heard in North America
Six women. Six distinct life stories tied to the complex history of Australia, New Zealand, and Papua New Guinea's indigenous peoples. Six strikingly fresh voices that move this history down a new and compelling path.
As Barefoot Divas, for the first time, Australia's innovative, acclaimed female indigenous singer/songwriters have come together with their sisters from New Zealand and Papua New Guinea on a remarkable live album, Walk A Mile In My Shoes (VGM/MGM Distribution; US release: July 16, 2013; US tour in 2014). The project features Ursula Yovich (Aborigine Burarra/Serbia) and Emma Donovan (Aborigine Gumbaynggirr NSW) joined by Whirimako Black (Maori), Maisey Rika (Maori), Merenia (Maori/Romany-Gypsy), and Ngaiire (Papua New Guinea) in a powerful, symbolic collaboration.
Performing original compositions, the Diva's songs in Aboriginal languages and a fusion of English and Maori (Te Reo) come alive thanks to the ensemble's six-part harmonies and soaring voices. Swinging between acoustic roots (the rousing "TeMatapiko"), jazz, R&B ("Ngarraanga") and Latin-infused soul ("Fortuna"), Walk a Mile in My Shoesreflects the diverse and life-affirming experiences of contemporary indigenous women, a perspective that will prove intriguing and refreshing to North American listeners. Though echoing their profound heritage, their outspoken, moving pieces promise to resonate with anyone interested in authentic, deeply-felt vocal performance, contemporary song writing, and intense musical expression.
Performed live to great critical acclaim at the 2012 Sydney Festival—one of Australia's largest and most pioneering arts events—Walk A Mile In My Shoes also highlights the work of some of Australia and New Zealand's most accomplished multi-ethnic musicians: bassist Adam Ventoura (Greek-Australian), drummer/percussionist Steve Marin (Chilean), Giorgio Rojas (Peruvian), and accordionist/keyboardist Marcello Maio (Greek Sicilian). They join with New Zealand Maori guitarist Percy Robinson, and Justin Hohua Kereama, a Tohunga Taonga Puoro expert in traditional Maori wind instruments.
Praise for Barefoot Divas
"I felt like I was lying on my side on lush grass and these beautiful women performers were pouring nectar into my ear – and it was running down into my soul. It was the integrity as much as the accomplishment, the gift for 'healing' these empowered women artists possess. I don't believe you have to be autobiographically connected – I am pretty sure most people in the audience felt the same way. It's to do with the preservation of centuries - old truths in the bodies of these women – what makes them Indigenous artists. And they remind us how 'emptied out' so much of our own culture has become."—James Waites (Australian Theatre Critic)
"Barefoot Divas is a truly illuminating, heart-warming, spine-tingling experience that will resonate for audiences of all walks of life. 'Walk a Mile in My Shoes' reminds us of the beauty, integrity, humour, heartache and joy that encapsulate the human experience which these six extraordinary women exemplify in the highest form."—ABC TV News 24
"When an audience member approached Papua New Guinean soul songstress Ngaiire after one of her solo shows last year, he could only muster a one sentence review. 'I don't believe in God,' he said shyly, 'but you have opened up parts of me I never knew I had.' Whether or not you believe in divinity, being in the presence of Ngaiire and her fellow soul sisters—the bold and brash Barefoot Divas—is an undeniably otherworldly experience."—Daily Telegraph
"I arrived in Sydney a little bruised, a little sore, a little broken. I now have these songs, these words like splints on my wings and I feel to fly again!"—Romaine Morton (Aboriginal Poet, Story teller and Film Maker)
BAREFOOT DIVAS - Walk a Mile in My Shoes was originally co-commissioned by Sydney Festival and the New Zealand International Arts Festival in association with Vicki Gordon Music Productions in 2012. The show will make its first North American tour in February 2014.
<< release: 07/16/13 >>