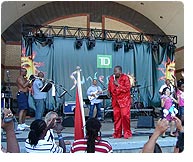 The Rising Sun (Fest): How TD Sunfest Became a Canadian Global Music Hotspot
New discoveries and international heavyweights abound at London, ON admission-free festival
TD Sunfest (www.sunfest.on.ca), London, Ontario's community-empowered celebration of global cultures, has grown into one of Canada's signature summer festivals. With free admission and a roster of top world music artists from all over the planet, the event now attracts over 220,000 annual visitors—in a city of around 330,000.
This year (July 4-7, 2013) will be no exception, as big names—Africa's reggae icon Alpha Blondy, Malian vocalist and rising star Fatoumata Diawara, and Romania's hottest Gypsy brass band Fanfare Ciocarlia —rub shoulders with intriguing new voices from across the Americas. Innovators channeling Southern Italy's furiously rhythmic musical cure for tarantula bites (Canzionere Grecanico Salentino) and Chilean cumbia hotshots (the stadium-packing party champions Chico Trujillo) will cross paths with Trinidadian legend Calypso Rose, whose sassy, gritty voice changed the (male) face of Caribbean music.
This summer's edition features a mini-festival within Sunfest dedicated to the world's burgeoning Afrofunk and soul scenes (Headliners include UK/Trinidadian visionaries Anthony Joseph & the Spasm Band; Canadian nu-jazz pioneers Sekoya Revisited and Toronto's popular The Heavyweights Brass Band). All in spacious, green Victoria Park, amid one of the most eclectic food, handicrafts, and art markets anywhere—the full reflection of culturally diverse London.
"One of the main things that distinguishes TD Sunfest is continued audience accessibility," enthuses Executive & Artistic Director Alfredo Caxaj, himself a Guatemalan refugee. "It's so beautiful to see Latin American or North African families arriving in the park, having lunch and discovering something new."
It's by building a passionate following on both sides of the Canada-U.S. border, especially among recent émigrés who keep flocking to the festival in ever greater numbers, as well as by creating consistently striking performer line ups, that TD Sunfest has grown so markedly. "It's a matter of perseverance and artistic integrity," explains Caxaj. "And now, after 19 years, we're getting wider recognition."
With an enhanced reputation comes more opportunities—the chance to engage international superstars like Alpha Blondy and present them in an atmosphere open to new audiences, and also to highlight gems from lesser-known cultural traditions (for example, Los Vega, the family son jarocho group from Mexico who will be making their Canadian debut this year, or Algeria's Hasna El Becharia, the groundbreaking poetess who unites Gnawan and Berber sounds with an Afropop vibe). The festival also attracts a bevy of premier jazz artists with a global sensibility, be they a New York City pianist originally from Azerbaijan (Amina Figarova, who's touring with her sextet of European musicians), or dynamic multinational bands based in The Netherlands (Traeben, and Van Merwijks' Music Machine, which this year is collaborating with renowned Cuban pianist Ramon Valle).
"It doesn't matter how well-known TD Sunfest headliners are," notes Caxaj. "They may be national heroes in their own country, but not usually household names in North America. However, that lack of familiarity only increases our festival goers' sense of anticipation. Visitors just know they are going to encounter extraordinary musicians and have a really good time."