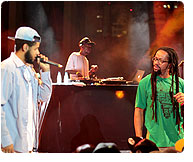 São Paulo Flow: Emicida and Rael, Two of Brazil's Biggest Names in Rap, Come to NYC this July, 2013
Brazilian hip hop sounds like no other rap in the world. Melodic and rhythmically diverse, progressive and political while still spitting fire, Brazilian MCs refuse to let rap be mere entertainment, taking intriguing beats, clever lyrics, and a very live sound and hitting the mainstream, both at home and internationally.
The soundtrack of São Paulo is coming to New York this July thanks to Emicida (Central Park SummerStage and Brasil Summerfest, July 20) and Rael (NYC debut at Joe's Pub, July 25). The two will join forces July 28 for the Culture Blend Music Festival at the Brooklyn Bowl with Meta and the Cornerstones (all shows are a part of the Brasil Summerfest programming). Moving beyond the MC + DJ set, both will be backed by live bands that highlight the distinctly Brazilian flavor of São Paulo's hottest hip-hop performers.
"Brazilian rap is socio-political, we're very intense about that and it's something we're very proud of. There are a lot of people who say you can't be political and be on television. But right now, I think we are seeing a really great moment, because authentic hip-hop from the streets is getting bigger and now has wider circulation in Brazil." And everywhere else, if Emicida and Rael have any say in the matter.
Emicida
São Paulo's Emicida is currently at the top of Brazil's hard-hitting, socially conscious hip hop scene. Often compared to Jay-Z, the rapper grew up imitating every MC he heard, rapping in his own version of English until he decided to turn to his own strong lyrics in Portuguese. He began making his own tapes and beats with a makeshift home set up, rigging a tape deck to let him loop and overdub.
As an MC, he cut his teeth at street battles, where MCs duked it out verbally on the São Paulo pavement, and videos recorded at these battles soon went viral online.
"People would shoot the rap battles with these Cyber-shot cameras and they'd almost instantly be uploaded online," Emicida recalls. "The day after my battle that got so many hits, the video was on YouTube and people started sending it to their friends. Then I ran into someone, and he told me I had over one million hits. I hadn't even recorded an album and I didn't even have a computer yet, but because of technology, but my name was already out there."
From pirate MP3s and mix-tape fame to big stage shows, hit videos, and video game spots, Emicida kept his impassioned flow and unfaltering intensity. His songs chronicle the dilemmas of everyday life, never flinching from telling it like it is.
"I like to write songs that are reflective. Sometimes I get into philosophical questions. I can't escape political themes, that's always present in my music, whether they are explicit or not," Emicida told MTV Iggy, discussing his approach to lyrics. "But I like to have life as the main theme, as the main composition. I like to go out on the street , and when you hear one of my songs you can say this or that neighbor or someone nearby saw or lived it."
Emicida's underground kudos led to hit singles, and eventually to choice appearances at some of the Americas' biggest festivals (including a set at Coachella). In 2011, Emicida was invited to perform at the two major music festivals of Brazil: Rock in Rio (playing with the reggae band Cidade Negra) and SWU. Soon afterward, he won the Act of the Year award from the MTV VMB Awards, officially sealing his spot at the top of the Brazilian scene.
Now a seasoned performer, Emicida embodies the tough spirit of the gritty São Paulo scene. Emicida will be debuting a new mix of live band of guitars and additional vocals, to boost the sound of his usual DJ partner-in-crime, Nyack.
"Rael, who used to be 'da Rima', is the biggest voice from São Paulo's current rap scene."—Rolling Stone (Brazil)
Breaking into the São Paulo rap scene in his teens as part of the group Pentágono, Rael has broken out in recent years as a serious solo artist, declared a rap artist who has made history by MTV Iggy. With a killer live band he bridges traditional Brazilian sounds (like his home city's hot samba crews), Brazil's heavyweight poetic roots (he's done tributes to poets like Vinicius de Moraes), and dubbed out reggae. Winking at Fela Kuti and jazz, Rael arranges his own multilayered, complex tracks. American fans first got to know him when he joined Emicida at the 2011 edition of Coachella, and Rael has toured Canada, including a set that rocked the Montreal Jazz Festival.
Now, he's heading to New York for the first time, to celebrate his latest release Ainda Bem que Eu Segui as Batidas do Meu Coração (2013). On the album, Rael teamed up with K-Salaam and Beatnick, producers who have worked with the likes of Lauryn Hill, as well as friend and fellow São Paulo rapper Emicida and one of Brazil's biggest names in samba, Péricles (both join Rael on the bumping, swaying "Oya"). They dove in, despite the lack of a shared language, a potential communication challenge that Rael's well-crafted tracks and innate musicality easily overcame. "He is so musical and melodic," explains K-Salaam. "It can break a lot of international language barriers that other hip hop can't."
"On his second album, the musician from São Paulo shows himself at ease rapping and singing. Hip hop is his basis, but when Rael get closer from reggae ('Diáspora,' 'Tudo Vai Passar,' 'Ela me Faz'), Afrobeat ('Caminho') and samba ('Oya,' with a good intervention from ex-Exaltasamba's group singer Péricles) he stands out from the herd. It's even better when It's hard to define what style he is pursuing, like in 'Anda,' the biggest moment of the album."—Billboard (Brazil)
July 20th - Emicida at SummerStage
July 25th - Rael at Joe's Pub
July 28th - Emicida, Rael, and Meta and the Cornerstones on Culture Blend Music Festival (by We Demand)