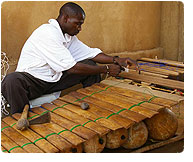 Wooden Revolution: Master Balafon Player Neba Solo Boosts the Bass and Shines New Light on Mali's Neglected Music Traditions
One night many years ago, Neba Solo, one of Mali's most skillful musicians, had his mind blown. He heard Ivorian reggae legend Alpha Blondy's rocker "Jerusalem," and heard a new possibility for his instrument, the balafon (large wooden xylophone).
"I listened to a lot of music especially funk, rock and reggae. I began asking myself questions," recalls Solo. "'Why not use the balafon to try to get the fame of Ivorien reggae?' I said to myself. This is how I got the idea to use my mastery of the balafon to make my place in the sun."
Finding his place meant pushing his traditional instrument in a new, bassier direction. Enamored with the song's deep, bouncing bassline, he set to work, expanding the lower register on his instrument. It was no easy task. He had to seek out the long, resonant bands of wood required—and the permission of his father, whose approval soon came when he heard the striking results.
Working in tight tandem with his brother, Siaka Traoré, as part of a ten-member ensemble, Solo is poised to move from local legend to global name with Neba Ka Di, (release: September 22, 2013) his first widely available album. Bringing a distinctive finesse to Senufo rhythms—the shifting tempos that define Solo's pieces—while remaining dedicated to the social role of his music, Solo blazes through musically intricate, technically innovative passages and reminds those around him of their roles and values, encouraging listeners to consider their lives and actions.
For decades, the world has been enamored with the popular music flowing out of Mali—be it from the desert north or Bamako's vibrant roots-pop scene (Salif Keita, Amadou & Miriam, Oumou Sangare). Yet little has been heard from Mali's agrarian heart and breadbasket in the southeast. Intertwined with the sacred rhythms of farming, Senufo balafon music is an integral part of beckoning fertility to the soil and ensuring protection for the family and community.
While Solo's songs iterate these values, often adding a contemporary twist, his take on traditional music is strikingly original. Solo and his work put the lie to the tired notion that traditional musicians can't also transform their heritage. Revered in his home region and sought out in Mali's capital of Bamako as a teacher and performer, Solo (born Souleymane Traoré) has brought the neglected music of Mali's farming Southeast and his ethnic community, the Senufo, into the international spotlight, with dazzling, precise technique and an innovative perspective on tradition.
Solo raised eyebrows by singing while playing, something unheard of. Instead of a higher-pitched lead balafon playing solo parts, with a second instrument always accompanying, Solo and his brother trade off, sometimes taking the lead and sometimes holding down the foundation of a piece, much like jazz players do.
A musical pathfinder and virtuoso, Solo's style and approach have come to define contemporary Malian balafon playing, inspiring younger performers to mimic and learn from Solo's renditions and ongoing discoveries. His technical flair and creativity have caught ears from Africa to discerning world music devotees in Europe—but have yet to reach a wider global audience. Solo has performed with a wide range of Malian popular and roots artists, as well as with French DJs and globetrotting, forward thinking artists like British singer and producer Damon Albarn (Gorillaz, Blur).
"Malian artists like to protect their originality, to work with our own instruments, but also to open ourselves up to the rest of the world and to add instruments from other peoples," Solo explains. "In my humble opinion, I think that creates great results. We work better with instruments we know, that we have mastered better than others. We want to be known, without wanting to be like anyone else."
Yet despite his open-minded, pioneering spirit, Solo's foundation is always the balafon and the traditions that shaped it, its central role in all of life's major moments and celebrations. "I love the old ways and continue to do so," reflects Solo. "I will always love our traditions and our instruments. As a Senufo proverb says: 'Live and die with the balafon.'"
<< release: 09/22/13 >>