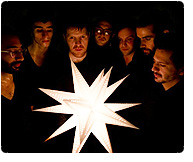 Lincoln Center "Red Hot" Show Builds Kuti Legacy, Collaborative Fela cover album due out in early Fall
Fela Kuti lives on, resurrected and transformed from musician's musician with a cult-like following to a blossoming worldwide pop legend. All thanks to a fleet of tastemakers that includes Knitting Factory Records with their recent reissues of the prolific Nigerian firebrand's back catalogue, and the Broadway hit FELA!, a star-studded, nationally touring stage production dedicated to Kuti's tumultuous life.
Yet another institution continues to prove Fela's relevance is Red Hot, an AIDS awareness organization that educates by way of pop culture. With Red Hot + Fela, they illustrate the on-going resurgence of Kuti's legacy through a forthcoming album release of Fela compositions covered by indie titan collaborators like My Morning Jacket and Questlove. New Yorkers will get a powerful, high-energy taste of this autumn release at Lincoln Center Out of Doors's Red Hot + Fela LIVE! (July 24 at the Damrosch Park Bandshell, New York, NY)
For the live show, Red Hot and Knitting Factory Records have enlisted Afrobeat icons (master Fela drummer Tony Allen), hip indie voices (the cinematic dance rock of Superhuman Happiness, which unites members of Antibalas, TV on the Radio, tUnE-yArDs, and Iron + Wine), and the next generation of Afro-futurist innovators (Baloji, Sudanese From Montreal collaborator Sinkane), for a show that bursts with Fela's defiant spirit and telltale, groove-heavy fire. One of the many highlights: the world performance premiere of "How to Survive a Plague," composed by Luke O'Malley and Stuart Bogie (Antibalas), played for the first time live by Superhuman Happiness and Kronos Quartet.
Bogie, who is a member of Superhuman Happiness and Antibalas, represents a bridge between the early adopters of Afrobeat and the recent recruits of the genre: "Fela's music has deeply inspired and impacted how we think about music," Bogie reflects. "From critical details like his use of guitars and bass lines in perfect rhythmic counterpoint, to his long and epic forms, his music is a treasure and deep reason for musicians all over the globe."
Although Fela inspired each and every artist on the bill, Afrobeat is not necessarily the musical meat-and-potatoes for most of these musicians, thus presenting challenging responsibilities in recreating Fela's work. "One challenge was maintaining the lyrical integrity. Fela's poetry is a critical component, and we aren't satisfied with getting it close - we want our tracks to honor his work the same as you would honor the lyrics of a Beatles, Bob Dylan, or Prince track."
Foreshadowing the artistry of the Red Hot + Fela release (due out in early autumn), the Lincoln Center show features many of the same artists, artists who evidently rank Fela alongside Dylan and Beatles. Their passion promises to get the rest of the world to agree, as Fela's legacy comes to full fruition.
Red Hot + FELA LIVE! is produced with Anthony Demby and Paul Heck for the Red Hot Organization