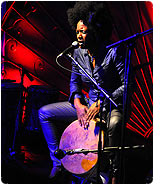 Illegal Songs and The Devil's Tunes: Christine Salem Sings the Maloyan Songs of La Réunion on Salem Tradition with US Tour This Summer
La Réunion is an island where the dead speak to the living. Where the barrier between this world and the next is very thin. And that's the space Christine Salem's music inhabits, "where I can talk to the ancestors," she explains. To listen to her new album, Salem Tradition, is to understand: it is music from another place, hypnotic and transcendent, yet still grounded. It doesn't just move the audience - in concert the spirit of a piece can take her over in the middle of a song.
But until 1981 the music Christine Salem sings was illegal in her homeland. Maloya, as the style is known, was considered too dangerous. It's the music of slaves brought to the island in the Indian Ocean from Africa to labor on the sugar plantations, passed on to their Creole descendants.
"It's very percussive music," Salem says, "and the root is very traditional, very African. It's unique, it's the music of the slaves." Its heart is in the ancient servis kabaré ceremonies, which offered a way for those ripped from home to hang on to their culture. Filled with drumming and chanting, they offered the comfort of ritual. Those taking part would go into a trance and come face to face with their ancestors. Unsurprisingly, the Catholic Church hated it all – "they thought it was the music of the devil," Salem laughs. But after all, the devil has all the best tunes…
Attending one of the ceremonies changed Salem's life.
"The spirits came through me," she says, and from there she couldn't turn back. It was a big step for a girl who'd grown up in one of the many poor neighborhoods of Saint-Denis, the island capital, never knowing her father. She began to study the rituals and music of servis kabaré and singing maloya.
She discovered other music, too – John Lee Hooker, Otis Redding, uplifting gospel, even pop – and hung onto her day job as a social worker. But it was maloya that had captured her soul and really moved her. And that was what she pursued. The turning point came with a showcase at WOMEX in 2002 that saw her start to perform all around the world, introducing the mesmerizing style to countries across the globe.
Maloya had always been men's music. There was nothing to stop women singing it, but it rarely, if ever, happened for Christine Salem. She was breaking new ground and that upset a few older people. "Even now," she's says, "people think it's strange to hear a woman singing it and some of them in La Réunion don't like the fact that I'm making modern maloya." Contemporary it might be, but with Salem singing and playing the kayamb, backed by two percussionists, her love goes right to the deep heart of the music.
Salem Tradition is her fifth release. Named as a tribute to her first group, it's certainly her most ambitious to date, the first recording she's made since starting the Roots Project, where she started visiting the homelands of her ancestors - Mozambique and the surrounding countries - hearing their music and incorporating it into her own work. The resulting songs go right to the core of Salem's being and transport the listener. It's the closest she's come to capturing the moving, heady atmosphere of her live shows.
Salem Tradition also marks Salem's first studio collaborations with long-time musical soul mates, French-American band Moriarty. There's been a remarkable natural connection between them since their first meeting, and that's obvious on a track like "Sakalav," a venture into bluesy territory where Salem's voice offers echoes of Nina Simone over spare, muscular backing.
"Blues is African history with all its stories," she says. "It's our history, these are our stories." That makes it just as natural for Salem as maloya, and brings out a different kind of soul. "The only difference is that blues are the stories of this world."
This world and the other are both very real places to Salem. The concept of moving between the two through trance is common in many parts of the world – except in Western culture. But rarely has the curtain dividing here from there seemed as gauzy as it does with Christine Salem. She makes music of the body and the spirit. It's dangerous and it's beautiful. And it will take you to that other place.