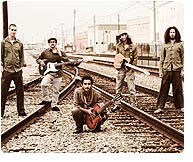 Todo Mundo. It's all about the Conexion.
Not many bands start their lives in Argentina then pick up again in San Diego. But few bands have the drive of Todo Mundo or the vision of its leader, singer and rhythm guitarist Santiago Orozco. The group's tight focus and energy bursts out of its second album, Conexion (release: October 15, 2013).
"Reggae, samba and rhumba influence us a lot," Orozco explains. They draw from all that, taking in sounds from across the Caribbean and Latin America, "but we have this style that's organic."
It's a sound that uniquely Todo Mundo, what they call "world fusion," whether on the catchy Latin pop of "Male Male," the Jamaican influence that surrounds "Flying In The Air" or the warm breeze blowing through "La Calle." They distil the music into a delicious groove that's made for dancing, but even more, the lyrics, both in Spanish and English, are very positive and uplifting. It's a Todo Mundo trademark.
"I like to write things with meaning," Orozco says, "profound things. I like to talk about life. The writing is important, it's the mission of the band. We want to share that we're all the same. When we die we're all going to the same place."
But there's a whole life to be lived first, and Todo Mundo approach it with passion. The group first came together in 2009, formed by Colombian native Orozco in Argentina.
"I wanted the guys to come to the US but they couldn't get visas," he recalls. Undaunted, he moved to California, settling in San Diego, determined to keep the band's flame burning bright. "When I came I didn't know anyone. I didn't have an album, I couldn't get gigs. So I played the farmer's market here and on the street. People jammed with me and we made connections. We started off as a trio but I always wanted a big band."
And for the recording of Conexion that's exactly what they became, a very big band, drawing on guests from a number of San Diego bands to create the playful, high-energy sound. This was Orozco's vision come to life.
"It took three years to get here. It shows a process, an evolution of our sound. This was what I heard in my head. Things take time. Everyone came at the right time to do their part. We knew we had to keep going. It's music from the soul, from the heart. That's our language."
Over the last four years Todo Mundo has built an audience, not just around San Diego, where they're one of the city's biggest bands, with a local Best World Music Album award for their debut, Organic Fire, but wherever they've toured, all across the Americas.
"Live, it's non-stop, high-energy. We try to connect, to make people move, to make them happy." Perhaps strangely, "most of our audience isn't Latino, they're pretty much from everywhere – Europe, Brazil. It's always very diverse."
The mix of sound that's Todo Mundo has been with Orozco since he was a young man in Bogota, Colombia.
"I respect a lot of Colombian music, but what I've always listened to is from all parts of the world. I started to play that, and I just want to play this music that I feel. Everyone in the band has a different background and they bring that to this."
That blend is what makes it so special. It works whether they're sending people out to sweat on the dancefloor or cooling them down with something softer, like the live acoustic version of Escucha Que that closes Conexion. It was a deliberate choice, Orozco insists, a way to showcase another of their facets.
"A lot of the album is heavily produced, but we wanted to show our more organic, mellow side."
It's also a reminder of their acoustic beginnings, harking back to the days Orozco drew crowds when busking on the street corners in San Diego. It's raw and naked. But as with everything else the band does, it's heartfelt and passionate. It's not so much a career as a mission.
"It's important for us to play with diversity," Orozco says. "The whole reason we do music is to touch people and to draw them together and into the moment and feel present. No matter where we come from, what we do, what we believe or what we think, we are all the same."
One world. The whole world, together. Todo Mundo.
<< release: 10/15/13 >>