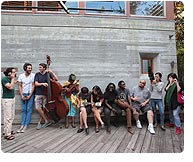 2nd Annual OneBeat Residency and Tour Hosts International Collaboration, Facilitated by US State Dept. and Found Sound Nation
Artistic talent from eclectic backgrounds makes for ear-opening diplomacy, as the public-private partnership and creative powerhouse OneBeat proves. This year, an oud player from Nazareth, a hip Nigerian guitarist, a Russian beatboxer, and 22 other young, diverse, and pioneering artists will convene in United States to make spontaneous music together, as artistic fellows and cultural ambassadors in this groundbreaking collaborative program.
OneBeat is an international cultural exchange that celebrates the transformative power of the arts to engender cross-cultural understanding and cooperation through the creation of original, inventive music and people-to-people diplomacy, produced by Bang on a Can's Found Sound Nation (FSN) program in partnership with the U.S. Department of State's Bureau of Educational and Cultural Affairs.
More than simply a performance program, OneBeat strives to connect people across cultures through the act of musical creation and community engagement. There is a special magic engendered by creating something from scratch, finding unique sounds within an environment, listening to each other's voices and musical traditions—regardless of age, musical genre, or skill level—and inventing something new using these materials. OneBeat balances dialogue, creation, and social engagement, and finds new avenues to bring the fruits of collaboration to a wide audience through live performance, new technologies, and online media.
Building on the momentum garnered from the exchange's inaugural residency and tour last year, OneBeat has invited 25 young musicians from 16 countries around the world to the U.S. to collaboratively write, produce, and perform original music with their American counterparts. By giving international artists from abroad and the United States creative opportunities to interact, OneBeat builds connections one unexpected musical piece at a time.
Hailing from Burma to Venezuela, this year's fellows include MCs and traditional instrumentalists, experimenters and deeply rooted virtuosi. Expect surprising genre pairings, transcontinental adaptations of modal systems, and inclusive global intimacy, all waiting to be absorbed and influenced by American audiences and artists along the tour route. Employing local musical cultures from across the globe, assembled in shared creative space, OneBeat Fellows make music while making a positive impact on both American and their home communities.
Last year's success is documented in videos, photos, and a recently mastered mixtape, presenting the sometimes edgy, sometimes catchy collaborations that sprang from the program. Featuring innovative young musicians from around the world, the 2012 OneBeat Mixtape reveals a powerful vision of "world music" and illustrates the versatility and musical diversity of the fellows. During the residency, the Fellows formed improvised ensembles that reinvented and arranged traditional tunes, composed original work, and recorded in the state-of-the-art OneBeat mobile studio. Following the residency, while on tour, Fellows also collaborated with local artists, designed free public music-making events, and led workshops and recording sessions with youth.
The 2012 Mixtape distills the entire month of collaboration, highlighting the 2012 Fellows' mobile studio sessions, recordings from Honey Jar and Studio G in New York City, workshops with youth at Jefferson Center's Music Lab and the YMCA in Charleston, street studios in Roanoke, VA, and recordings from the Atlantic Center for the Arts in Florida.
2013's edition of OneBeat begins with a two-week residency at the Atlantic Center for the Arts , where the Fellows will meet, form their new ensembles, compose new work, and refine their performance. The residency will be followed by a two-week tour of the Eastern seaboard featuring performances and youth workshops, where the public will be encouraged to participate and exchange their own experiences with the Fellows. They will be making stops in Charleston, SC; Durham, NC; Floyd, VA; Washington, DC; and New York, NY. OneBeat Fellows will also work with a diverse group of expert Collaborating Artists, both in residency and on the tour – including luminaries of classical music, hip-hop, jazz and more – to deepen the scope of the exchange and trade creative experience.