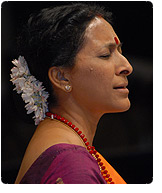 Indian Carnatic Singer Bombay Jayashri Makes Rare U.S. Concert Appearances: Oscar-Nominated Performer from Life of Pi Plays Carnegie Hall (10/20/13) & San Jose (10/26/13)
The unexpected lessons in life can sometimes be the lasting ones. When she was younger, Indian singer Bombay Jayashri studied with the legendary violinist Lalgudi Jayaraman. Arriving at his house in Chennai for a lesson one day she found the door open and walked in. She found her guru sitting focused on the television, watching a Michael Jackson video.
"I didn't know whether I should go in," says Jayashri. Her guru of Indian classical music was watching Michael Jackson. "I was shocked. But he'd seen me enter and he told me to watch the way Michael became one with the music and the dance. He pointed out that he was doing it with his soul."
In the conservative world of Indian classical music, it was a revelation that someone of Jayaraman's stature could be so open to other sounds. But he listened to everything, from Western classical virtuoso Yehudi Menuhin to Scottish folk. And that openness is something Jayashri has carried into her own career, whether singing the pure Carnatic music of South India that's deep in her heart, collaborating with a Finnish orchestra, or being nominated for an Academy Award for writing and performing "Pi's Lullaby" in the movie Life of Pi. That passion for music is what she'll bring to her appearance at New York's Carnegie Hall on October 20 and the San Jose Center for the Performing Arts on October 26.
But music has always been a part of Bombay Jayashri. Four generations of her family have been musicians and both her parents sang. Growing up in Mumbai, her earliest memory is "waking up in the morning and hearing my father practicing."
She began her training when she was five years old. "My mother knew I'd be a musician from the time I was in the womb," Jayashri says. "Everything was oriented to music. My mother exposed me to so many sorts of music. Mumbai was full of cultural textures. She wanted me to learn whatever was beautiful."
One thing Jayashri found beautiful was Hindustani music, the classical music of northern India, and whose ragas and melodies were utterly different from her Carnatic experience. She studied it for seven years, following her heart, and the experience has given her a unique, complete perspective on Indian music, able to blend the two contrasting styles in concert with sublime ease.
Her mother was a huge influence on her learning, but it was when Jayashri met her guru that her life truly changed. She was already primarily a Carnatic classical singer, but exploring everything, part of a group of 22 young people who travelled all over India, singing light classical music. Then she attended a concert by the celebrated violinist Lalgudi Jayaraman.
"I'd never even heard any of his recordings before," she recalls. "But as soon as I heard him I wanted to put myself in his suitcase and go everywhere with him. Something told me if I could be in that space I could really learn, and that's all what I wanted."
She became his pupil, and even now Jayashri listens to his music for inspiration. Jayaraman's star student now shines brightly and has become an international star in her own right. She's appeared all over the globe, most recently spending time in China.
"We toured there earlier this year," Jayashri says. "They didn't know Indian music, but they wanted to absorb it. They clapped and they sang along wherever they could. And when it was all over they had questions and comments. They wanted to know the culture. We gave workshops and taught them about melodies and ragas."
She was bringing Carnatic music to a new audience and breaking down boundaries. But that's what she's done in so much of her music. She understands that the only barriers are in the mind. It's what led her to record with singers from Egypt and Senegal and to work with Finnish pianist and composer Eero Hämeenniemi. Since 2008, their collaborations have grown bolder, starting with her singing his musical settings of poems from Sangam (Tamil) literature to appearing with the full Helsinki Philharmonic Orchestra on a creation based on ragas.
In America, though, she's probably best known for "Pi's Lullaby," the song she co-wrote and performed in Ang Lee's movie, Life of Pi, adapted from Yann Martel's novel.
"He wanted a very Indian voice," she recalls, "and a lullaby that would be the emotional backbone for the whole story. Michael Danna, who composed the music for the film, heard me and said that if he were an Indian boy lost in the seas, he would like it if his mother sounded like me!'
The film won four Academy Awards and Jayashri's song was nominated for an Oscar.
Bombay Jayashri has done plenty of groundbreaking work on her own, too. Her performance, Listening to Life, showcases her ability to move seamlessly between Carnatic and Hindustani classic music, film and light music, singing in various languages—Sanskrit, Telugu, Urdu, Hindi, Kannada, Marathi and Tamil— weaving everything together in a single narrative illustrating her love of music.
"I grew up believing that the moment you stop feeling the sheer enjoyment of something, you stop enjoying everything in life. You need to enjoy art as it is. Whether you're a musician or a member of the audience, it's the same, just two sides of the same space."
Wherever her musical wanderings take her, Carnatic music remains her core. Her love of it inspired her to start the Carnatic Choir, bringing children into the music.
"There are 18 of them," Jayashri explains, "aged between eight and 16. There's such innocence and beauty in hearing a child sing. It's pure. I always re-learn things when I'm teaching children. The music takes me back to being a child myself." The idea of a choir doesn't exist within traditional Carnatic music, "but I wanted to do something different. And every time, you hear a change in the way the children assimilate the music."
Singing and performing is Bombay Jayashri's lifeblood. And her appearance at Stern Auditorium in Carnegie Hall will be one of the biggest of her career.
"It's a once-in-a-lifetime opportunity," she says. She'll be the first Carnatic singer to appear at the venue since one of her heroes, M.S. Subbulakshmi, lauded as the Goddess of Carnatic music, appeared there in 1977. Those are big footsteps to follow. Bombay Jayashri is humble but undaunted by the chance. For her performances she'll be accompanied by three eminent musicians: H.N. Bhaskar on violin, Satish Kumar Patri on mridangam, and Giridar Udupa on ghatam.
"I'll sing from my heart," she promises. "And try to touch the audience."
~~~
Bombay Jayashri's concerts are being presented by a young non-profit called Bhoomija (meaning "born of the earth") started by a mix of entrepreneurs, IT professionals, doctors, and fine artists. The Bangalore-based organization showcases Indian classical music in venues all over the world. In April, Bhoomija presented the first ever Carnatic Music concert in the Concert Hall of the Sydney Opera House. In May, they brought Bombay Jayashri on tour in China. October's performances are their first productions in the United States. The concert in San Jose has a local partner in Sankritilaya (sankritilaya.org).