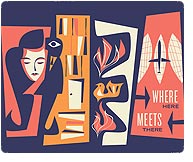 Mr. Ho's Orchestrotica Travels to a Future Moment Where American Music is as Exotic as its Past: Where Here Meets There to be released November 19, 2013 on CD and Audiophile Vinyl
"…deliciously demented and entertaining in equal parts." —Wall Street Journal
From the moment you see the album cover of Where Here Meets There by Mr. Ho's Orchestrotica, you step into an era that never existed. That's because the album draws from the past and the future, from nearby and faraway. The musical adventurism of the 1950s and '60s introduced armchair safari-ism long before "world music" became a thing. The American-based Mr. Ho's Orchestrotica explores the timbres, rhythms, instruments, and melodies of different places and eras with a decidedly American and modern sound Here, while referencing a wider range of influences There. The CD and 12" audiophile-grade vinyl hits the laminated shelves November 19, 2013.
With Mr. Ho, all things are up for grabs from genre and time period to the size of their ensemble. Led by vibraphone player and percussionist Brian O'Neill, the group kicked off their "Exotica for Modern Living" series with a big band formation, and followed that with two quartet albums. The smaller ensemble performs what O'Neill calls global jazz and exotic chamber music. "A typical composition for the group is equal parts reading and improvisation. You won't hear the blues, a swingin' ride cymbal, or walking bass lines, but there are many improvisational sections in all of the compositions and arrangements, and so it's still jazz in that regard. We essentially borrow what we need and build our sound from there, whether it's a global rhythm from a folk song, a dance's time signature, or a melody from a symphonic work…and dispose of the rest. Our rhythmic and compositional approach is not to be authentic. It's about the ensemble's tone, and sound and creating an intimate, private escape unique to each listener."
O'Neill's vibraphone and percussion, along with Geni Skendo's bass flute and shakuhachi, combine with Jason Davis on acoustic bass and the classical-meets-global percussion of Shane Shanahan (known for his work in Yo-Yo Ma's Silk Road Ensemble). Recently, the group became a quintet with frequent guest and big band guitarist Tev Stevig contributing oud, tanbur, and resonator guitar to the group. This unique combination of talents and sounds has generated an album that gallivants between Aaron Copeland, tiki sculpture, Brazilian maracatú, Gershwin and Gillespie, Time-Life Records, Bulgarian women's choirs, Bach, and scratched vinyl.
Because of the vivid combinations of sounds, composers, and instruments, O'Neill sought out a talented designer to visualize the group's album artwork in a colorful way that would feel timelessly modern, but familiar too. The solution was San Francisco-based illustrator Javier Garcia (www.javiergd.com/blog), who has worked with O'Neill since the group's Exotica for Modern Living series began in 2011. "A mid-century modern nut, Javier collects old Jim Flora record covers and geeks out to typography on vintage vacuum cleaner manuals," says O'Neill. "He did an incredible job on this third album, once again borrowing from the beautiful and familiar mid-century aesthetic without making us look retro or passé."
Whether skipping between eras, record grooves or musical traditions, tracks on the quartet's new album tend to fall into one of two themes. "Each piece is either an original work heavier on improv, dissonance, moodiness, jazz, and escapism; or a scaled-down classical work we put into a chamber music context, often with humorous additions and perhaps a little jazz or global sounds to surprise the listener. Those are the 'Here' and 'There,' respectively, from the album title."
Like an album from a past which has yet to arrive, whether they are playing a piece from Here or a piece from There, Mr. Ho's Orchestrotica's new recording brings the background to the front and the future to the imaginary.
ABOUT THE COMPOSITIONS/ARRANGEMENTS Mr. Ho's Orchestrotica's Where Here Meets There
Music From Here 1. Chiseling Music (5:41) 2. Sansaz (4:46) 3. Maracatune for Chalco (7:34) 4. Would You Like Bongos With That Fugue? (5:05) Music From There 5. Ritual Mallet Dance (6:53) 6. Prelude for Piano I (3:10) 7. Prelude for Piano II (Feat. The Siamese Cat Song) (6:14) 8. Prelude for Piano III (2:43) 9. Black Orchid (5:12)
1. "Chiseling Music" Imagery is an important factor in O'Neill's work. "Chiseling Music" came from his curiosity of tikis, the Polynesian carvings of people and/or deities (and the name of a subculture that adores them). "While the mid-century carvings were reproductions of authentic artifacts from the islands, they became their own collectible art form too. I imagined an army of walking palm trees going off to their 'death' to be carved." O'Neill built a miniature Marching Machine, a novelty instrument he discovered in classical repertoire, to initiate the sound of the trees' march. Later in the music, one hears the woodchips fly.
2. "Sansaz" 3. "Maracatune for Chalco" "Maracatune for Chalco" has the Brazilian maracatú rhythm as its inspiration. "Traditionally it is played by a battery of percussion," says O'Neill, "so I assigned those parts to non-percussion instruments and used that as a compositional basis for the work." Sometimes O'Neill's ideas take unusual detours, as with "Sansaz," which pitches the tanbur (long-neck Turkish lute) of guest Tev Stevig against the rest of the ensemble, creating the tension of the brittle metal strings against the warmth of vibes and flute. (Stevig will shortly become a full-time member, making the quartet into a quintet.)
4. "Would You Like Bongos With That Fugue?" "Would You Like Bongos With That Fugue?" incorporates a fugue into a modern composition befitting the quartet. It became that, and a very '60s beatnik tribute to J.S. Bach turned inside out. A quote from "Toccata in D Minor" plays over a backwards Balkan berance rhythm, while another from the "Fugue in G Minor" is slipped into 7/4 with a solo over the top. It's a world through the looking glass.
5. "Ritual Mallet Dance" This arrangement is based on the melody from Manuel de Falla's famous ballet piece titled "Ritual Fire Dance." O'Neill wrote original material for this piece and added a reference to Guachi Guaro, composed by Dizzy Gillespie and Chano Pozo (a tune made famous by Cal Tjader's version and album titled "Soul Sauce").
6-8. Gershwin's "Three Preludes for Piano" Adaptations of work by other composers feature heavily in the quartet's repertoire, and O'Neill is constantly looking for material that fits the line-up of percussion, double bass, and bass flute or C-flute. While most of his exotica forebears looked to imaginary faraway places, he realized that American composers had plenty to offer, with Gershwin's Piano Preludes a cornucopia of possibilities for a modern mash-up. On this album, the group has arranged Gershwin's Three Preludes for piano inserting some of O'Neill's own music. The second Prelude was influenced by O'Neill's visit to a Disney-themed international sandcastle competition in Belgium. "There was Disney music coming from speakers shaped like rocks. 'The Siamese Cat Song' from Lady and the Tramp was playing and I realized it was in a similar feel as the second Prelude. It was so random, but it worked and I soon began to picture cats walking on the piano and wondered what would happen if they got mischievous. " The mischief comes in the form of the band's free improvisation chops, with flutist Geni Skendo's parts instructing him to interpret "Ornette Coleman shaking a cat." The result is an interesting ballad that respects a trio of American composers, celebrates jazz improvisation, but sounds uniquely Orchestrotica. A wink to Aaron Copland and Bulgarian choral music can also be heard in the group's rendering of the third Prelude, which rounds out the trio.
9. "Black Orchid" A version of Cal Tjader's "Black Orchid" offers a direct nod to the past and to scratched vinyl. Tjader was the Latin vibraphone player of the 1960s and the quartet has played several of his compositions over the five years of its existence, but hadn't recorded this one. O'Neill's version converts the melody into 3/4, the first hint that something is awry. But the most notable variation from the original is in the way the solo vamp features an oud solo played by Stevig in an uneasy 15/8 meter, making it sound like a skipping record.
<< release: 11/19/13 >>