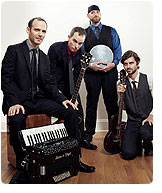 The Unexpected Unity Under Accordion: Uri Sharlin and the DogCat Ensemble Goes Back to the Woods
"If you look in the New York jazz scene," says Uri Sharlin, "there are a lot of Israeli musicians. I think it's because we were forced to be more flexible in our listening. We grew up on Russian songs translated into Hebrew, then Arabic music that had been translated, and then so many other things, all mashed up. We don't hear music in one way." It's an openness, a sensibility, and what he brings to Back to the Woods (to be released October 29, 2013 on Folk Dune Records), the debut CD from his band, Uri Sharlin and the DogCat Ensemble.
It's not an album he originally expected to make. Fifteen years ago, Tel Aviv native Uri Sharlin had a plan. He was set to move to New York to study jazz piano. He'd taken accordion lessons for a year when he was young, then set it aside. But life had a few twists and turns in store for him. He found himself playing piano in a cumbia band. "They kept playing me these incredible vallenato records," Sharlin remembers.
It made him think that perhaps he had unfinished business with the accordion. On his next trip home to Tel Aviv he ran into his old accordion teacher, who sold him an instrument for $200. Once back in New York "I was gigging the next week. There weren't many accordion players around then. There was always a new band or theater production. I'm really self-taught on accordion. I had to learn onstage."
But the instrument proved to be exactly what he needed.
"It forced me to find my voice," Sharlin explains "I listened to a lot of different things that often contradicted each other. After all, Colombian and Bulgarian music are so different. The only thing in common was the accordion." As he absorbed more music from around the globe, he wanted a place to put all his influences together. "The only way to make it all work was to compose my own material."
That was in 2008, and the birth of Uri Sharlin and the DogCat Ensemble. Some of the songs on Back to the Woods, like "Night Swim," date back to that period, although Sharlin says, "they've gone through many forms since then."
Now essentially a quartet with an additional woodwind section, DogCat Ensemble started as a guitar, accordion, and percussion trio. That line-up changed after they were approached by a documentary film maker. He wanted them to select a piece by legendary Brazilian composer Hermeto Pascoal for his film. After some deliberation, Sharlin chose "Dia #342."
"I knew I wanted a bigger sound, and added bassoon and bass clarinet," he recalls. "When we recorded we knew it was a cool song. In a way it almost sounded like a woodwind quartet. I'd been listening to Caetano Veloso's Livro, which is heavy on woodwinds in the arrangements, and every instrument has a unique voice."
In DogCat's hands it becomes possessed, with all seven players improvising at the same time in a sense of barely-controlled anarchy. It's different from the original material that makes up the rest of Back to the Woods, but offers another illustration of how he's brought together all his influences, from Colombia to Macedonia to the anything-goes wilderness of the downtown jazz scene. It's a broad vision, but one he keeps in sharp focus.
"I tend to compose and arrange big chunks of music," he explains, "but also give sections where people can be freer. I'm not a fan of long solos and long tunes. Because this is instrumental music, we need to communicate. So I have pop elements in the form. I like to have it structured."
That idea of structure has been reinforced by the time he spent on the road playing piano and accordion for Natalie Merchant on her Leave Your Sleep tour in 2010. The legacy of that encounter appears in "Don Quixote," where Sharlin moves from accordion to Wurlitzer electric piano.
"It belonged to Natalie. It's been on a couple of her biggest hits. She gave it to me. So the instrument, and her gesture, inspired the song. It's better than any studio Wurlitzer I've ever played."
If there's a single thread that runs through Back to the Woods, though, it's Brazil. Sharlin has travelled there three times, playing choro in Rio de Janeiro and learning forro – Brazilian country music – up in the Northeast. The nation looms large on the disc, not only in the Pascoal piece, but on the closer, "Baiao," and on "Mundau By Day" and "Mundau By Night," two contrasting pieces that evoke the Brazilian coastal village where Sharlin and his wife spent some time.
"It's a tiny place and it only has electricity for a couple of hours a day," Sharlin explains. "The men all go out and fish and sell their catch in the marketplace. It was so welcoming, it was like joining a family. There's a slow breeze that never stops for three months, you feel like you're getting a massage. But at night it's pitch black. You hear more sounds and it's a little scary. So the music's a little darker, you feel that something might happen."
Brazil even finds its way into "Monte Verde," a tune about Costa Rica's famous national park.
"You hear hundreds of birds, all singing at the same time, and it's really loud," says Sharlin. "The piece started with bird calls that our percussionist Rich Stein had. It turns out that they had belonged to Brazilian percussionist Nana Vasconcelos. He'd left them at a studio in New York and they'd ended up with Rich."
With members from vastly different backgrounds – guitarist Kyle Sanna is well known on the New York Irish scene, while Grammy Award-winning bass clarinettist Matt Darriau is a member of the Klezmatics and bassoonist Gili Sharett is an orchestral musician, for instance – DogCat Ensemble gives playful, daring form to Sharlin's musical vision.
Uri Sharlin and the DogCat Ensemble will be celebrating the release of Back to the Woods with a concert at Lincoln Center on September 26, featuring dancers and video, then at Barbes in New York on October 23 with Grammy-nominated classical mandolinist Avi Avital.
<< release: 10/29/13 >>