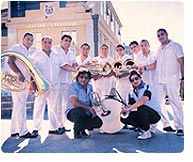 The Boban and Marko Markovic Orchestra Lay Down the Future of Balkan Brass with Gipsy Manifesto
Ancient melodies that have worked their way down the Silk Road to the beaches of the Adriatic Sea, played on the instruments of 19th-century Czech military bands over the throbbing Roma rhythms that have powered wild dances and celebrations for centuries—this is Balkan brass band music.
And Balkan brass means the Boban & Marko Markovic Orchestra. They're synonymous, the dynamic father and son trumpet duo who've continually pushed the boundaries of the music. They're officially the best brass band in the world, with so many titles at the globally recognized annual brass festival in the Serbian town of Guca that they've stopped competing. They hit the charts in the U.S. with their 2012 "best of" collection, Golden Horns. But they're certainly not sitting on their laurels. On Gipsy Manifesto (to be released on November 12, 2013 on Piranha Musik), their first studio album since Devla four years ago, they're taking their biggest leap yet.
The horns and marching drums are still there, but the band's been extended with the addition of guitar, accordion, piano and drum kit, giving a decidedly contemporary sound that's both danceable and radio-friendly. From the breathless, breakneck opener, "Turbo Dizel," this album is a mix of the familiar and the new. But that's not surprising. It's very much Marko Markovic's album. Now 25, Boban's son, a prodigy on the horn, has been involved with the Orchestra since he was 13. A few years ago his father handed him control of the band and the results shine all through Gipsy Manifesto. It's the new sound of Balkan Brass.
That innovation is powerfully evident on "Fanferica Smekerica" ("Funk Girl"), a track that lives up to its title, where synth (a Markovic first) meets the funkiest horns east of New Orleans, creating a slice of '80s influenced dance floor soul. And on the slow sensuality of "Truba i Covek," a lush Balkan blues that showcases Marko's mastery of tone and mood. But he's a man who lives to play.
"The trumpet is my breath," he told the website Ilsaarirock. "Without my trumpet I cannot breathe properly. When I go out or am doing something else, a part of my thoughts is still residing in the world of music. Moreover, the trumpet is not a mere instrument for me. It's just like a woman with a passionate and sensual personality mixed with some masculine elements, which make her also my best friend. The perfect combination. I talk to her, go walking with her, and even used to sleep with her."
He brings that love to "Balkan Caravan," where 1930s speakeasy jazz takes a detour through Serbia and the accordion-drive party that spills out of "Cokolada," as delightfully playful as a Carl Stalling Looney Tunes soundtrack. But they don't forget that their homeland looks East as well as West. "Bobanova Saga," is Boban's homage to that tradition, a beautiful, epic that gives the father a chance to outshine his son.
"We play for ourselves, because we are in love with the music," Boban said to Wild Rooster. "This comes first."
First, last, and always. If all Boban and Marko wanted to do was please audiences they could have continued winning awards at Guca every year and kept playing the crowd's favorite tunes on their tours. But they've always pushed at the boundaries, looking to jazz, Latin music, Jamaican ska, New Orleans brass, and the horns that fuelled Memphis for inspiration. Yet Gipsy Manifesto is different. It's a mission statement for the future of the band, taking them to a place where anything is possible and nothing is off-limits. The root is still strong but the branches are growing far and wide. Whatever you thought you knew about Balkan brass music, forget it. With Gipsy Manifesto, the Boban & Marko Markovic Orchestra have changed all the rules.
~ ~ ~ ~
"...a stunning blast of exuberance & virtuosity." - New York Times
"Having dominated the Balkan brass world in the 20th century, Boban and Marko have now chosen to do no less than redefine the genre. There isn't a band on the planet that can touch them." - Frank London, The Klezmatics
"…one of the world's killer wedding bands." - San Francisco Chronicle
"Balkan music is demanding to play: fast, precise and rhythmically complex. These guys are talented enough, and brave enough, to slip in elements of jazz, funk, or Latin music with ease." - NPR's All Things Considered
<< release: 11/12/13 >>