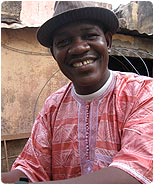 Out of Conflict Comes Delta Blues: Mali's Mamadou Kelly Marks a Moment of Peace
Mamadou Kelly left his hometown of Goundam in Mali last year out of fear. Fundamentalist factions were seeking out musicians, burning their instruments in the streets, and, in some cases, even cutting off their hands. Mamadou hid his instruments and left town for the bigger city of Bamako. His long time collaborator percussionist Alpha Ousmane Sankare had no such luck. Though he is an observant Muslim, his instruments were taken and burned in the streets. Since then, the French Army came in and dispersed the attempt to seize the northern part of Mali from the government. Mamadou has returned home and now he is releasing a new album Adibar (U.S. release: September 17, 2013 on Clermont Music) in conjunction with his participation in the current U.S. tour titled Caravan for Peace.
The album marks a moment in time: a temporary peace in a region cyclically ravaged by conflicts, corruption, and clashes over natural resources. Recorded in Bamako this summer, between the daily power outages, the album is the freshest product of the same circle of Niafunke musicians that produced Ali Farka Toure and Afel Bocoum. While there have been many a mention of desert blues from the region, Adibar comes from the delta just south of the Sahara. And that lake and river terrain influence Mamadou's sound as well as his gentle way of being.
Mamadou thinks in terms of boats, fishermen, herdsmen, and the cultural diversity all of which are associated with life along the river. "If we are going to meet in Bamako, he takes a boat," explains his American manager Christopher Nolan, who is also the U.S. liaison for the critically-acclaimed Festival in the Desert and the producer of the current Caravan for Peace tour. "There is fluidity to his disposition and his music. Much like the water. His songs are rich in metaphor and the group's playing flows together seamlessly."
That makes sense since the three veteran musicians on the album—which also includes Alpha Ousmane Sankare on calabash and Brehima Hama Cisse on ndjarka (spike fiddle) and djourkel (a mandolin-like instrument)—frequently make up the Ali Farka Toure Allstars that play regularly at the Festival in the Desert. Mamadou himself was also Afel Bocoum's right-hand man. Sankare is credited by some for being the first to "put the calabash on dry land." Traditionally, the dried gourd was beaten with a mallet or flip flop while floating in a bowl of water. It was in the cafes and jams of Niafunke where he took the calabash out of the water and started beating it like a drum to get more intricate rhythms, an innovation that is ubiquitous in the region now. The three are joined by the younger bass-player Baba Traore, but he fits in well being the youngest in a large family of respected musicians.
"They are constantly together even when they are not on stage," says Nolan. "They really enjoy each other and look out for each other all the time. It's just like when they play: they are totally in sync as one unit."
Though of Bambara and Peul heritage himself, Mamadou makes nods to Fulani herdsmen on "Sehenon Men"—a song about young women judging men by the health of their herds—and to the Tuareg on "Yelli," which compels Tuaregs to dance and demonstrate their swordsmanship. "Along the river, you always meet people from a wide range of influences," Nolan explains. "This shows in Mamadou's recording and when he plays on stage. It even shows in his amiable personality. In situations like that your sense of hospitality does not want to offend. That's maybe why he sings in parables."
When you put the songs on Adibar in the current context of Mali, they take on deeper meaning. Though the title track talks about searching for work, going from town to town, it's really about keeping your cool in a country that has fallen apart. On "Mahindjené," Mamadou sings about not taunting the poor or the disabled. It's really a call for tolerance while the nation pulls itself back together. While many of the songs touch upon universal themes of working hard ("Goué Ini Bongossé"), respecting women ("Fissa Maiga"), and doing your best ("Adounia"), their rolling trancey rhythms, fancy fingerwork, and tasteful harmonies disguise the urgency from which they come.
While the calls for peace on the lyrics of Adibar might seem subtle across borders, like the river at the edge of a desert, the soulful groove of the recording is sure to attract people of all cultures.
<< release: 09/17/13 >>