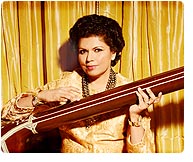 Grammy-Nominee Chandrika Krishnamurthy Tandon's Soul March: A Re-imagining of Gandhi's Salt March
Tandon Performs for Gandhi Day and Opens the Smithsonian Yoga Exhibit this October 2013 in Washington, DC
Long before the Internet and social media networks, where citizens of the world report their struggles for freedom to allies thousands of miles away, one man did the same thing solely with the power of spirit. The man was Mahatma Gandhi and his true gift of inspiration fully became global in the 1930s when he led the Salt March, ultimately leading to India's independence and influencing great leaders from Martin Luther King, Jr. to Nelson Mandela.
Now the Salt March has inspired Grammy-nominated singer Chandrika Krishnamurthy Tandon to create her new album, Soul March. In conjunction with Gandhi Jayanti, or Gandhi Day (October 2, 2013), Tandon will perform at the Indian Ambassador's residence in Washington, DC on October 3. She will also perform in Washington, DC October 17 and 19 for the "Some Enchanted Evening" Gala and the Opening Concert for the Smithsonian Freer and Sackler Galleries' debut of the world's first exhibition on the visual history of yoga titled "Yoga: The Art of Transformation."
On Soul March, which features over 75 musicians, Tandon presents nine wildly diverse arrangements of "Ragupathi Raghava Raja Ram," a favorite song of Gandhi that he and his followers sang throughout the 241 mile Salt March which ignited a worldwide civil disobedience movement of freedom and justice struggles including the American civil rights movement and the South African movement against apartheid.
"I was set to perform at a Gandhi celebration and I chose this song," remembers Tandon. "This song is like 'We Shall Overcome' in India. The words are so meaningful for today's struggles all over the world. The song basically says, 'Light inside me, help me find wisdom.' But the song has been sung so many times, I wanted to make the power of the words fresh again. So I set out to find out how many ways we can shout out those words in music and rhythms that people all over the world can understand. The issues and the details are different but the fundamental quest is still the same. People want to find the voice for truth."
Each song on Soul March takes an Indian raga (a scale or mode with certain musical rules), and re-envisions "Ragupathi Raghava Raja Ram." On the opening track, "Maand," Tandon recruited wandering minstrels from the deep Delta in Bengal to perform on instruments such as the one-stringed, plucked gourd called the ektara; its two-stringed cousin, the dotara, made from the jackfruit tree; and, the dugdugi, and hour glass-shaped, double-headed goatskin drum.
But the album is characterized by a multi-cultural conversation created between musicians, giving musical evidence of the song meaning's universality. Brazilian jazz guitarist Romero Lubambo—known for his work with Yo Yo Ma—became hypnotized improvising around the raga on "Charukesi," which Tandon composed as a guitar rumba. Playing alongside mandolin player Snehasish Majumdar, Lubambo would call and say, "Chandrika, I can do this forever and ever!"
The track "Jog" was composed as a fast bossa nova, but ended up with an African or Afro-Brazilian feel, including Lou Marini and two Indian masters on saxophone, and heavy percussion. A full 16-piece string section is used on "Behag," which gets a great response thanks to the mixolydian-like scale, while "Madhyamavati" reveals a pentatonic scale giving a nod to a Chinese feel. "Puryadhanasri" is one of the most challenging ragas for Western ears, while "Bhairavi" takes on an accessible Calypso sound thanks to percussionist Bopa King Carre.
Because the core song is so popular, the new life Tandon breathes into it with all of these interpretations is attracting attention from a wide spectrum of people. Other Indian classical singers are weaving the songs into their own live performances. School bands are asking to include these variations in their performances in different parts of the world.


In some ways, the search for freedom parallels Tandon's own life story. She came to New York from Chennai with $24 in her pocket. She earned a position with the well-respected management firm McKinsey, but used her first paycheck to buy a Martin guitar and slept on the floor for six months until she could afford new clothes and furnishings. For years she worked in business (later building her own management consulting firm) and squeezed in music where she could; at one point as a young mother commuting two hours a day starting at 4 a.m. to train with a master teacher. Only in more recent years, did she realize it was time to come back to music as a primary focus. The renewed focus earned Tandon an unexpected Grammy nomination for her last album Soul Call, which took an ancient chant re-imagined in several different musical settings in an effort to use music to unite body, mind, and spirit. "I am coming back for a second life almost way after everyone is finished," says Tandon. "I realized that the happiest moments of my life are with music."
When Tandon performs for the Gala and Opening Concert of the Smithsonian's historic yoga exhibit this October, she will use music to re-connect the threads of yoga that have become lost in translation. Drawing on both Soul Call and Soul March, as well as other ancient and classical songs, Tandon intends to bring listeners into a state allowing them to connect their inner light with the light within others and a greater force. Her musical mission is a universal one which works across many planes.
"Freedom works at multiple levels," Tandon continues. "One is when you have freedom of yourself. Freedom from stress. Freedom from negative emotions. That's one form: personal freedom. Then you have fighting for social justice. The foundation and I do work to help women achieve economic freedom by giving them and their children access to a better education and livelihood. And then you have the more well-known form of freedom fights – in movements for justice. Not just from tyranny, but causes big and small, where groups of people band together to make the sum greater than the parts. To me, all of these represent freedom."
Soul March takes the origins of Gandhi's message in song form and re-imagines it for a global audience. The recording creates a musical extrapolation for all forms of struggle from the personal to the political, from the external to the internal. "It's not just 'Let's go out and march for ten days!'" explains Tandon. "In today's context it happens with different sounds, in different ways. People are on a quest for something beyond themselves. That's the soul march I am talking about."
<< release: 10/08/13 >>