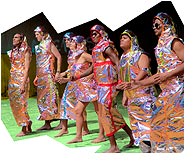 Disposable People, Monsanto Machete, and Tropical Psychedelia: Colombia's Systema Solar Issues a Call for the People of the Future
In Colombia, there is no recycling program. Instead, there are the so-called "disposable people," who scavenge everyone else's leftovers looking for anything that can be re-used. In Colombia, soon farmers will be required by law to use genetically modified seeds, which happen to only be provided by large corporations like Monsanto. In Colombia, a genre called champeta emerged when sailors brought vinyl from the Congo and the Caribbean, which got mixed into modern day DJ sound system parties in homage to Colombia's African heritage. In Colombia, a collective called Systema Solar salvage all these stories and jacks them up with space-aged beats, colorful videos and power-to-the-people stands.
"It's important that it's more than just words in a song," says Juan Carlos Pellegrino, Systema Solar's sound architect. "That's why we have an NGO, with projects that come out of our songs. We do eco-housing, recycling, community radio, and alternative schooling."
Systema Solar are different in pretty much every way. They don't play by the usual rules. They're an audio-visual collective, not a band in the usual sense. And the seven-piece doesn't make music in the traditional way, as the future primitivism of their new album La Revancha del Burro (The Donkey's Revenge) shows (release date: October 29, 2013).
"We live in four different cities," explains Pellegrino. "So most things are done over the Internet, which isn't easy in Colombia. It means we don't rehearse regularly and there's a lot of improvisation. We arrive at a show the day before we play so we can play together, then it just happens onstage. There's an element of chaos, something can always go wrong. But every mistake is an opportunity."
Chance. It's what brought them together in the first place. It began with an event in Medellín several years ago. There, powered mostly by Vanessa Gocksch, a Belgian who was making a documentary on Colombian hip-hop, the crew (with backgrounds in tropical, cumbia, techno, champeta, hip hop, rock, and hacking culture) got together. And the magic happened.
With live performance, music, video, and costumes, Systema Solar is a complete, immersive experience, as audiences at SXSW, Glastonbury and Roskilde have experienced. "It's tropical psychedelia," they say. They even have a name for it—Verbenautika—taken from the verbenas, ghetto block parties thrown in little Colombian towns, and nautika, from travelling through that world and beyond. A cosmonautical trip that, through carnival-rave culture, celebrates the power of the Universe.
"We create a moment in time," says Gocksch.
With an innovative approach towards nu-Colombian music, old school cumbia samples partnered with techno fierceness, carnivalesque euphoria with streetwise politics and humor, shamanic mannerisms with scratching blaze, their first album, the self-titled Systema Solar, released in 2009, took the band to unrivalled heights within the local scene, becoming a non-stop world touring act ever since.
As a result, it's taken four years for a second album to surface.
In La Revancha del Burro, Systema Solar take a further step in their future primitive sound, taking Colombia's Afrocaribbean legacy to new territories, at times sounding like Barranquilla's Carnival gone EDM. For this album, the band wanted to envision Colombia's musical past as part of its future. The old music is there, in sample or as part of the song structure under the old school Roland 808. And often it's not the obvious cumbia but champeta, the Colombian take on Congolese soukous.
"Decades ago, when sailors brought their musical cargo from Africa, local musicians incorporated those echoes into their sound", Pellegrino says. "When the ghetto sound systems—colorful home made blasters known as picós—began, DJ's mixed all this with calypso and Colombian tropical flavors. As time passed and the dancefloor turned heavier, the picoteros started using drum machines and Casio keyboards to make beats and do live champeta remixing, also adding MC's, mashing up one song into another to keep the vibe up. Pure champeta electronica."
That live feel and raw energy is there on tracks like "El Botón Del Pantalon," "Yo Voy Ganao," and "Tukupakata." This project, that bonds seven individuals from totally different social and cultural backgrounds, defies all traditional categorizations in music. And precisely, that sense of breaking boundaries powers through "Artificial," where New York's new wave goes tropicalia as Blondie's Debbie Harry guests, singing over a Dominican bachata.
The lead single, "La Rana," is deliberately provocative, both on the album and in the video, which was put together by the VJ of the collective, Gocksch, as a challenge to start a global dialogue about recycling. The video sheds light on an underclass that lives by scavenging what others throw away.
"We were talking about those guys; 'the disposable people,' some call them" she says. "They're at the bottom of the chain. They pick up everything that can be reused in any way at all. Their situation is very bad. We need to address society's perception about them and in general about recycling around the world."
The music of Systema Solar makes the political very personal. "Machete," for instance, addresses the Colombian law that farmers can only use approved GM seeds.
"The track talks about a campesino using a machete to clear snakes from the land", says Pellegrino. Colombia is a rural country and we have always been really affected by the regulation of the land, which has always served the powerful. So the song is really a metaphor. Just as we finished recording it, there were heavy strikes addressing the subject. We're inviting people to send in videos from the protests for us to use. We're into getting people to disconnect from traditional, biased media, and encourage them to produce their own content, just as we do. We want to be our own independent channel. Another song from the album, "Antena," talks about that. It's an invitation to transmit."
With a hardcore regime in Colombia and a long history of bloodshed in the country, people have been afraid to speak openly. But Systema Solar knows they have a public voice, and with that comes responsibility.
"It's not just music" Pellegrino says. "It's a mission."
<< release: 10/29/13 >>