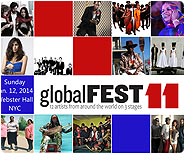 Sonic Revelations: Master Musicians and Bold Newcomers Shake up World Music at globalFEST
January 12, 2014 at NYC's Webster Hall
Artists creating groundbreaking new sounds to masterful standard bearers at their peak. International sounds with roots that run deep. Myriad fans ready for an evening of revelatory music. This is globalFEST (globalfest.org), America's catalytic springboard showcase/festival and year round service organization for world music. Taste-makers for an increasingly diverse and innovative planet-spanning scene, this one-night festival will gather a dozen international acts at New York City's Webster Hall on January 12, 2014.
That single evening will witness everything from vintage Bollywood confections from Down Under to soaring, heartfelt gospel from the deep South, from lush big bands to the sparest single-string guitar. Long-revered artists—including seminal performers who put Gypsy brass and North African Gnawa trance music on the map—will cross paths with rarely heard masters from little-explored genres.
"We want to give festival goers that sense of revelation," explains Lincoln Center's Bill Bragin, festival co-founder and co-producer along with Live Sound's Isabel Soffer and Shanta Thake of Joe's Pub. "We are programming for people active in world music—people like us—but also programming for people who aren't as immersed in these styles. We want artists that we know from experience are guaranteed to floor everyone, and some performers that are new to all of us, even diehard fans and industry professionals."
The new often flows from the old, reimagined through new technology, new influences, or simply through an artist's personal vision or stunning skill. "This year's globalFEST has a wild and compelling range of musical styles," notes Isabel Soffer. "The artists embrace particularly powerful combinations from traditional to contemporary music performed in really interesting ways."
Founded to coincide with the annual APAP conference, one of the main hubs for arts presenters and concert and festival programmers from across the continent, globalFEST began as a single-night event designed to encourage American presenters to consider a greater range of international artists and to push international music to the center of the performing arts field. Over its first decade, it has grown into a year-round non-profit arts organization dedicated to boosting global musicians' work on a larger scale. Activities like the globalFEST Touring Artist Fund (which supports touring activities for globalFEST alumni artist) and globalFEST on the Road, in which gF curates events in collaboration with other festivals and presenting organizations, strive to expand performance opportunities for global music artists. And by successfully filtering into the mainstream—including major festivals like Bonnaroo and SXSW—globalFEST and the artists it champions are changing the way programmers and listeners perceive "world music."
"Early on, globalFEST targeted the performing arts field, and we've seen it have a lot of impact there," Thake says. "But now we're seeing many groups who want to tour other kinds of venues and events, and who are succeeding as contemporary popular music artists. World music can work anywhere, and our experiences at events like SXSW have really confirmed this."
The Artists of globalFEST 2014
Baloji - Afropolitan rumba rapper. Equally at home crooning old-school Congolese chestnuts or rapping, teaming up with Afropop greats like Franco's veteran guitarist Dizzy Mandjeku or pioneering Afrobeat drummer Tony Allen, or with big names in international hip-hop (M1 of dead prez, for one), this stylish, smart performer knows how to take the rumba-inspired past and make it fresh and globally appealing.
The Bombay Royale (US debut) - Technicolor Bollywood big-band pop. The magic and mayhem of vintage Bollywood collides with surfer disco theatrics, complete with mysterious leading lady, a dashing leading man, and a killer brass section. Organs wail, guitars purr through surreal soundtracks for chase scenes and dance numbers, brought to life by this Melbourne 11-piece band in their US debut.
Brushy One String (NYC debut) - Infectious Jamaican single-string guitarist. The son of a musical family with ties to reggae greats, Brushy grew up with a profound sense of joy, a feeling that pervades his stripped down songs. When a dream told him to pick up his one-stringed guitar—he'd broken the other strings—Brushy went from remote Jamaican stages to international acclaim, garnering an outpouring of love online and at major festivals like the New Orleans Jazz and Heritage Festival.
Como Mamas - Deep gospel a cappella trio. With rough, praise-filled voices that invoke the full power and beauty of life, these longtime singing partners were discovered by the folks behind Daptone Records. They may have honed their sound in a small rural church, yet their music resounds with hope and redemption, with an uncanny timing and perfect vocal blend that can speak to any audience.
DakhaBrakha - Subversive, Ukrainian punk folk. They can wink at a sappy pop tune one minute and render a thunderous, chilling rendition of a Ukrainian folk song the next. Sprung from an underground theater group, the band's four-part harmonies, bass drum, accordion, mouth harp, cello, and eerie, quirky toughness reveal both love of tradition and post-modern punk defiance.
Fanfare Ciocarlia - Blazing Gypsy brass legends. If you've heard brass band music from the Balkans, you've likely heard the iconic Fanfare Ciocarlia. Leaping from their village roots, the very, very big band never forgot where it got its start, even as it charmed international audiences with its humor and virtuosic musicianship. With more than a dozen crack players, they simply blow minds live.
Hassan Hakmoun - North African Gnawa trance master. With his rich voice, welcoming presence, and striking sintir (camel-skin bass), Hakmoun brought the music of the Gnawa of Morocco to the world. A veteran performer now at the height of his powers, Hakmoun and friends promise to remind everyone why he has long served as ambassador for the looping, trance-inducing sounds of his people.
KiT (Kuenta i Tambu) - Dutch-Antillean global bass dance beats. This Amsterdam-born quartet started with tambu,the drum and dance music of the Dutch-Antillean island of Curaçao, and made it club-friendly, adding plenty of low end and moombahton and baile funk-inspired beats. Dancehall-style vocals in Papiamentu, Curaçao's creole of African languages, Spanish, Portuguese, and Dutch, ricochet off of Afro-Caribbean drumming, all backed with a solid European house vibe. Diplo and Bomba Estereo would approve.
Noura Mint Seymali - Mauritanian desert soul. Step-daughter of renowned Mauritanian singer Dimi Mint Abba, Seymali hails from a scholarly musician family and has the voice to prove it. Drawing on Mauritania's unique intersection of Arab and sub-Saharan African culture, the young, thoughtful singer has brought her country's continued love for traditional music together with a younger generation's ear for global pop, reggae, and club influences, accompanied by the exploratory sound of her husband Jeiche Ould Chighaly's ngoni-inspired, distortion-fueled psych guitar lines.
Sergio Mendoza Y La Orkesta - Mambo Mexicano meets indie-cumbia. Relishing exotica's indulgent arrangements while staying true to mambo's driving sway, Sergio Mendoza and his Tucson-based 12-member band keep it gritty and danceable. Hitting as hard as infamous Cuban bandleader Perez Prado, as raw as the Sex Pistols, this multi-instrumentalist mambo instigator has gained a following as an indie musician's musician, wowing everyone from Devotchka to Calexico. Add in Mendoza's fanciful forays into psychedelia and his ensemble's big-band impact, and you have one provocative dance party.
The Wu-Force featuring Abigail Washburn, Kai Welch and Wu Fei (NY debut) - Appalachian-Chinese avant-folk. World traveler and cultural bridge-builder Abigail Washburn's clawhammer diplomacy in China happened naturally: While on tour, the banjo innovator began collaborating with Chinese musicians she met en route. The Wu-Force reveals how close Appalachia and China can sound, uniting guzheng (traditional zither) and trumpet, sprightly banjo lines and catchy Chinese tunes. The simplicity of the trio—which makes full use of Welch's many instruments and electronics—belies its music's complex texture.
Yasmine Hamdan - Post-modern Parisian pop via Beirut underground. Hamdan founded Soapkills, one of the first indie-electronic projects on the Lebanese scene before the young, soulful singer went to Paris. Collaborating with musicians like Marc Holland of Nouvelle Vague and producers like Madonna-favorite Mirwais—and starring in Jim Jarmusch's next film—Hamdan has developed hip, subtle sound, singing in Arabic and crafting tracks with a savvy pop sensibility.
globalFEST 2014 is part of "January is Performing Arts Month in New York City," celebrating the unmatched convergence of performing arts professionals, audiences, and events in New York City. Every January over 45,000 people from around the globe flock to New York City for public festivals and industry gatherings, featuring over 1,500 performances by thousands of world-class artists of all disciplines and genres, including world music, theatre, dance, jazz, and more. For information, visit www.JanuaryNYC.org.