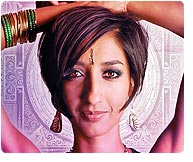 Demon Slayers, Harp Strings, and Millennia-Old Mash-Ups: Sheela Bringi Re-Imagines Indian Mantra on Incantations
Indian American musician Sheela Bringi has been exploring the connections between her ancestral and actual homelands her entire life. The talented singer and multi-instrumentalist's debut album, Incantations (White Swan; Release: February 25, 2014), is a milestone in a young career rooted in the integrity of India's classical music tradition and the beauty of its mantras, as well as a groundbreaking exploration of American blues and jazz.
As a young woman Bringi was influenced by M.I.A. and Dead Can Dance, studied with Cecil Taylor and Meredith Monk, while at the same time deepened her studies with demanding Indian classical instructors like G.S. Sachdev and Aashish Khan. "Studying with these innovators and masters cracked my musical world wide open," she says. "It helped me develop a sense of where music traditions might bend, and where they might break. This sense is necessary if you hope to reshape and re-imagine old music."
India's two-century journey into Western consciousness has assumed many forms, from the itinerant beauty of the land's classical music, championed by late sitar maestro Ravi Shankar, to the 20 million+ Americans down-dogging on yoga mats daily. Bringi straddles the entire range: she has performed in concert halls and universities presenting traditional material, yoga studios leading kirtans and in dance clubs overtop throbbing, bass-heavy beats. Her invigorating openness to possibility is helping to further the classical tradition without diluting its meaning and sense of personal and communal worship.
"My music is about accessing a place of mystery and divinity," says Bringi. Her harp, harmonium and bansuri (Indian bamboo flute) create an exquisite sonic foundation for her unique singing of ancient Sanskrit mantras—a practice as musically pleasing as it is culturally progressive.
Sheela's mother, Sreedevi, a Professor of Hinduism, Sanskrit and Yoga Studies at Boulder's Naropa University, learned Vedic chanting from her grand uncle, who was a famous Sanskrit scholar in the former King of Mysore's court in South India. Once reserved for only men to study, the groundbreaking Sreedevi passed along the recitation of these mystical spiritual teachings to her daughter.
Bringi's unique vision brings new life to these millennia-old lyrics and also to more populist Hindu devotional chants. Her gorgeous harp performance—once a staple in ancient Indian music, though today often only a footnote—on "Bhajaman Ram" locks into a Balkan-inspired odd meter. The song praises Rama, the hero of the great mythological tale The Ramayana; Bringi's tranquil performance proves hypnotic.
"Raja Ram," the album's upbeat handclapping closer, also pays allegiance to Rama, though with a completely different temperament. Featuring Bringi's longtime collaborator Clinton Patterson on blues guitar, backing vocals, and the Western African percussion instrument, shekere, this captivating track ties together the musical history of the worlds she grew up with within: South Asia and the Southern soul of American blues.
Bringi has long considered Georgia native Patterson a kindred spirit; the musicians have worked together for years in PremaSoul. The songwriter/multi-instrumentalist is also Incantation's producer. His skilled ear helped fashion lush textures—the pulsating drones and ethereal harp set against trance-inducing harmonium and dancing percussion. This balance of rare elements makes sense if you consider Bringi and Patterson's shared origins.
"There are a number of parallels between the American South and South India," Patterson reflects. "The most meaningful one for me is the balance of celebration and darkness within the music; it's all blues." Like the philosophical underpinnings of Indian epics, the songs of Incantations are rich in the symbolism of entwining celebration and darkness, death and rebirth, reflective of the ultimate nature of reality.
Carnatic swagger meets Atlanta soul on "Sri Krishna," which is driven by hip-hop/soul dynamic duo Gene Coye and Ben Shepherd on drums and bass. Interestingly, Indian music has greatly inspired American rap music. The little-known Indian influence on Jamaican culture resulted in a number of defining features of the Nyabinghi societies and, eventually, reggae music. These include the belief in karma, dreadlocks, the term 'Jah' (from the Indian 'Jai') and chanting. Two major bedrocks of what became rap music were the evolution of rhyming over music in 'toasting' with Jamaican sound system turntablism and the African storytelling heritage embodied in American blues music. Patterson and Bringi's partnership should more correctly be considered a reunion, one they pull off beatifically.
This reuniting of sound is exquisite on "Peacock," a folk song from Assam in northeastern India praising the Hindu deity Krishna. Mythology abounds in "The Three Eyed-One," a ceremonial mantra to Shiva as Lord of Death, featuring snake-like saxophone and trumpet, along with the Australian didgeridoo. The fire continues in the scorching tribute to the fierce goddess Durga, "Buffalo-Demon Slayer." Klezmer-induced brass invokes the anthemic marching music that Indian nomads brought to the Balkans centuries ago, while the traditional thavil drums keep the song charging ahead. As with the entire record, however, Bringi's vocals take center stage.
A mature and well-crafted release balancing its own arsenal of forces, from the heartfelt, gritty nature of bhajans to the seductive balladry she masters, Incantations is certain to position Sheela Bringi as a force in the evolution of Indian-American song, as well as its widespread potential to influence and inspire a world.
<< release: 02/25/14 >>