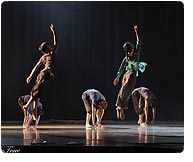 Vietnamese Contemporary Dance Company, Arabesque, Forges New Path through The Mist
There is one independent contemporary dance company in Ho Chi Minh City (Saigon): Arabesque. Under the Artistic Direction of Nguyên Tán Lôc, an alumnus of Tokyo's Fujisato Ballet Company, and the guidance of Kiev-trained ballerina (Ngô Thuy Tô Nhu), this striking Vietnamese company has worked hard to find a new vocabulary of movement in a country where contemporary dance is rarely taught or presented. With pieces like The Mist, the ensemble aims to bridge the gap between the traditional —from folk dances to the small gestures that define everyday relationships in Vietnamese culture—and a global contemporary dance scene.
Now as part of Center StageSM, Arabesque will give American audiences a glimpse into the life of a country whose recent re-emergence is too often obscured by the lingering shadows of the past. The Mist is an evening-length contemporary dance piece inspired by Lôc 's rural childhood and the tradition of Vietnamese rice farming. Tracing an arc from planting to harvest, The Mist alternates between more contemplative moments to dynamic ensemble sections, from free-form soundscapes to energetic rhythms pounded out emphatically with bamboo poles. Realism merges with symbolic motions, as eight dancers conjure the setting the company knows and loves to a recorded score and live music, building to the final coup de theatre, when a rain of rice floods the stage.
The Mist is an elegant reflection of the company's overall approach, motivated by a desire to blend contemporary methods with local forms. "We wanted to bring something very Vietnamese to a festival in South Korea, but didn't want to simply do a traditional dance," Lôc recounts, recalling the group's inspiration for crafting The Mist (Arabesque has performed in South Korea and Japan, but this is their first trip to the U.S.) "We wanted to have a traditional look, but with a contemporary breath to it. We brought the Vietnamese culture via dancing to people not familiar with it, with our own style. We saw then that we could introduce the look of Vietnamese life, as we are now."
Center Stage is an exchange program of the U.S. Department of State's Bureau of Educational and Cultural Affairs. Exchange programs initiated by the Bureau support U.S. foreign policy goals and engage youth, students, educators, artists, athletes, and rising leaders in the U.S. and more than 160 countries. Center Stage uses the performing arts to support cultural understanding between American and international communities; participating artists experience the U.S. first hand and cultivate lasting relationships.
Arabesque is forging a new path—both as a contemporary dance company in a scene dominated mainly by traditional forms, hip hop and competitive ballroom dance, and as an independent private company in a landscape where large government-supported theaters and ensembles are the norm. Exploring the nuances of Vietnamese life, the ensemble's work echoes a gradual change in Vietnam itself, as young people look to work within their country's history, traditions, and aesthetics as they forge new forms of creative expression.
Lôc himself came relatively late to contemporary dance. He was only seven when the war in Vietnam ended. His father had worked for American forces, and his family had to move from Saigon to the countryside after the war. He had little exposure to the arts until he went back to Ho Chi Minh City as a young music student. Trained as an accordionist, Lôc became fascinated by dance and movement, creating his own pieces while finishing his arts schooling in Vietnam. Like many of his fellow dancers and choreographers in Arabesque, he gained the bulk of his experience in contemporary dance by going abroad and learning with dance companies in Europe or elsewhere in Asia.
Drawing on their international experience, the Arabesque artists are finding new language and platforms for their ideas, breaking through earlier decades of international isolation, as their homeland opens economically and culturally to the rest of the world. While young Vietnamese artists are looking outward, they remain tied to the wealth of traditions around them, particularly in the realm of dance and movement. Dancers still train in traditional forms, but are using them to their own expressive ends. "Vietnam has 54 ethnic minorities so we have a very rich culture of traditional dance," Lôc explains. "I learned some of the basics of these dances, particularly the ones from the 35 groups in the highlands. Their movements tend to be very soft and smooth, very sweet. We draw on these basics in our work."
In addition to some of the foundational forms of ethnic dance, Arabesque's performers and choreographers explore their own experiences to find expression and a fresh language for long-standing cultural forms and concerns. "I use a lot of experiences from when I was a kid, when I was in my grandmom's village, on her rice farm," recalls Lôc. Together with choreographer Vu Ngoc Khái (who trained everywhere from Hanoi to Holland) and Arabesque's dancers, Lôc explored this fertile realm of gesture, posture, and feeling to build The Mist.
"The mist in Vietnam appears early in the morning, and we can see the drops, the mist, the dew on the leaves," Lôc muses. "Then it rolls off and disappears. It happens every day again and again. Farmers are humble and beautiful, like the mist, and like the mist, no one notices them. But they are so important to Vietnamese life."
Center Stage will bring seven ensembles from Morocco, Pakistan and Vietnam to the U.S. for month-long tours from June-December 2014, connecting artists with diverse communities across the country. Residencies will include performances, workshops, discussions, people-to-people exchanges, and community gatherings. Keep up with Center Stage on Facebook (https://www.facebook.com/CenterStagePage) and on Twitter (@centerstageus) and at www.centerstageUS.org
Center Stage is a public-private cultural exchange program initiated by the U.S. Department of State's Bureau of Educational and Cultural Affairs and produced by the New England Foundation for the Arts (NEFA) in cooperation with the U.S. Regional Arts Organizations, with additional support from the Robert Sterling Clark Foundation and the Asian Cultural Council. General management for Center Stage is provided by Lisa Booth Management, Inc.