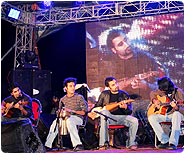 Khumariyaan: The Intoxicating Sound of a Pushtoon Musical Renaissance
It all started with a smashed lute.
A friend of the Peshawar-based ensemble Khumariyaan's founder Farhan Bogra had brought the rubab, a traditional Pushtoon (Pashto) instrument, home, only to meet with serious paternal disapproval. The instrument was soon in pieces, to be replaced by a more respectable guitar. That got Bogra thinking: If the instrument sparked such potent passion, what might the plucky long-bodied lute be able to say?
"'Leave the rubab,' they told him," remembers Bogra. "'It's for the people who are uneducated.' Then I realized why it was threatening."
Bogra, like the rest of his young band mates in Khumariyaan ("The Intoxicators"), went on to teach himself a traditional instrument, in Bogra's case the much neglected and maligned rubab, one of the mainstays of Pakistani Pushtoon music. Not content to merely learn for himself, he then went onto record a series of videos so others could learn to play. In this act of personal rebellion and with the determined hope to bring Pushtoon music and culture into the regional and international mainstream, the instrumental quartet began taking the sound of home jam sessions to the stage.
With addictive passion and trancelike instrumental pieces, Khumariyaan demonstrate why Bogra couldn't just leave the rubab. The signature Pushtoon instrument can have the forceful twang of a banjo or a percussive, hypnotic thrum. It intertwines with the strong sonic qualities of other rare traditional instruments, including the djembe-like zerbaghali (clay or wooden goblet drum) and Pushtoon sitar (long-necked lute). Underpinning these instruments with driving acoustic guitars, Khumariyaan's rolling pulse and richly layered sound builds to high-spirited intensity. It's an addictive and accessible pleasure that's ushering in a new era for an eclipsed music.
Americans will get a chance to experience this engaging music for the first time when Khumariyaan makes its U.S. debut as part of Center StageSM. Center Stage is an exchange program of the U.S. Department of State's Bureau of Educational and Cultural Affairs. Exchange programs initiated by the Bureau support U.S. foreign policy goals and engage youth, students, educators, artists, athletes, and rising leaders in the U.S. and more than 160 countries. Center Stage uses the performing arts to support cultural understanding between American and international communities; participating artists experience the U.S. first hand and cultivate lasting relationships.
Pushtoon music has had it rough, between local well-educated families eschewing it as too low-brow, and threats from those deeming all music and musicians suspect. During a more recent radical turn in Pakistan, many traditional and popular musicians were killed or arrested, music shops burned, and instrument makers discouraged from their craft.
But the music continues, whether at private celebrations or at friendly jam sessions fueled by MTV and later by the internet and mobile phones. At house parties or regular, small music societies, young players gather, create music on the fly, and draw on anything from Chuck Berry to WASP to Indian hits. Khumariyaan is a leader of this movement to revitalize the instrumental traditions and to bring them out of the shadows—taking risks to play live, encouraging other aspiring musicians to take up their ancestors' instruments, and reinvigorating the live music experience for audiences throughout the region and across Pakistan.
The group sprang from a chance meeting in 2008, when Bogra spotted guitarist Aamer Shafiq carrying his instrument at a local institute and invited him to jam. They were soon joined by drummer Shiraz Khan. All are self-taught: Shafiq used to pause old music videos of his favorite metal guitarists to catch where their fingers were on the fretboard. Khan, from a tender age, would bang on anything that made a sound—tabletops, tin cans, and eventually a drum kit. About a year later, Sparlay Rawail, a student at the National College of Arts, met the three band members at a concert and joined them in an impromptu jam session. During the first half minute, it became clear to them all that the urgency, dynamics and repetitive grooves of Rawail's lead guitar not only fit, but upped the vibrancy, resonance, gravity and energy of the band. Khumariyaan, with its propulsive, furious sound hasn't looked back.
"No one knew much about the instruments. Some of them were almost completely lost here," notes Bogra. "There was only one rubab maker left, and very, very few people to take lessons from." The fate of other instruments was even bleaker. Percussionist and drummer Shiraz Khan got his first wooden zerbaghali in India, though his father told him that he had once played the hand drum after bringing a clay version home from Afghanistan in the 1960s. There were none to be found in Peshawar.
This broken link between the musical past and the challenging present reflects a larger issue: the perceptions and limited understanding of Pakistani Pushtoon culture in Pakistan as a whole. Peshawar has a very different cultural legacy than the rest of Pakistan, one with roots in both Persian and Central Asian cultures though with significant South Asian influences. This provincial capital, located on the eastern end of the Khyber Passclose to the Afghan border, has been an important crossroads for centuries.
Pushtoons, the dominant ethnic group in Afghanistan, are the largest minority people in Pakistan, with their own language, arts, and customs. Their ethnic homeland has been thrown into violence, disorder, and oppressive cultural limitations by local extremists and international conflict. Pushtoons are often misunderstood, even in their own country. "When I went to university in Lahore," recalls Shafiq, "everyone asked me if we wore jeans in Peshawar, or said how surprising it was that we knew English. But we were just like everyone else."
Music, especially instrumental music, felt like the perfect means to exchange stereotypes for first-hand interaction and profound enjoyment. "We decided to introduce people to our ethnic music," Bogra states. "To give people what we really are." Dynamic and dedicated performers, Khumariyaan musicians sink their teeth into trance-inducing pieces rich with string trills and rhythmic breaks ("Qataghani"), and moving, bittersweet rubab-driven melodies ("Sheenai").
Without lyrics, Khumariyaan's pieces can move audiences from diverse cultural backgrounds instantly. "Sometimes, it can feel much harder to get the audience connect to a piece that's purely instrumental," adds Shafiq. "But if you make that connection and you're targeting multi-cultures, then instrumentals allow everyone to relate. It's bridge building."
"In our country and particularly in our region, playing music, or indeed anything that is art, is a form of resistance, a resistance that many have paid for with their lives, yet the Pushtoons love their music," says Rawail. "By introducing Western and local instruments in one line up, we hope to remove the stereotypes from our culture, and bring back a love for music, and indeed, more importantly, a love for the musician. We are very lucky in regard to the support we have in our homeland from the public."
It's a passionate call for a new, more tolerant and expressive era of Pushtoon music and culture.
Khumariyaan:
Farhan Bogra, rubab and Pushtoon sitar
Sparlay Rawail, lead guitars
Aamer Shafiq, rhythm guitars
Shiraz Khan, percussion
Center Stage will bring seven ensembles from Morocco, Pakistan and Vietnam to the U.S. for month-long tours from June-December 2014, connecting artists with diverse communities across the country. Residencies will include performances, workshops, discussions, people-to-people exchanges, and community gatherings. Keep up with Center Stage on Facebook (https://www.facebook.com/CenterStagePage) and on Twitter (@centerstageus) and at www.centerstageUS.org
Center Stage is a public-private cultural exchange program initiated by the U.S. Department of State's Bureau of Educational and Cultural Affairs and produced by the New England Foundation for the Arts (NEFA) in cooperation with the U.S. Regional Arts Organizations, with additional support from the Robert Sterling Clark Foundation and the Asian Cultural Council. General management for Center Stage is provided by Lisa Booth Management, Inc.