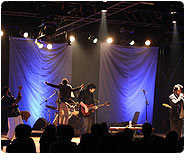 The Discreet (Indie-Rock) Charm of the Bourgeoisie: Lahore's Poor Rich Boy
"It's the truth of the matter: We are poor rich boys. We are okay, well off, and are still sad," explains Shehzad Noor Butt of Lahore, Pakistan's experimental rock band Poor Rich Boy.
With a careful ear for this curious state of affairs, with discreetly subversive and mysterious tales, Poor Rich Boy digs into the interior life of the urban middle class in a city of sharp contrasts, and in a society where expressing one's inner world can be both a cathartic and subtly rebellious act. "The band's name is self-deprecating: We have three square meals a day and then talk about hurt feelings," Butt continues.
Avoiding the slicker, more commercial sounds of Pakistani pop, attuned to the quasi-acoustic indie rock movement (think REM, Andrew Bird, or Arcade Fire), the musicians behind Poor Rich Boy conjure the strangeness of everyday life in their homeland. They will bring this sound to the U.S. for the first time as part of Center StageSM.
Live at True Brew, Episode 4: Poor Rich Boy - Man I love from truebrewrecords on Vimeo.
Center Stage is an exchange program of the U.S. Department of State's Bureau of Educational and Cultural Affairs. Exchange programs initiated by the Bureau support U.S. foreign policy goals and engage youth, students, educators, artists, athletes, and rising leaders in the U.S. and more than 160 countries. Center Stage uses the performing arts to support cultural understanding between American and international communities; participating artists experience the U.S. first hand and cultivate lasting relationships.
Poor Rich Boy's songs start from impromptu jam sessions, sometimes in the studio or on stage, sometimes on a late-night drive home with a ukulele ("Finger"). They hint at half-told narratives charged with emotional meaning and with a longing to give comfort in distress ("Alice"). They dream up everyday adventures of unusual characters, like a composite persona of former Pakistani Prime Ministers and spouses Benazir Bhutto and Asif Ali Zardari ("Zardarazir"). Enigmatic and layered, Poor Rich Boy uses guitars, ukuleles, atmospheric sounds, and the occasional percussion instrument to create a crystalline sound that suggests, but rarely reveals.
"It has largely to do with this inability to communicate, this almost isolated existence which is the middle class," Butt notes. "Writing these lyrics in English, in a language we don't speak all the time"—though well-educated Pakistanis are often fluent in English, the majority of Pakistanis speak only Urdu or other languages—"that has helped us come to terms with the fact that things are changing. It's mirroring the outer world. It could be political, it could be personal. It's a shift of paradigm."
The musical paradigm has shifted as well. Though pop proliferates in places like Karachi and Lahore, it's hard for less commercially oriented artists like Poor Rich Boy to find places to perform, especially as many venues have closed in the last five years. Yet there is an embarrassment of riches for open-eared musicians in Pakistan, and the band's musical backgrounds speak to this.
Zain Ahsan, guitarist and producer of the band's first studio recordings, picked up his older brother's forgotten guitar as a kid and went on to play first in a blues cover band, then in other rock projects around Lahore. Butt grew up in a family that encouraged education in Eastern classical music, and as a young man he tried his hand at both sitar and tabla. He took to neither. Ahsan and Butt joined forces about six years ago, and eventually met up with the band's other vocalist and songwriter Muhammad Umer Khan, bassist Syed Zainuddin Moulvi, drummer Ali Raavail Sattar, and guitarist Danish Bakhtiar Khawaja, all veterans of various Lahore rock bands.
Along with the usual love of rock, metal, and blues, the improvisatory structures powering the classical tradition of the northern subcontinent influence Poor Rich Boy's songwriting. As have their years of listening to indie bands like Bon Iver, and experimental American composers like John Cage and Harry Partch, artists who inspired Ahsan to think more in soundscapes as the band laid down their tracks in his rough-and-ready home studio (the atmospheric "Old Money," with its distinctive electric bow-treated guitar, breathy vocals, its creaks and knocks). "Every song works a little differently," adds Ahsan, and first takes often morph into carefully honed tracks.
"A lot of our songs are birthed out of experiments, to learn more about the craft," reflects Butt. "A lot of material comes from experiments that start with a word or a phrase. For 'Fair Weather Friend,' Umer was obsessed with the phrase 'His Master's Voice.' The song unfolded from there."
These tiny points of inspiration—the sound of English words, the turn of a certain phrase—evoke the slightly obscure, hard-to-pin microcosm of the individual, a creative approach with universal resonance. This move makes a clear understatement in a society where roles and relationships between people can be very rigidly defined. "We don't want people to be able to tell that we're from a particular race or culture," says Butt. "We're very happy that way."
Shehzad Noor Butt, Vocals
Umer Khan, Vocals
Zain Ahsan, Guitars
Zain Moulvi, Bass
Raavail Sattar, Drums
Danish Khawaja, Guitars
Center Stage will bring seven ensembles from Morocco, Pakistan and Vietnam to the U.S. for month-long tours from June-December 2014, connecting artists with diverse communities across the country. Residencies will include performances, workshops, discussions, people-to-people exchanges, and community gatherings. Keep up with Center Stage on Facebook (https://www.facebook.com/CenterStagePage) and on Twitter (@centerstageus) and at www.centerstageUS.org
Center Stage is a public-private cultural exchange program initiated by the U.S. Department of State's Bureau of Educational and Cultural Affairs and produced by the New England Foundation for the Arts (NEFA) in cooperation with the U.S. Regional Arts Organizations, with additional support from the Robert Sterling Clark Foundation and the Asian Cultural Council. General management for Center Stage is provided by Lisa Booth Management, Inc.