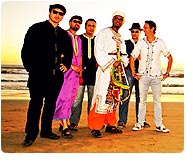 Bringing the Big, Bold Funk with a Single String: Morocco's Ribab Fusion
To really make a monochord like the Amazigh (Berber) ribab sing, you have to have the chops of Jimi Hendrix. Or so insists Foulane Bouhssine of Ribab Fusion, who's on a mission to turn the bowed, one-string fiddle into a furiously funky sign of a new era.
Classically trained on violin but a huge fan of his musical roots and rock, pop, and even a dose of American country, Bouhssine with his Agadir-based group shake their roots, inspired by the blues, as well as global artists from Tinariwen to Nusrat Fateh Ali Khan. With wild flourishes of keyboard, a local instrument (outar) that's a dead ringer for the banjo ("L'Fichta"), and Bouhssine's virtuosic playing, Ribab Fusion can sound as sweetly Mediterranean as the Gypsy Kings, as raucous and rhythmically intense as the best Afropop, while never losing sight of their distinct Southwestern Moroccan traditions.
"We went with this music to explore the world and explain what Amazigh music is. To de-folklorize it. The opposite of trivializing it," reflects Bouhssine. "We have contemporary music with traditional instruments. That's what we are saying with this new fusion, with this new music."
Agadir, a beautiful beach town on Morocco's southern Atlantic coast is the largest coastal city north of the Sahara, with the soaring Atlas Mountains directly to the east. "The Amazigh culture is very strong, elastic, charismatic and very potent," says Brahim El Mazned, the founding Artistic Director of Agadir's famed Timitar Festival, and Ribab Fusion's producer. "Rooted and proud of their culture, this generation of artists understands the sounds and rhythms, the underlying impulses, and this knowledge fuels their creativity."
This creativity will be in full effect as the band makes its U.S. debut tour as part of Center StageSM. Center Stage is an exchange program of the U.S. Department of State's Bureau of Educational and Cultural Affairs. Exchange programs initiated by the Bureau support U.S. foreign policy goals and engage youth, students, educators, artists, athletes, and rising leaders in the U.S. and more than 160 countries. Center Stage uses the performing arts to support cultural understanding between American and international communities; participating artists experience the U.S. first hand and cultivate lasting relationships.
Ribab Fusion's music flies from '70s-style funk to Latin dance vibes ("Afoulk"), from slow jams ("Inahana") to high-energy call-and-responses choruses ("Les Foulani"). The ribab weaves all the madcap diversity together, sometimes gritty, sometimes soothing as a well-played sax. It's an accomplished mix of carefully considered tracks, meant to wow technically and get people celebrating.
Bouhssine and his band mates all met as music majors back in the 1990s. A close-knit group of friends before they joined forces in Ribab Fusion, they trained as professional musicians in European forms, but were increasingly interested in the music of their own people and region. On the Atlantic, at the foot of the Atlas Mountains, it's a region of rich soil, stunning coastlines, and long history of interaction between cultures.
Though a majority ethnic group and a mainstay of Morocco's diverse culture for ages, the Amazigh and their language, customs, and music were not represented equally on the national and international stage as much as Morocco's other traditions. Now, with official recognition and growing government support, the language is being taught in schools, broadcast on television, and spoken in Morocco's parliament. And the musical culture is seeing a passionate new flush of interest. "We had an energetic national movement that began back in the late 1960s and early 1970s," notes El Mazned, "and musicians were involved, but what we're experiencing right now is an amazing new revival, thanks to musicians like Ribab Fusion."
It is this original era of Amazigh ethnic awareness that Ribab Fusion hints at with its funk and prog-rock sound. "Funk and rock were worldwide movements," El Mazned explains, "and that music speaks to the freedom of expression and progressive spirit we feel, in an era where conservatism is strong."
On the avant garde of the new revival, Bouhssine and his bandmates found fresh approaches to traditional music and musical instruction. "I was very strong on the violin, but then I started to study ribab by myself," recalls Bouhssine. "Normally, you learned ribab not from formal study but from a teacher. I asked a master ribab player to teach me more by ear, traditionally." Bouhssine went on to study with four highly respected elder musicians, an unorthodox move that gave him the broadest possible base for developing his lightning-fast style and distinctive sound. However, he and his bandmates knew that sheer virtuosity on a traditional instrument wasn't enough to change people's minds.
"Traditional music is not appreciated very much by young people, and so we had to create traditional music but with a contemporary feel," Bouhssine opines. "But we had to do it very seriously, not shallowly, to bring new audiences and new life to this music."
Instead of cavalierly adding an old instrument to some ready-made pop or rock form, Ribab Fusion decided to expand the traditional sonic palette, to imagine something that would take the ribab out of the small, homey circles of the past and into stadiums and television studios. "This is the kind of music that is often only for a few people, in an intimate space," explains Bouhssine. "I can touch more people with a bigger, bolder sound."
Ribab Fusion's approach is gaining ground, as evidenced by the growing scene in Agadir. Young musicians can be found jamming together four nights a week in a basement space in the city, and more experienced and elder musicians perform with newcomers to encourage them and push them to the next level. "At least two bands are working there every day," El Mazned says. "In just a few months, we've already had a lot of bands join the same movement. I'm really thinking we're building something crazy and new in Amazigh culture in Agadir, and Ribab Fusion are the driving force behind a lot of this energy."
Ribab Fusion
Foulane Bouhssine: Band leader, Ribab, Violin, Vocals
Ouarssas Ahmed: Outar, Guitar
Jamal Boumadkar: Bass Guitar
Mohamed Bounit: Traditional Percussion
Redouane Maris: Keyboards
Mehdi Nassouli: Gimbri (Hajhuj), Percussion, Vocals
Youness Teftal: Drums
Center Stage will bring seven ensembles from Morocco, Pakistan and Vietnam to the U.S. for month-long tours from June-November 2014, connecting artists with diverse communities across the country. Residencies will include performances, workshops, discussions, people-to-people exchanges, and community gatherings. Keep up with Center Stage on Facebook (https://www.facebook.com/CenterStagePage) and on Twitter (@centerstageus) and at www.centerstageUS.org
Center Stage is a public-private cultural exchange program initiated by the U.S. Department of State's Bureau of Educational and Cultural Affairs and produced by the New England Foundation for the Arts (NEFA) in cooperation with the U.S. Regional Arts Organizations, with additional support from the Robert Sterling Clark Foundation and the Asian Cultural Council. General management for Center Stage is provided by Lisa Booth Management, Inc.