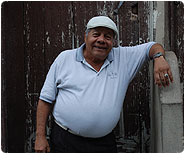 Alejandro Almenares: The Elder Troubadour and Heart of Cuba's Legendary Casa de Trova
La Casa de Trova. The house of the troubadours. It's a place of almost mythical status in Cuban music, the home of so many of the glorious songs that have come out of the island. Even Paul McCartney has made his pilgrimage there. For Alejandro Almenares, it's a place he visits every single day, still carrying his guitar as he goes to play and talk with friends. And it's the inspiration behind his album Casa De Trova (Tumi Records: release: February 25, 2014).
For Almenares, the connection to the house is deep. His musician father, Angel Sanchez Almenares, was one of the founders of the Casa.
"I was there when it all began, too," he recalls. "I grew up listening to them playing there, the trovas and soneros. I'm 76 now. I'm the last of the founders still alive."
It's a house filled with memories of all the tunes that have filled the air over the years – and still do. As a child, Almenares took them all in as naturally as breathing. When he was 10 years old he began attending music school staying until he was 14, "when I had to quit in order to work and help my parents."
Two years later he was a professional musician, playing the music his father had written and performed in groups like Los Taínos, Trio Oriente and Las Guitarras Internacionales. A lifetime of music, and, he adds with a smile, "so many bands that the number and names escape me now."
At 21 he met the woman who'd become his wife and his muse.
"I saw this mulata so beautiful. She inspired me. She still does! I wrote "Mueve La Cinutra Mulata" for her. It was the first song I'd ever written and the first thing I ever recorded, back with the Quinteto Oriente."
A hit in its day, it's a song that remains popular today, covered by the great Omara Portuando and featured in the films Pecado Original and Secret Sharer. Although it's still his best-known work, as the years have passed, it's become just one among hundreds of Almenares's compositions. And Casa De Trova, the first CD he's ever recorded, opens the door on the troubadour tradition of father and son, from the sparkling romance of "Mujercita Linda" to the ache that underlies the sweetness of "A Tu Retrato" and the nostalgic beauty of "La Finca De Vila."
The tres rings, singing out the melody as guitar glides beneath and claves and maracas give a gentle rhythm. It's the sound of old Cuba, to a time that's quickly slipping away. Almenares is the link to this past, and even in his 70s he hasn't lost his light touch or the assured troubadour way with a tune or a piece of poetry.
"If you go back," he explains, "the songs were all about Cuba, or flowers or women. That's changed, but those themes are still there in real trova. It's soulful music, beautiful, always the same instruments under the voices."
And Almenares has recruited some of trova's best voices for his compositions. Ismael Borges, Tony Rodon, Jose Borges and Eva Griñán all bring the lyrics to life, singing with the kind of heartfelt passion that made the music so popular in the first place.
After the revolution it became harder to make a living as a musician. So for many years Almenares earned his money as a carpenter. Even there, music wouldn't let him go and he worked as a luthier, building and repairing instruments and making guitars for some of the greats, names like Compay Segundo and Gilberto Martinez.
But he always wrote songs and played them as the Casa, several hundred of them over the decades, keeping his father's tradition alive and adding to his own contributions. Casa De Trova, though, is much more than the last gasp of history. It's the work of a man whose skills are sharper than ever, refined by so many years of dedication. The insight and wisdom of age is here, along with the simple joy of a gorgeous melody.
And there are plenty of those, as the instrumental disc shows. Almenares knows that a good tune stands at the heart of a great song. As it has been and as it always will be.
The Casa de Trova lives on in Alejandro Alemanres. It's part of his Cuban soul.
"I play there every day. Every Wednesday I perform there with a septet. And my father founded the idea of the 'round lyrics,' so I kept them going each Saturday. If you want to find me, this is my home. I'm always here…"
<< release: 02/25/14 >>