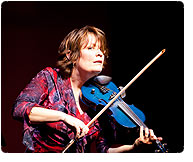 The Fiery Fiddle of Eileen Ivers: Bringing Into Focus the Celtic Roots of Americana Music to North American Stages with 2014 Tour and New Recording
Groundbreaking Irish-American fiddler Eileen Ivers can keep up with classical virtuosi while keeping up the warmth of a kitchen party. She can shred, play reels through a cry-baby pedal, inspire with a bittersweet air and with her signature intensity, all while transmitting her deep love for tradition. The audience and stage become one through the interactive nature of the music, the joy of the musicians and the passion with which Ivers shares the stories of these traditions.

Looking back on repertoire that has connected the Celtic dots from Brittany to the Canadian Maritimes, from 17th-century songs to high-energy originals, Ivers and her band bring their unflagging energy and potent performance to stages across the US this February and March, 2014.

The young Ivers never expected to become a professional musician with numerous All-Ireland Fiddle Championships and Grammy™-awarded projects under her belt—she's a mathematician by education. Yet her unintentional career has taken her from co-founding Cherish the Ladies and touring with The Chieftains, to guest starring with acclaimed symphonies and collaborating with celebrated jazz and pop icons. Ivers's expertise and artistic diversity led her to forge a new, front-and-center role for the fiddle on many stages, including creating the musical star role of Riverdance.

Her own work has led her to dig deep into Irish and Celtic sounds, tracing connections between continents and scattered Celtic communities, sharing how these connections reverberate in American roots music, delving into jazz sensibilities and Grappelli-esque improvisations, and incorporating her trademark effects with her eye-catching (and ear-catching) electric violin. Now, she has set down an audio account of her travels, and this tour will offer a sneak peek at the fiddler's long-awaited new album, Beyond the Bog Road, due out this spring.

Ivers has lived and breathed this cross-fertilization and its musical outgrowths from birth. She grew up in the Bronx, the daughter of Irish immigrants, raised on the music of her parents' homeland. With a talent for mathematics—a field in which she pursued post-graduate studies—Ivers learned how to combine heart and passion with incredible technical precision. Labeled a young prodigy winning an unprecedented nine fiddle championships and over 35 medals on fiddle and banjo in the prestigious All-Ireland Competitions, she also has won the admiration of many musicians and composers from Sting to James Horner to the Cleveland Symphony Orchestra, among her many affiliations.

While a dedicated and celebrated Celtic fiddler, Ivers has always been forward thinking about her tradition and instrument. With ears wide open for new angles and future sounds, she has long been drawn to the multicultural and multifaceted American musical palate, and the pivotal Irish influences tucked into cornerstones of our history.

This fascination has led Ivers to long-lost stories and heart-wrenching moments that go far deeper than the sparkle and dash of brilliant fiddling or the simple pleasures of Celtic-themed stage shows. Beyond the Bog Road delves profoundly and wholeheartedly into the Irish experience's impact on the New World and how it intertwined with African and Native American cultures, with Francophone and Appalachian music and dance.

Ivers brings together a gorgeous array of traditions from her family and her heritage, cherished airs, jigs, reels, and songs, as well as original compositions. She unites tunes from her father's West Irish village to her father-in-law's poetic memories of the "wakes" that honored departing immigrants, most of whom never saw their homelands again. These raw tunes and stories contributed to the foundation of Americana music.

On stage and on her forthcoming album, Ivers ponders the tragic, hungry deaths of thousands of Irish immigrants en voyage to a Quebecois island, and the fellowship of Acadians who helped those who survived, by diving into the Pan-Celtic tunes of French Canada, where Ireland, Scotland, and Brittany met. She and the band perform bluegrass, Appalachian and Cajun music to round out this journey of centuries of immigration and integration forming the roots of Americana music.
The members of her band, Immigrant Soul, enrich Ivers' open-minded, open-bordered innovation and share her passion for performance. Lead singer, blues harp, percussionist, and former Blues Brother Tommy McDonnell is equally at home with the congas and the bodhrán (Irish frame drum). All Ireland accordion champ Buddy Connolly has worked with American roots music greats Tim O'Brien and Kathy Mattea. Acoustic guitarist Greg Anderson has performed with folk legend Pete Seeger, as well as classical icon Itzhak Perlman. Newest member, Lindsey Horner, is equally at home on upright and electric bass thanks to his Julliard jazz and classical backgrounds.
"What unites all these elements and influences is that they flow from the honest music of a strong and resilient people who overcame and continue to overcome much adversity," notes Ivers. "And this music has now gone far beyond the bog road and the Irish diaspora, to every corner of the globe."

"A sensation" Billboard Magazine

"The Jimi Hendrix of the violin" The New York Times

"At the center was the brilliant fiddler, Eileen Ivers …no wonder the audience loved every minute" The Los Angeles Times

"She electrifies the crowd" The Irish Times

"She suggests the future of the Celtic Fiddle" The Washington Post