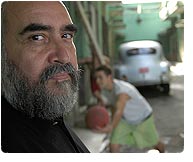 The Art of Life: Cuba's Pedro Luis Ferrer Aces his Final
All a man really possesses is his integrity, his soul. He needs to be able look in the mirror and understand the truth he sees reflected. And to create art he must be completely honest in everything. Cuba's Pedro Luis Ferrer is a supremely honest man. Every word in his lyrics, every note in his melodies comes from deep inside. Every song shows his heart and his compassion, his love for life. And with his new release, Final (Escondida Records; release: March 25, 2014), he's created a series of beautiful, intimate portraits, shards of passion and heartbreak all bound together by his gentle music.
But Final isn't the last chapter in Ferrer's story. At 63, he still has more words to spill, more phrases to make. As he sings on the title cut, "rain will fall on my hope/facing the canvas of nothingness." A poet and philosopher, he's a man who's always plowed his own furrow away from the mainstream of Cuban music.
"When a human being is capable of conceiving the transformation of the surrounding world, an inevitable change begins. The spiritual world is as real as stone," Ferrer says. And he draws heavily from all around him for Final, nature, the mind, the heart – and the deep tradition of music in his homeland.
His first release in three years, since 2011's Tangible, it's an intensely personal disc, the poetry of the words and intimate voices framed by guitar, Cuban tres and percussion, colored by soft touches of brass and strings. Never strident, it's music with a lyrical tongue, the style he long ago termed changüisa – the gentler, feminine form of the Cuban changüi style, something that flows as evolves, just as a woman would. And just as life changes.
"People forget that much of what's traditional and trite today was once novel at birth," he observes. "To live is to grow."
Born in Sancti Spíritus province, the part of the country often called 'the cradle of the Revolution,' Ferrer moved to Havana when he was 11 and stayed in school until seventh grade ("which I repeated twice"). A self-taught music, and avid learner of everything, he was already writing songs when he joined a rock band, Los Dada.
Since then he's played acoustically, developing his own ideas of Cubanía, or Cubanness. His honesty has made him a frequent critic of the society Castro's revolution created, and his music is hard to find at home. Abroad, though, critics and fans have taken him to heart, a man who can create a poem as full of sensuality and love as Pablo Neruda. In "Breve Madgridal De Un Suen Âo," for instance, he writes: "You come as precise/as a seed:/a mouth of whispers/like humidity./How graceful is this life/who gave me your eyes/like a morning relic."
But he's a man who can be irreverent and playful, too. Back in the 1970s he enjoyed success in Cuba with the humorous "Inseminación Artificial," a song that used sex to pour scorn on the way his homeland had industrialized agriculture. And that pixie spirit hasn't forsaken him. "Titirití" on Final sparkles, dances and teases; with a lyric like "Give me your nougat, beauty, I´m coming so avid, in abstinence," it flirts and touches, the horns turning up the heat over the music.
At the same time, Final brims with romance, heightened by the strings that being a lilting sweep to tracks like "Cristina." This is an album for and from the heart, a man fearlessly exposing his dreams and his emotions.
There's no one in Cuban music like Pedro Luis Ferrer. He's utterly individual, blessed with the certainties and doubts that plague everyone, but with the gift to articulate them. And for all he might have been be a thorn in the side of the authorities over the years, he remains first and foremost Cuban himself, a man who celebrates his country and culture in all its forms.
"I don't believe the Cuban culture is better than any other, and I've no wish to denigrate it," he explains. "People have their stereotypes of us, and some of them are true. But really, there are an infinite number of ways to be Cuban and that's what I try to celebrate in my words and my music."
It's a sound that's filled with gravity and weightless, where a smile and a kiss wait around the corner. Pedro Luis Ferrer creates a world of shadows and sunlight. It's a life made of art.
<< release: 03/25/14 >>