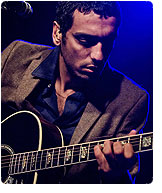 Iraq n'Roll On!: Israeli Musical Luminary Dudu Tassa Uncovers the Jewish Heart of Iraq's Hard-Hitting Pop Past
There are stories and there are stories. Tales that simply have to be told, that beg to be heard, stories filled with outrageous hope. But every story needs someone to tell it. Dudu Tassa is a musician, one of Israel's biggest star for well over a decade. He's not a storyteller, but he does have a tale to tell, that of his grandfather and great uncle. And on his eighth album, Dudu Tassa and the Kuwaitis, he tells it with striking, personal passion.
Tassa brings this passion to the US, performing his most recent repertoire, which digs deep into his Iraqi Jewish roots, from NYC (at the Jewish Heritage Museum) to California this March, including showcases at SXSW in Austin.
Tassa had grown up hearing about Daoud and Saleh Al Kuwaiti from his mother, Daoud's daughter. The brothers were Iraqi Jews and among the most popular Arabic composers and performers of the first half of the 20th century. They appeared all across the Middle East and North Africa, from Baghdad to Palestine and Morocco, and their songs were huge popular hits. Then, in 1951, like all the Jews in Iraq, they were forced from their homeland with no more than they could carry. The Al Kuwaitis settled in Israel and opened a grocery store to survive. Caught between two cultures, with hardly anywhere to play, their music withered.
"My grandfather died a few months before I was born," Tassa says. "But when I was young, my mother would sing me their songs, and I heard about them all my life. But when you're young you don't listen. You want to be modern, to be Israeli, not stuck in the past. You're trying to find your own identity."
Everything changed when he took a traditional song the Al Kuwaiti Brothers had performed and re-worked it for a film soundtrack. He updated it, bringing in guitars, bass and drums.
"It was interesting to do," Tassa recalls. "I was ready for something new. I was bored with Israeli pop music. And this struck something in me. I asked my mom for recordings of her father and I went to Israel radio to see what they had. Honestly, it wasn't easy to listen to them – my ears weren't used to such sad music and the melodies were difficult."
In the end, he listened to over 200 pieces of music by the brothers for his Al Kuwaiti project. His choices turned out to be pieces he knew.
"I connected to those songs my mother sang when I was a child. I'd listen and I knew them I picked songs that I thought I could take to the West, where I could imagine harmonies in the music."
That was the start of the process of digging deep to his musical roots. Dudu Tassa and the Kuwaitis took two long years to make, all documented on the DVD Iraq n'Roll. He needed to arrange the material so it made sense to young ears. To add the harmonies that don't exist in Arabic music, to find the balance between older instruments like oud and qanun with the rock sound that moved him. And he needed to master the lyrics. For that he sought out people who'd known Daoud and Saleh.
"My Arabic isn't good. They helped me and they told me about my grandfather. I tried to see him in their eyes. They told me about his concerts, hearing him on the radio. I'm grateful I got to know them."
Even when it was complete, Tassa wasn't sure how the album would be received, although he was a big star in Israel. He'd released his first album in 1990, when he was 13. Shortly after the millennium he joined the band on one of the country's most popular TV shows, and used his own money to record and put out a solo album that showed him to be a remarkable talent as a singer-songwriter and guitarist.
"It was successful and so I made another album. That was what I wanted to do."
Tassa's career has been a succession of glittering highs. He's composed songs for films, the theme for the Israeli version of American Idol, and worked with Radiohead's Jonny Greenwood.
"His wife is Israeli," Tassa notes. "We met and played a few times and I asked if he'd play on my song 'What A Day.' It was one of the biggest moments of my life."
But Dudu Tassa and the Kuwaitis is different in every way from what he'd done before. It's musically challenging and intensely personal. And in a Jewish country it was Arabic music.
"I was afraid. I didn't know how people would feel. This is a very sensitive place. But at the same time, so many here came from all over the Middle East – my father is Yemeni. But all the papers wrote about it. They liked it. And Israeli Army Radio, the biggest station in the country, played it a lot."
The approval has been a vindication. Not only for Tassa's dreams, but from his ancestors. He's helped them communicate with a brand new generation. The raw growl of the opener, "Dalina," sets the tone for the album, Tassa and another Arab-Jewish star, Yehudit Ravitz, sharing vocal duties on the disc, while violin waves magic on tracks like "Roch't Tlifat." It's a powerhouse of sound, emotive and passionate. And then, on the final cut, "Malak El Riram," everything changes.
"That's the very first song my grandfather and his brother ever recorded. He was 13, and they were still living in Kuwait, before they went to Baghdad. It's my memorial to them."
It makes for a beautiful, gentle conclusion. And Dudu Tassa and the Kuwaitis is a testament that connects the past and present of Tassa's family. But it's not the only commemoration they've received recently: streets have been named after them in Tel Aviv and Or Yehuda.
<< release: 02/25/14 >>