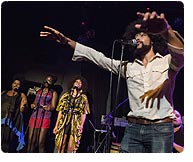 Reggae Son: Rebel Tumbao Stir the AfroLatinRootsReggae Stew
Music makes connections. With the head, with the heart. Music is emotional. But the greatest music is a thing of the spirit. It touches souls. It can bring people together in ways nothing else can manage. And that's what Rebel Tumbao achieve with their self-titled debut (Sacred Rhythm Music; updated release: August 25, 2014) to connect and touch those who can listen, think and feel. The people of the spirit who care about humanity and the planet.
"This is a movement," says band co-founder and percussionist José Claussell. "That is even more important than the music. It's about the message, and we're passionate about getting it out into the world."
It's a message that they've been preparing for a long time now. Although the seeds of Rebel Tumbao began to grow eleven years ago, this is their first release. In that time Claussell and his co-founder, keyboard player Matt Jenson, have been gathering like-minded musicians and vocalists globally to shape their unique mix of roots reggae and contemporary son into what they call AfroLatinRootsReggae.
With a clutch of Jenson originals, as well as versions of compositions by John Coltrane and Bob Marley, the 10-piece really do join the dots between Cuba and Jamaica, the loudest islands in the world, and trace it back to Africa, across the Atlantic and then to America.
"Roots reggae and Cuban son both syncopate the bass and percussion which is why the two genres have those soul awakening grooves that captivate listeners and dancers alike," Claussell explains. "They're first cousins; they both have African roots. It was natural to put them together. And they both respond to severe challenges, much like jazz, soul and a lot of other great music that has its basis in suffering."
From this perspective, Marley's music is a natural fit for Rebel Tumbao. The message it contains is one that crosses race and continents. But there's more than that, as Matt Jenson is a Marley expert and academic. As well as being a keyboard instructor at Berklee College of Music, he also teaches a course on Marley there and has worked with the man's widow, Rita.
"We don't cover Bob's music," notes Claussell. "We extend it. We hold him in the highest esteem. We're putting a different light on his songs and taking his humanitarian vision of peace, freedom, justice and equality further."
What they do with pieces like "Natural Mystic" really open them up, pushing the sound in a different, unexpected direction but keeping the heart intact. "Them Belly Full," for instance, segues into a pair of band compositions that light up the spirit of protest on behalf of the underclasses everywhere. But the highlight comes when they build on Coltrane's epic "Love Supreme" and glide it off into "Exodus." It's surprising, completely out of left field. But it works.
"The idea came from our guitarist," Claussell recalls. "Like everything else, it took a lot of rehearsal to crystallize that. We don't want to sound like anything you can put a label on. There's no formula. We play music written by Marley and down the road there might be some Fela and others alike, but we're not a cover band. Whether it's our music or the music of any given artist that we admire, we sound like Rebel Tumbao."
And that sound is honed and razor sharp in their original compositions, ranging from the laid-back funk that flows through "The Story" to the rhythmic power that propels "Your First Million" or the mystical journey of "The Muse," that ultimately transcends the listener into the middle of a sacred African ceremony. Everything's melodic, incisive, and sparking with energy that supports their strong social commentary, a testament to the band's power and the vision of bringing together Jamaica and Cuba.
For all their mutual love of reggae's greatest legend, though, Marley wasn't responsible for bringing Claussell and Jenson together. That honor belongs to Latin pianist Eddie Palmieri. Claussell is Palmieri's longtime percussionist and the pair first met at a salsa jazz camp Palmieri was running in Vermont in 2002, with Jenson there to study with his piano icon.
"Matt came up to me on a break between classes. He said he had an idea of fusing reggae and son. I love both of those and even then I felt they could work together. It was as if a higher power had brought us together. I told him – let's collaborate!"
They woodshedded, working on charts and building ideas. And slowly Rebel Tumbao came together, a big band with big ideals. They've rocked crowds at Delancy, Drom and the recent SummerStage showcase in New York, but their concerts are much more than music. At a show they engage the audience. They talk about social and environmental issues, the problems we all face.
"We interact," says Claussell. "We share the gospel of justice and love."
And they'll often spend a couple of days working with children and impoverished communities, backing up their good words with actions. It's as much a humanitarian mission as a band.
Taking eleven years to record a debut shows just how much thought and care Rebel Tumbao have put into developing their sound. But the fact that the entire album was recorded in just two days, in two different sessions, illustrates exactly how far along they've brought it all, how organically it's come together with an energy that's especially palpable live.
Their album is the fulfillment of a long quest. One that's not over yet. "We want to link up with networks all over the globe," Claussell stresses. "We want to be part of an umbrella community of artists and organizations that are working for the survival of the planet. We're just part of a voice that's bigger than us all. A greater society."
Rebel Tumbao's AfroLatinRootsReggae: an invitation to think and dance.
<< release: 08/25/14 >>