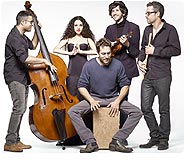 Borderless Songs and Migrating Sounds: Baladino Redefine Ladino Music with Edgy, Trans-Mediterranean Arrangements and Passionate Performances
Israel's music scene is a crucible. Its multicultural abundance pushes musicians to be highly flexible, leaping from jazz to rock to folk, while keeping a profound commitment to both technique and heritage. Baladino sprang from this world, where as highly skilled professional players, they engage on a regular basis with a wealth of deep roots and little-known traditions.
Now five top musicians are bringing Ladino tradition back into full, fresh dialogue with its trans-Mediterranean past, using extended technique, subtle electronics, and improvisation to dust off the predominant heavy-handed approach to Ladino music. With stunning vocals, unexpected instruments, and a pitch-perfect sense of arrangement, the Israeli group melds everything from Egyptian clay darbuka to Armenian apricot wood duduk, from Ladino classics to rarely heard tunes, into a sonically vibrant, organic whole.
This whole came easily to Baladino's founding duo, Yonnie Dror and Thomas Moked some of Israel's most in-demand musicians. Devoted multi-instrumentalists—Dror on woodwinds and reeds, Moked on anything with strings—the two led busy lives, but kept crossing paths.
"We were both really into new sounds," explains Moked. "and were looking for a framework to combine the different styles of music that we like."
The eureka moment came about thanks to Yael Badash, an accomplished singer who recently teamed up with former Yugoslav powerhouse Goran Bregovic. Badash came by her interest in Ladino music through inheritance: She first heard Ladino songs from her Ladino-speaking grandmother who was born and raised in Jerusalem's old city. "I always knew and loved these songs," Yael notes. "but I never thought to perform them professionally."
Ladino music has often languished in Israel due, in part, to arrangement and vocal styles younger Israelis found far too old-fashioned. Yet, beneath the layers of memories lie strong melodies and endearing, heart-felt lyrics, songs that traveled through all the musical regions around the Mediterranean. The well-traveled, cross-cultural quality of many Ladino songs formed a natural way to unite Baladino's diverse musical fascinations.
"Ladino music is an immigrant music," reflects Dror. "Its story is one of Jewish people who were expelled from Spain and spread throughout the Mediterranean. With them they carried their language, which is basically medieval Spanish. As Ladino Jews moved and founded new communities from North Africa to Greece and Turkey, their songs took on local colour."
"These songs are like a portal to all the different cultures surrounding us." adds Moked. "The many peoples and places that have too often been in conflict "
These styles translate into unexpected textures and arrangements of songs, both little known and wildly popular. To Baladino's core came Yshai Afterman, an internationally acclaimed world percussionist specializing in Mediterranean percussion, and adventuresome upright bassist Daniel Sapir, who incorporates loops and extended technique into his virtuosic playing.
To give an extra dimension to certain pieces, Dror uses circular breathing to create a bass drone that boosts Moked's nimble violin and guitar. Badash has eschewed the heavier, vibrato-rich vocal approach often employed by Ladino singers in favor of a quicksilver voice that tells the songs' tales, which are often light and playful. The band, guided by Moked's skillful production, uses gentle processing and electronic elements that give its sound an intriguing edge.
During Baladino's live performances, songs often form a jumping-off point for instrumental improvisations driven by traditional Mediterranean grooves, yet embracing rock and electronic influences. These soulful explorations evoke the harmonies and timbres that often lived side by side with Ladino music in Israel, be they the mournful ripples of an Armenian duduk or the disciplined strains of Turkish and Arabic classical music. The results feel wonderfully fresh, renewing the energy of tried and true Ladino classics, while maintaining a keen sense of their spirit.