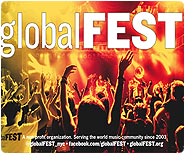 Planetary Party Music: The World Music Instigators of globalFEST Return to SXSW
3rd Annual Showcase at Speakeasy, Friday March 14
globalFEST wants you to rethink "world music," and all that comes with it:
"If that sounds earnest and academic, it definitely isn't. This is party music."
Or so exclaimed NPR Music critic Anastasia Tsioulcas, reviewing the last NYC edition of globalFEST (globalfest.org) this January. It applies perfectly to the organization's line up at SXSW 2014: Party music with deep connections to the power of the globe's many sounds, to the thought-provoking past and the constantly-evolving future.
"Sounds from all kinds of places and communities and eras are seeping into the mainstream," explains Isabel Soffer of globalFEST. "We're here to provide artists with a platform to connect with future fans, the people who may not know this music, but who will love it the moment they hear it. We're also here to connect with programmers who want to introduce this music to their communities and build new audiences."
globalFEST started as a one-night event for a dozen artists, but the annual showcase has expanded to become a not-for-profit service organizations (co-directed by Soffer, Shanta Thake, and Bill Bragin) with activities including curating and consulting for major festivals like Bonnaroo, Festival Ile de France and SXSW, administering the globalFEST Touring Fund which supports alumni artists facing the financial challenges of American touring, and helping to strengthen the network for global artists in the U.S.. Support for this program is provided by a grant from the National Endowment for the Arts. Additional support for globalFEST is provided by the Ford Foundation.
globalFEST has also put out its first album, globalFEST Selector, a jubilant sampling of twelve previously unreleased tracks by artists globalFEST has championed over the last eleven years. After launching a digital release in January, where it was a featured album in the iTunes world music store, the physical collection has just been released in time for SXSW; more info at http://www.globalfest-ny.com/selector-globalfests-first-cd-and-digital-album
"When we started globalFEST, we were trying to move global sounds to the center of the performing arts world. The reality is that many of the artists we work with move back and forth between performing arts venues, festivals and commercial nightclubs. Our collaboration with SXSW has really helped propel our artists more deeply into the commercial touring network, where they can grow their audiences among active and curious music-lovers of all types," added Bill Bragin.
"We talk about infiltration, though more and more music fans are listening to the kinds of artists we have been supporting, without worrying too much about what genre it fits into. We make this trend explicit, and bring artists to the table that is ready and willing to capture ears and hearts." Says co-director Shanta Thake.
globalFEST at SXSW
Friday, March 14
Speakeasy (412 Congress Ave)
8:00 pm-Lo'Jo* (2013): French masters of North African-and French grooves, with delicate songwriting and powerful vocals
9:00 pm-Imarhan Timbuktu* (gF debut): The Sahara blues, rock and trance of this of this rising Tuareg band from Northern Mali brings the mystery of the desert to new audiences who first encountered the music via Tinariwen.
10:00 pm-Tinariwen: A band dubbed "all circular Afro-Berber riffs, hypnotic hand claps, sun, sky and sand" by Rolling Stone, the iconic guitar rebels of Tinariwen first met as refugees, only to become one of Africa's most important and acclaimed bands. They have challenged the boundaries of African and global music, wooing blues and rock fans with the raw electric sound and swirling rhythms.
11:00 pm-Sergio Mendoza y La Orkesta (2014): Bringing a punk rock intensity to old-school mambo, Mexican cumbia, and a quirky big-band sound that would make Esquivel grin, from a longtime associate of Calexico and Devotchka.
12:00 pm-Hot 8 Brass Band (2009): New Orleans second-line hotshots play fierce and free (Basement Jaxx recruited them for several tracks) while remaining deeply rooted in their city's storied jazz and funk heritage.
1:00 am-K i T (Kuenta i Tambú) (2014): Afro-Caribbean carnival drums from the Dutch Antilles with a serious global bass remix
* please note new set time